Mozambique on high alert, braced for accelerating cholera spread
More than, 700,000 doses of cholera vaccine are on their way. But with large swathes of Mozambique flooded, and the rains set to continue until April, the risk is far from over.
23 February 2023
5 min read
A cholera outbreak in the central and northern parts of Mozambique has infected more than 1,300 people, killing 16 others in February alone, while heavy rains continue to pound southern parts of the country.
Health authorities warn that action is needed to contain the epidemic: more than 700,000 doses of oral cholera vaccine are on their way to the highest-risk zones, they say.
"Cholera is showing signs of spreading. It is already in six districts of Mecanhelas, Milange, Caia, Xai-Xai, Lago, and Lichinga. We need to be careful," Mozambican President Filipe Nyusi told the nation last Thursday during a televised state of the nation address, after the country was hit by severe flooding.
"All my belongings were swept away by the flood waters. I was left with nothing, including food, so I drank water from the flooded river despite being warned that it was not safe to drink it. I was taken to the health post at the flood victims accommodation centre, where I was treated."

Zeferino Tivane
"The next few days could still be dramatic in the country, since the weather forecasts indicate that there will be more rain, which could result in more floods," warned Nyusi, who asked for local authorities to remain vigilant, and prevent displaced people from returning to the areas of risk.
According to Nyusi, at least 32 people have died of cholera, a waterborne bacterial infection that causes severe acute diarrhoea, since the beginning of the rainy season in October.
"The challenge now is to work to ensure that, at the level of accommodation centres, there are no outbreaks of contamination," stressed Nyusi.
"On maximum alert"
One of the eight accommodation centres, sheltering 14,000 of the 39,000 flood victims in Maputo province, is the Joaquim Chissano Secondary school, situated in the district of Boane, 25km southwest of the capital, Maputo.
At a hospital in Boane, Head Nurse Domingos Comissário told VaccinesWork that the number of people arriving at the facility with diarrhoeal problems has already increased.
"This facility receives cases of diarrhoea every day – but nothing that is actually cholera, or situations that need hospitalisation. That situation puts us on a maximum alert and we are preparing for an eventual outbreak. As you know, this region has been flooded since last week and the water is already contaminated,"Comissário said.
In Maputo province alone, 36 districts are affected by floods. Countrywide, deluges subsequent to heavy rains have left thousands of homes and schools submerged, and damaged infrastructure – including the roads and bridges linking to Maputo.
Cholera is already spreading in Mozambique from five areas, which include the districts of Lago, Lichinga , Sanga, Chimbonila and Mecanhelas in the northern Niassa province; the districts of Xai-Xai and Chilaulene in the southern Gaza province; the western Tete province and the central Zambezia province as well as the districts of Caia and Buzi in Sofala province.
Cholera outbreaks are also underway in neighbouring Malawi and Zambia, with WHO warning that Zimbabwe and Tanzania are at "high risk" of disease spread.
The Mozambican Ministry of Health says it is prepared to deal with the increase in cases of cholera in several provinces, and guarantees the availability of drugs to deal with the disease at the height of the rainy season, which continues until April.
The head of the surveillance department at the Ministry of Health, Domingos Guihole, affirmed that the authorities are ready, with both experts and available drugs on standby.
"Our medical supplies centre has the necessary quantities. I am talking about serums necessary to administer to patients who enter our treatment centres," Domingos Guihole told the state-run daily newspaper, Noticias, on Tuesday.
Alongside the provision of medicines, multiple activities such as awareness campaigns for prevention are also underway.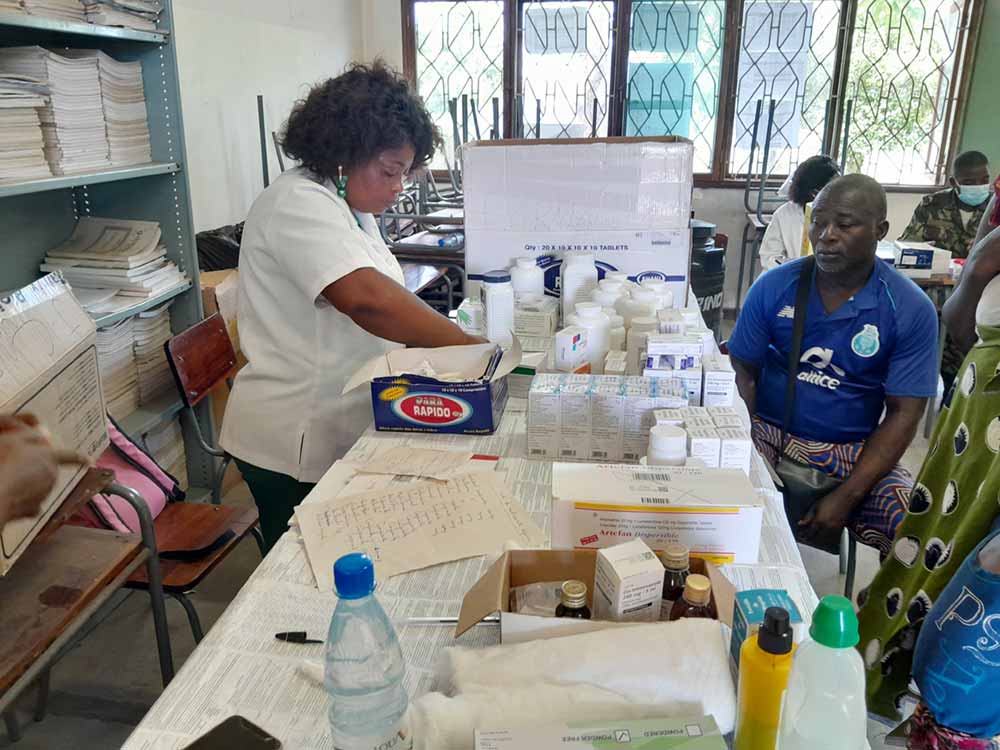 Over the next few days, said Guihole, 719,000 doses of the oral cholera vaccine will arrive in Mozambique in order to control the disease that has spread to more districts in the central and Northern provinces of the country.
For this purpose, a request was submitted to the international technical group responsible for administrating the Gavi-supported Global Oral Cholera Vaccine stockpile.
The doses will be administered in communities with active cases of the disease in the provinces of Niassa, Tete, Zambézia, Sofala and Gaza.
OCV doses from the global stockpile are deployed in outbreak-response conditions. Deputy Minister of Health Ilesh Jani has previously explained that cholera must be worked on mainly from the point of view of prevention – a multi-sectoral effort concerning the provision of drinking water, sanitation and individual and collective hygiene measures.
Troubled waters
Emelita Seifane is in charge of Community Awareness in the district of Boane in Maputo province. She says teams are dispatched every day to sensitise villagers about preventive measures.
"We have activists who distribute chlorine and raise awareness in the surrounding communities – in addition to home visits. We also work with community leaders, who take chlorine and distribute it in their areas of jurisdiction. And this work has been paying off," Seifane said during an interview at Boane Health Centre.
Zeferino Tivane, aged 67, had initially refused to heed the call for prevention, but ended up in hospital after he drank water from the flooded Umbeluzi river.
"All my belongings were swept away by the flood waters. I was left with nothing, including food, so I drank water from the flooded river despite being warned that it was not safe to drink it. I was taken to the health post at the flood victims accommodation centre, where I was treated," Zeferino says, his head bowed as he lies on a bench at Joaquim Chissano Secondary School accommodation centre with his body visibly dehydrated.
He adds: "I was promptly assisted at the health unit installed here at the accommodation centre. They gave me pills and I am in the process of medication. This is the first time I've been sick from drinking dirty water. From now on, I will be part of the awareness campaign teams."
Cholera is a treatable disease – but it can also lead to death from dehydration if not promptly treated. It is caused, in large part, by the consumption of contaminated food and water.
More from Charles Mangwiro