Nepal reckons with COVID-19's steep toll on mental health
Nepal's commitment to providing mental health care is growing. But resources remain scarce, and rates of mental illness are spiking.
20 January 2023
6 min read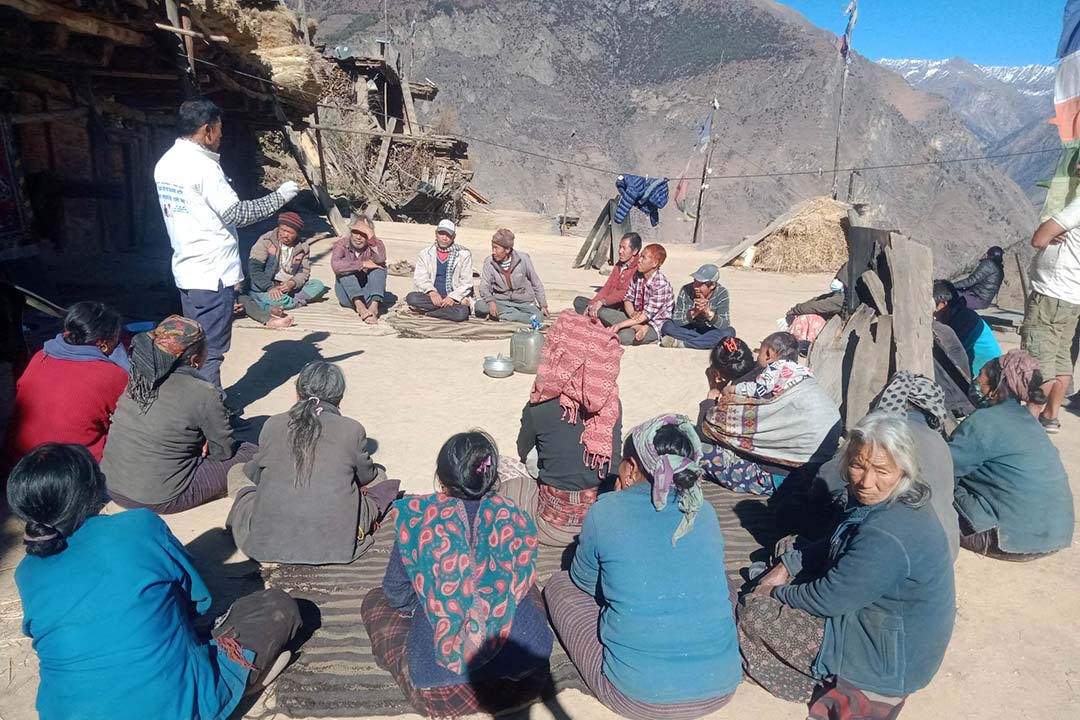 Like most teachers in Nepal, Singh Bahadur Budha, who teaches at the Saraswati Basic School in Mugum Karmarong, is back at work. The COVID-19 lockdowns are over; his own infection with the virus – which kept him in bed for twenty-five days – is too. But things aren't quite back to normal. He is yet to recover from mental health problems caused by his experience of the pandemic.
"Our place has a misbelief that people get leprosy as a punishment for evil deeds in the previous birth. I felt the pain of leprosy patients when I was infected with COVID-19," he says. "I was admitted to Mugu Hospital where the PCR test diagnosed me with a coronavirus infection after 14 days of sickness. It was a very stressful situation since doctors would not come near and nurses treated me with a lot of hesitation."
"I felt the pain of leprosy patients when I was infected with COVID-19."
"While I was at the hospital, I felt that I would not survive. But I did not feel better even after surviving. My relatives hesitated to show up to see me even after being discharged from the hospital just because I was once infected with the virus," he added.
Spiking suicide rates
Singha Bahadur is one among many people who developed mental health problems as a result of the stigma surrounding the pandemic virus, or as a consequence of the material conditions the pandemic brought with it. Suicide rates in Nepal leapt amid COVID-19, with a 2022 study published in PLOS ONE finding that the annual increase in the suicide rate from 2019 to 2020 was 16% - more than three times higher than the year-on-year increase from 2018 to 2019.
Apart from the hurdles arising due to resource limitations, the study highlights the role of the strict pandemic measures adopted by Nepal, including curfews, lockdowns, and non-voluntary quarantine as a factor behind high suicide rates.
While Singha Bahadur relates his mental health situation to a lack of care and support from health workers, the pandemic also took a toll on the mental health of many health workers themselves.
Bali Raj Budha, a public health inspector at Karmarong Rural Municipality, Mugu district, notes that health workers endured sustained exposure to conditions of high risk. "The situation became frightening when COVID-19 was seen in people from all walks of life including health workers, officers, and students of our local unit," he shared. "I counseled a lot of people during the COVID-19 pandemic. Mental health problems were seen even in the health workers."
"People who have recovered from coronavirus infection require counseling and motivation," he added. "Mental health problems have been continuing even after the pandemic. People assume it is coronavirus even when they catch a common cold."
The 2021 Nepal Health Research Council (NHRC)'s National Mental Health Survey found that 10% of adult participants had some sort of mental disorder in their lifetime, and 4.3% currently lived with some sort of mental disorder. The prevalence of suicidality was also found to be at a high of 7.2%.
Raj Kumari Shahi, a senior nurse and midwife at Daha Health Post of Khandachakra Municipality, Kalikot district, believes the hardships in basic needs faced by the frontline health workers are the major reason behind mental health problems faced by them.
"Food, shelter, and sleep were uncertain while working as a frontline worker during Covid-19. They were worried when some of them were diagnosed with Covid-19 twice," she said. "I was full of fear in the beginning. It was challenging to counsel other people in the situation."
Shahi observed fear, anxiety, and thoughts of death among the locals since the beginning of the pandemic, and in her observation, the provision of PPE did little to mitigate health worker fears.
"People refused to walk the path traced by a Covid-19 patient or by the health post because of fear of Covid-19 infection. The environment of terror had a psychological impact," she added.
Getting mental health care to the community
Though the alarming suicide rate spike amid COVID-19 has shone a spotlight the limitations of Nepal's mental health care provision, a report conducted by the WHO Special Initiative for Mental Health noted that the government of Nepal has gradually increased its political commitment to mental health services in recent years. A specific mental health desk has been established within the Ministry of Health and Population's Department of Health Services, and Nepal's 2020 National Mental Health Strategy and Action Plan describes the provision of free mental health care at the primary care level for the entire country.
The project to integrate mental health care into primary health services has included the adoption of a parcel of tools developed by WHO, called the Mental Health Gap Action Programme (mhGAP). The model is designed to make care for common mental disorders including depression, anxiety, alcohol use disorder, epilepsy, and child/adolescent mental and behavioral disorders possible at community level.
Using the possibilities created by mobile technology, an updated electronic version of the mhGAP Implementation Guide, also known as 'e-mhGAP-IG', is now being developed along with a clinical dashboard and guidance for use of mobile technology in supervision of mental health issues.
The trial version of the mobile app – a diagnostic tool – has already been tested and is being reviewed for large-scale deployment.
Mobile mental health
In the test, conducted in February 2021, 38 health workers from five municipalities of Jhapa district, namely Kamal, Shivasatakshi, Birtamod, Mechninagar, and Buddhashanti, were trained in the use of the mobile app. Diagnosis of mental health problems using the app proved to be effective, according to Dr. Nagendra Prasad Luitel, a research advisor at Transcultural Psychosocial Organization Nepal (TPO Nepal), who was involved in the 'e-mhGAP-IG' project. More trials are currently being planned for the app.
"We operated a counseling service using a toll-free number during the pandemic. About 2,500 people directly benefited from it. However, this is not enough for prevention," said Luitel, explaining the necessity of the mobile app. The app generates a diagnosis when information is filled into it, helping primary health workers, with strong supervision from the experts, to connect mentally unwell people with the services they need.
WHO is reportedly developing an app with a chat feature for adolescents, where mental health related queries by adolescents will be answered. The app will offer guidance on where to go and whom to meet to address different mental health conditions.
"Countries like ours do not have a proper supply of electricity and internet. Radio programs and hotlines can be used for awareness of the adults who do not have knowledge on the use of mobile apps," added Dr. Luitel, commenting on the limitations of the technology.
Dr. Eliza Karki, a consultant psychiatrist at Rapti Life Care Hospital, Tulsipur, Dang, who also observed mental health problems in her doctor colleagues, was involved in training the health workers on the use of the mental health mobile app as well.
"Health workers were equipped to diagnose mental health problems even in the absence of psychiatric support. Diagnosis of suicidal thoughts was also discussed," she said, explaining how the app works.
While the increased government investment in mental health care is promising, challenges remain. Human resources for mental health are scarce in Nepal, which has fewer than 150 psychiatrists, and just 35 psychologists – almost all of whom are in private practice in major urban areas. Furthermore, social stigma limits the willingness of sufferers to seek the specialist care that could be made available to them.