Nigeria's HPV jab roll-out gathers momentum as wary mothers come aboard
In rural Ogun, mothers balked as scary rumours about the cancer-blocking jab swirled. Eric Dumo learned how a diverse bunch of community campaigners are changing their minds and tackling misinformation.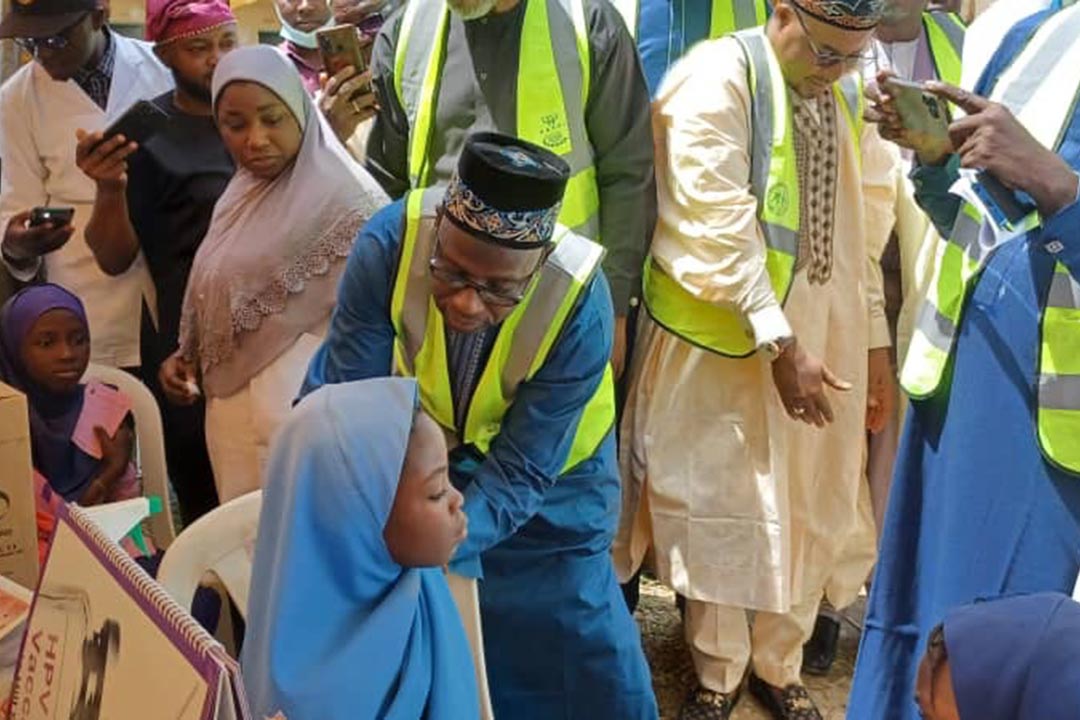 Janet Olayomi was tired when she and her daughter Pelumi arrived home from the government health centre in Ibeku, a remote community in Ogun State, southwest Nigeria. Home was Moro, an agrarian settlement a stone's throw from the Benin border. They had walked the 13 kilometres to the health centre and back in the hot sun.
"I had to embark on that journey because of the future of my daughter," Olayomi, a petty trader, said, pausing a few seconds to catch her breath. Pelumi, aged ten, had just received the human papillomavirus (HPV) vaccine – a jab which, protective for life, is capable of blocking the vast majority of cases of cervical cancer.
"The whole experience felt like a dark veil falling off our eyes. I am happy that my daughter has finally taken the vaccine."

– Janet Olayomi, mother of Pelumi
Nigeria began its phased public roll-out of the vaccine in late October, but amid swirling misinformation, Olayomi had been wary, at first.
"Before now, we didn't know the importance of the HPV vaccine. We heard so many frightening stories and that was why we opposed it and never wanted it to be administered on our girls.
"But after some prominent religious and political leaders in the local government visited our community last Monday to talk to us about the benefits of the vaccine for the girls, we suddenly realised how important it was for their future.
"The whole experience felt like a dark veil falling off our eyes. I am happy that my daughter has finally taken the vaccine," she added before helping herself to a bowl of adalu, a local delicacy made of beans, corn, palm oil and salt.
"I was sceptical at first"
Olayomi and Pelumi hadn't come alone. Some ten women and their daughters had set out that morning from Moro. Among them was Ibidun Ajefemi, a mother of two girls. Like Olayomi, Ajefemi, whose nine-year-old daughter, Kemi, also received the vaccine, says that community campaigners helped convince her to bring her girl forward for the cancer-preventing jab.
"It was the effort of some of our community leaders, who had been going round houses to speak to parents that finally convinced me to get my daughter vaccinated," she disclosed.
"Like most women around, I was sceptical at first, especially after all the negative things we heard about the vaccine.
"But over the last one week, the calibre of people that have visited our community to talk to us about the safety of the vaccine really made me change my mind. Their words removed any doubt from my mind," she said.
A safer generation
Second only to breast cancer in terms of fatality rate, cervical cancer kills nearly 8,000 women in Nigeria annually from an estimated 12,075 diagnosed cases.
But the next generation will have new protection. By the end of 2026, 18.6 million Nigerian girls will be vaccinated against the wildly common, sexually transmitted virus that causes more than 95% of cervical cancers.
Federal health officials estimate that a little less than a month into the roll-out, more than one million girls within the target age range have taken the vaccine.
Ogun is expected to vaccinate at least 500,000 girls within the age bracket across the state in this first round of the campaign. In Yewa North, which includes Ibeku, one of the largest council areas by size and population, there are more than 10,000 girls living scattered across 18 towns and many villages.
Changing minds
Alfa Fadebi, a health official with the Yewa North Local Government Area and a Muslim cleric popular in the area, has been one of the leading figures moving from one remote community to another in a bid to ensure the vaccine reaches every girl in the eligible age bracket.
He and his team have recorded appreciable progress in the past week by adopting new ways of engaging with parents – especially sceptical mothers, who he found had been fed all manner of misinformation about the life-saving vaccine.
"One of the ways we have managed to get people to bring their daughters forward to take the HPV vaccine was to first administer it on our children to prove to doubters that it was safe."

– Alfa Fadebi, Muslim cleric, Yewa North
"One of the ways we have managed to get people to bring their daughters forward to take the HPV vaccine was to first administer it on our children to prove to doubters that it was safe.
"We went back to the drawing board last weekend and decided to visit various remote communities under Yewa North to speak with women leaders and also show that our own daughters had taken the jab.
"Another technique adopted was to visit homes several times in a week to listen to the concerns and fears of parents on the vaccine. The opportunity not only allowed us to get a better understanding of the women, but also afforded us the chance to share the facts about the vaccine and how well it can protect their daughters' future.
"As a Muslim leader, I have taken this message to our central mosque and parents have responded well. The various units of the Christian Association of Nigeria in the council area have also been very instrumental in helping to convince women and make them bring their girls forward for the vaccine.
"In terms of vaccination rate in and around Ibeku, I can say we have recorded about 70% this past week alone and this is very encouraging for us," Fadebi said.
Two meetings held between health teachers, council health workers and parents in the past week in Aiyetoro, administrative headquarters of Yewa North Local Government Area, have also helped to drive vaccination rate in the region after initial resistance by women, who make up more than half of the area's more than 300,000 residents. According to Idowu Ogundipe, a teacher in the locality, the meetings with parents changed a lot of things.
"This week alone, we have held two meetings with parents represented from every community under Yewa North at Aiyetoro to further enlighten them about the HPV vaccine.
"Apart from the health centre at Ibeku and the visit of health workers every day of the week to various communities, vaccination points have also been set up in many neighbourhoods to provide easy access for girls to receive the vaccine.
"In the school where I teach, for instance, the number of girls that have taken the vaccine is over 85% in just three days alone. It is a very impressive development considering the situation before now," the primary school teacher said.
Jonathan Adeisa, a respected youth leader in the council area, is among those that have worked against the circulating misinformation. He told VaccinesWork that his visits to Oja Odan, a popular market community, motor parks and religious centres to speak with women, had finally paid off.
"No greater feeling than to see a problem vanish even before it compounded your worry. I feel fulfilled seeing the response from women, who are doing all they can to ensure their girls take the vaccine.
"The task force team saddled with the responsibility of ensuring that girls within the age group in the whole of Yewa North take the vaccine has done a great job. I am really happy to be among those who made this development possible," Adeisa said.
"Not resting on our laurels"
According to Ladan Aliyu, a deputy director with the National Primary Health Care Development Agency, who has coordinated grassroots distribution of the vaccine, intense sensitisation is ongoing, even as the immunisation campaign gathers pace.
"Indeed, the rate of enrolment has peaked in recent days. This is very encouraging but we are not resting on our laurels.
"We have continued to push out radio and television adverts in different local languages that people at the grassroots can understand and relate with. We have also ensured that these messages are passed across by people they trust.
"We are currently collating enrolment figures from every community in the 16 pilot states and I can say that the numbers so far have been impressive,"

– Ladan Aliyu, National Primary Helath Care Development Agency
"The presence of canvassers and influencers who go from house to house to further reinforce this message have very much added to the success of the exercise despite the initial setback.
"We are currently collating enrolment figures from every community in the 16 pilot states and I can say that the numbers so far have been impressive," he said.
Momentum
In Lagos and Osun, two other states in the region included in the first phase of the HPV roll-out, vaccination reportedly spiked significantly in recent days, especially after leading public figures added their voices to appeals for parents to bring their girls forward.
Local media have reported large-scale turnout in Nasarawa and Abuja – Nigeria's political capital, with parents whose daughters' often remote schools were not designated for on-campus vaccination sessions going out  in search of the jab.
In Jigawa State, Governor Umar Namadi has personally accompanied health workers visiting communities to encourage uptake.
Members of the Advocacy, Communication and Social Mobilisation team of the Bayelsa State Primary Health Care Board have had a busy time in recent days visiting all federal government colleges in the state to educate girls and their parents on the safety of the vaccine ahead of its launch in the city later this month.
To further scale up enrolment rate, federal health authorities have established vaccination sites in all 4,163 wards across the first 16 states of the ongoing campaign.