No VIP treatment: Malawi aims for an equitable COVID-19 vaccine roll-out
Since the first consignment of COVAX doses arrived in Malawi in mid-March, vaccination centres like Chileka Health Centre, just outside Blantyre, have recorded enthusiastic turn-out.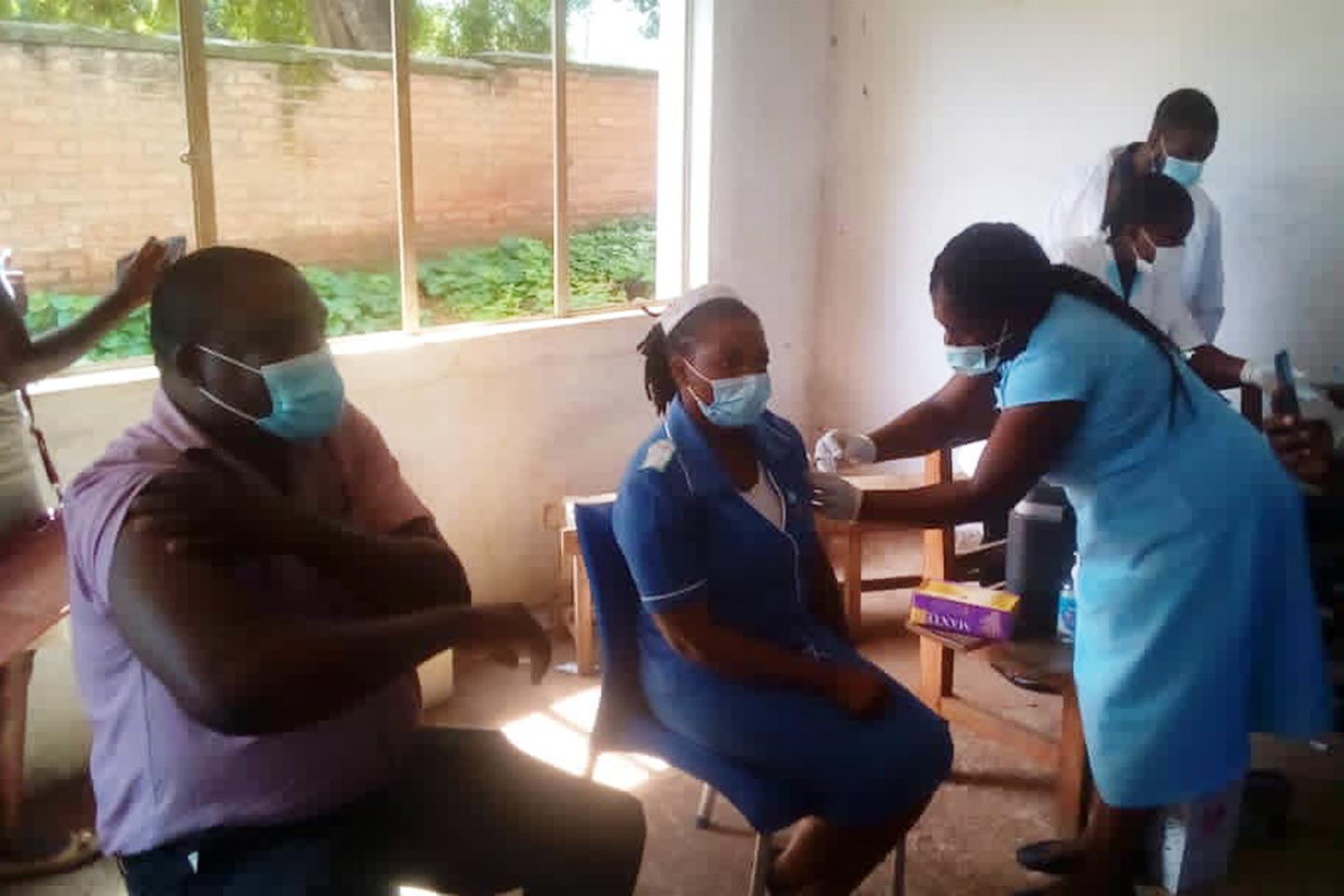 It is 7:00 am on a sunny, windy Monday at Chileka Health Centre on the outskirts of Blantyre in southern Malawi. The COVID-19 vaccine is being rolled out here under the COVAX initiative and, despite a perception that the country's rural populations might prove harder to mobilize, people have turned out in large numbers.
Though the Ministry of Health has been clear in its communications that priority for this first phase of the vaccine campaign extends to the elderly (aged 60 and over), people with albinism, people with underlying health conditions, uniformed and social workers and journalists, people who fall outside these categories have shown up as well.
I usually have allergies and I have had COVID-19 before, however, what really motivated me to get jab is that I wanted to inspire other people to be vaccinated. My general impression is that people are keen to receive the vaccine – which is why they are at the health centre so early. The health workers have also been very supportive. They keep explaining to people what to expect from the vaccine in terms of possible side effects, and its importance,
says Khataza Chiwanda, a Kameza township resident.
The first day of the roll-out here saw some minor logistical challenges, but Chiwanda observes that these have been ironed out with time. Now, new arrivals at the vaccination centre are checked for eligibility, and briefed on the vaccine. Eligible candidates have their blood pressure checked – two successive elevated results mean a patient may be advised to return in a few days.
"If your BP is normal, you proceed to get the vaccine, then you get your details recorded into a vaccination card, and you are advised on your next jab date. I was also advised to wait for 15 minutes to monitor if there are any severe reactions to the vaccine," Chiwanda explains.
Shipped by COVAX, the 360,000 doses of the Oxford-AstraZeneca vaccine were met with a flamboyant reception at Kamuzu International Airport on March 5. Malawi's COVID-19 vaccine roll-out kicked off on March 11. Intending to set an example, President Lazarus Chakwera, first lady, Monica Chakwera, Vice President Saulos Chilima, religious leaders and other high ranking government officials were the first to get the jab.
Frontline health workers constitute Malawi's priority group for this first consignment of vaccine. Since the first case was confirmed in Malawi on April 2, 2020, 1,675 health workers have contracted COVID-19. 12 have died.
Chrissy Banda, Blantyre District Health Office (DHO) Health Promotion Officer, says there is a high demand from the general public, especially in urban Blantyre. Ineligible hopefuls have had to be turned back, she adds.
"As of March 31, Blantyre had vaccinated 23,000 people, since we rolled out the exercise at district level on March 19, 2021. We received a total of 28,000 doses from the Central Ministry of Health," Banda says.
She attributes the vaccination rate to the high numbers of trained health workers in the city: 128 of them, organised into teams of five to seven for the vaccine campaign. Many of them were trained up especially for this exercise by Blantyre DHO; 28 health workers were initially trained by the World Health Organisation.
"Some notable challenges we have encountered is the fact that some people are hard to reach because of their status. They can't come to a public health facility and stand on a queue. With the other vaccines, we reach out to them. But with this vaccine it's a government directive that all vaccines have to be administered at the facility," says Banda. "Others can't come because of the nature of their job."
The COVID-19 doses are stored in cold rooms at the DHO, near Queen Elizabeth Central Hospital in Blantyre. "Oxford AstraZeneca Vaccine ain't different from any other vaccines we keep at this facility so the storage is the same. When the consignment is being taken to a remote area where there is no fridge or one of the outreach immunization centres, the vaccine is kept in vaccine-tailored cooler box," Banda explains.
She adds, "health facilities are given vaccines according to their population estimation - to minimize on chances of wastage. For this first phase, we are still providing immunizations, even at Easter holidays, until the vaccine consignment ends."
Maziko Matemba, Executive Director of the non-governmental organisation Health and Rights Education Program (HREP), says that he is impressed with the fact that the Malawi government is rolling out the vaccines in all 28 districts of the country. "There is a provision of equitable health services, regardless of the noticeable high demand for the vaccines in urban areas."
He further commended the government for being part of the COVAX. If not for COVAX, Matemba explained, Malawi would not have managed to get access to the COVID-19 vaccine. "Health is a fundamental human right and government has given Malawians a choice for better health through this vaccine under the COVAX initiative."
George Jobe, Executive Director for Malawi Health Equity Network (MHEN), is enthusiastic about the high immunization turn out, but says that awareness-raising remains challenging in rural settings. "There is a high positive response in urban areas due to conventional publicity but there is need to find alternative means to reach out to the rural masses," he said.
According to Malawi's Secretary for Health, Dr Charles Mwansambo, the target is to immunise at least 60 percent of Malawi's 18 million citizens. COVAX will provide vaccines for 3.8 million people, he says –some 7.6 million doses. As of April 5, the tally of vaccinated people across the country stood at 160,445.
More from Josephine Chinele