Opinion: Reach 'zero-dose' children to build back better
We must seize this opportunity to shape our COVID-19 response as a chance to achieve better equity and social justice. What better way to do that than to focus on zero-dose children?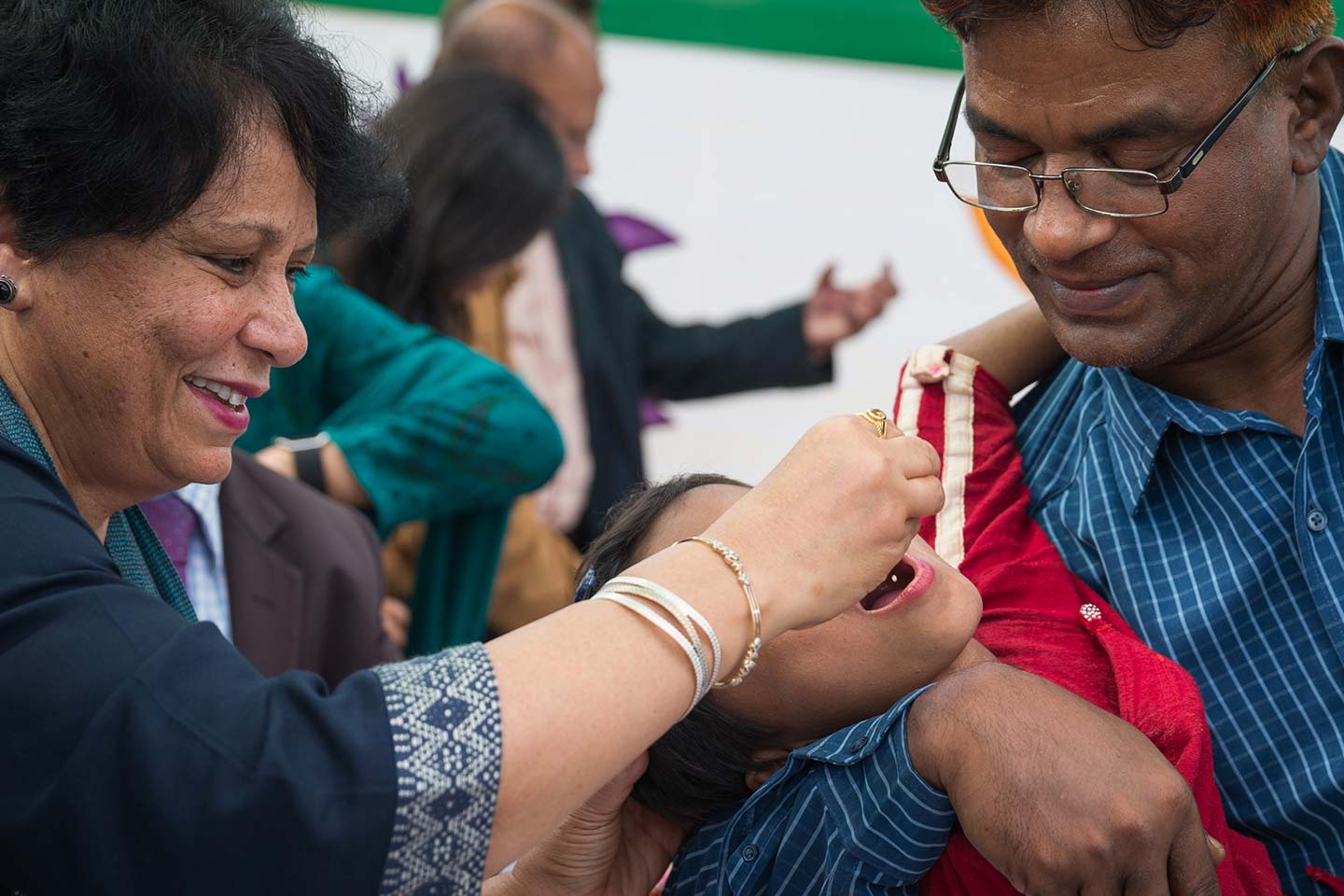 The COVID-19 pandemic has wrecked the health and lives of hundreds of millions of people across the globe. The poor and marginalized have been cast away even further. Forced to go to work or go without food, many live in cramped spaces that do not allow the luxury of physical distancing. Often unable to access water and sanitation facilities, they cannot wash their hands repeatedly or follow other COVID-19 protocols.
If sick with COVID-19, they are more likely not to receive adequate care. At the same time, large-scale disruption of essential health services such as immunization and skilled birth attendance has meant that their children no longer have the protection of lifesaving vaccines, while women often have to give birth at home alone. The knock-on impact of COVID-19 on their health and safety is difficult to quantify in numbers.  
Any COVID-19 response or recovery effort will be incomplete if it does not put the needs of these worst sufferers of the pandemic at its heart. Even before COVID-19 struck, more than 10 million children born every year were deprived of even a single vaccine shot in lower-income countries supported by my organization, Gavi, the Vaccine Alliance.
These "zero-dose" children account for half of vaccine-preventable child deaths. As the pandemic deepens pre-existing health inequities, the number of zero-dose children is bound to rise further, leading to an increase in child deaths, disease outbreaks, and medical impoverishment.
The face of extreme poverty
These zero-dose children are the face of extreme poverty, with two-thirds of them living in households subsisting on less than $1.90 per day. They embody communities with compounded vulnerabilities who are not just missing out on vaccines but also on a much wider range of essential services. People in these communities, particularly women, children, and adolescents, are most likely to lack access to education, nutrition, clean water, sanitation, and hygiene, as well as sexual and reproductive health rights and services.
Given that these communities suffer from multiple deprivations, inequitable access to vital services such as these is often a matter of life or death. In the lowest-income countries, maternal mortality is more than 40 times higher than in Europe, and in fragile states, under-five mortality is three times higher than in nonfragile countries.
We must seize this opportunity to shape our COVID-19 response as a chance to achieve better equity and social justice. What better way to do that than to focus on zero-dose children?
The profound difference that simple interventions can make in ensuring their survival and development is evident from the fact that there has been a 70% reduction in vaccine-preventable child deaths in Gavi-supported countries during the past two decades as a result of improved access to vaccines. Among all essential health services, immunization is now the most equitable, reaching 81% of all children born every year — up from 59% in 2000.
The importance of investing in public health
COVID-19 is now threatening to unravel much of this progress. Disruption to health systems in these countries means more children are now likely to miss out on essential vaccinations, putting them, their families, and communities at risk of outbreaks of other highly preventable diseases. In addition to childhood immunization, other vital health services have been impacted, particularly those so relied on by women and girls, including access to contraception, antenatal care, skilled assistance at childbirth, and postnatal care. 
However, it is also true that the pandemic has brought unprecedented political and public attention to the importance of investing in public health, especially prevention. The imperative of bringing laser focus on marginalized populations, of which zero-dose children are a compelling reminder, has never been more obvious.
Even before we start to recover from the fury of the pandemic, there is an opportunity to build back better. Only by bringing equity front and center of our rebuilding efforts would we pave the way for resilient, pandemic-proof health systems. Not only is this important from a moral and economic standpoint, but it is also a human rights issue because everyone has the right to lead a healthy life.
The scale of COVID-19 vaccinations offers us a unique chance to focus on these people and communities left furthest behind and reach them with essential health care along with COVAX humanitarian buffer, which is designed to provide the often most neglected populations in humanitarian settings access to COVID-19 vaccines. Adults in these communities need priority protection with COVID-19 vaccines, while their children need priority protection of routine vaccines.
Immunization is the only intervention that brings the majority of households repeatedly into contact with the health system during the first two years of a child's life. By building out the service delivery infrastructure, supply chains, data systems, and community engagement needed to deliver immunization, we can build a platform through which other primary health care services can be delivered. Therefore, reaching zero-dose children can be the first step toward comprehensive, equitable, and community-based primary health care.
Flexible and nimble approaches
However, by no means should we underestimate the challenge of reaching these zero-dose children and missed communities. Not only do they represent the most vulnerable communities in the world, but they are also, by definition, the hardest communities to reach, given the complex socioeconomic, cultural, and geographical barriers.
Flexible and nimble approaches are required that are highly responsive and tailored to the needs of these communities, many of whom often live in the shadow of conflicts, urban slum areas not recognized by local authorities, inaccessible terrains or in refugee camps. It will require working with new partners, such as humanitarian organizations, and enhancing existing partnerships with civil society and community-based organizations.
It is also important to remember that making services available to people does not necessarily mean they will seek them out. Therefore, we also need to proactively win their trust and build community ownership so they can demand essential health services such as vaccines as a basic right.
We are glad to see that this focus on zero-dose children and its opportunities for integration are being embraced and amplified. The Immunization Agenda 2030 aims to halve the number of zero-dose children over the next decade. Also, importantly, the recently released second progress report of the SDG3 Global Action Plan recognizes zero-dose children as a marker of communities facing multiple deprivations and as a core part of its approach toward equitable and resilient recovery from the pandemic.
There is no time to lose. We must seize this opportunity to shape our COVID-19 response as a chance to achieve better equity and social justice. What better way to do that than to focus on zero-dose children — as well as communities that continue to be invisible and therefore deprived of basic health protection, of which vaccination is a prime example — as a pathway to strengthen primary health care?
PARTNER CONTENT
This article is republished from Devex. Read the original article published on 06 July 2021.
About the author
Anuradha Gupta is Deputy CEO at Gavi, the Vaccine Alliance. Since joining Gavi in 2015, Anuradha has led efforts to put equity and gender at the center of its programmatic planning and to tailor support for countries within its strategy. She has also driven efforts to create a new model of country-level alliance support through the establishment of the partners' engagement framework.