Routine immunisation worldwide holds firm despite the pandemic
Despite the havoc wrought by the COVID-19 pandemic on health systems worldwide, governments' work to bring immunisation programmes back on track is paying off.
30 September 2021
5 min read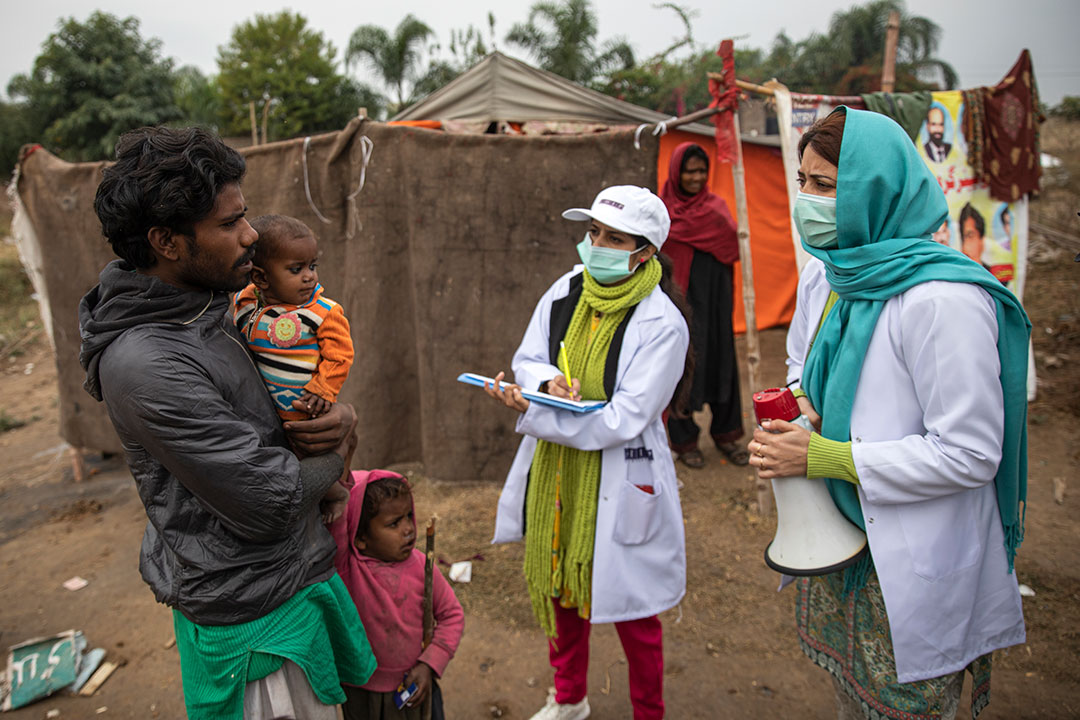 When the world came to a standstill last year, routine immunisation programmes worldwide were disrupted like almost every other health programme. WHO and UNICEF estimate that in 2020, 23 million children worldwide (up from 19 million the year before) missed out on vital vaccinations, such as those for diphtheria, measles and polio, with lower-income countries hit hardest.

However, despite a 40% drop in immunisation activity in Gavi-supported countries in early 2020, countries and international organisations made an extraordinary effort to bring vaccine programmes back on track. And it worked: more children were immunised in December 2020 than in December 2019. That there were fewer vaccine-preventable outbreaks in 2020 is testament to the remarkable efforts of immunisation programmes to catch-up vaccinating children who had been missed earlier in the year.
Disruptions to immunisation 
There were considerable, justifiable concerns that routine immunisation would drop during the pandemic, which would not only leave children vulnerable to infection but also wreak considerable collateral damage, such as malnutrition and disruptions to education.
The data indicates that countries in Asia and Latin America both saw the biggest negative impact on routine immunisation programmes, whereas African countries had relatively limited disruption.
This disparity continues into 2021, with African nations keeping its vaccine coverage steady while Asian countries continue to see disruption from the pandemic, even if not at the same level as 2020.
There were many reasons for the disruption, including diverting healthcare resources to COVID-19 and mobility restrictions stopping people from accessing healthcare or health workers reaching out to marginalized populations. But as a global supplier of childhood vaccinations, Gavi ensured that the supply of vaccines was never an issue. Gavi in partnership with UNICEF made exceptional arrangements to have vaccines shipped to countries in time for children to continue to be immunised besides ensuring that manufacturers did not stop routine vaccine production while ramping up production of COVID-19 vaccines.
Bouncing back
As reported in Gavi's Annual Progress Report, this recovery in immunisation towards the end of 2020, plus strong performances in the first months of 2020 before the pandemic fully took hold, meant that the 68 lower-income countries supported by Gavi saw immunisation rates drop by just four percentage points in 2020, from 82% to 78%, for a full course of basic diphtheria, tetanus and pertussis-containing vaccines (DTP3) – the measure of broader vaccination coverage. 
This is still a concerning decrease – the first drop in coverage in lower-income countries since Gavi's foundation in 2000 – but it is not as dismal as predictions made last year by the Institute for Health Metrics and Evaluation (IHME) that vaccine coverage would drop 14 percentage points globally in 2020. 
That routine immunisation has bounced back is testament to an incredible effort by governments, global health organisations and, most of all, countless vaccinators, health workers, civil society groups and vaccine advocates to keep routine immunisation programmes on track despite the pandemic disruption.
Resilience in immunisation programmes didn't come about by coincidence, it was hard won. There was a strong political commitment to immunisation, continued public financing despite fiscal stress, vaccinations were offered free of cost through public health systems and health workers were deeply committed to doing whatever they could to prevent a return to high child mortality.
Preparing in peace time to be ready in crisis
This resilience emerged because of important groundwork laid before the pandemic hit.
Gavi has invested heavily in health systems strengthening, disbursing over US$ 1.4 billion over the 2016–2020 strategic period. This vital support has helped countries recruit and train health workers who could be called upon to maintain vaccinations in a crisis; it has supported the delivery of tens of thousands of solar vaccine fridges which could be relied on to continue working without regular maintenance; and it has helped build public confidence in vaccines through large scale community mobilization. It has also improved the leadership and management of immunisation programmes and data systems to track progress and gaps. These investments proved immensely valuable when the pandemic hit.
The Annual Progress Report underlines the progress that has been made. Despite the pandemic, Gavi exceeded all five mission indicators for the 2016–2020 strategic period – children immunised, future deaths prevented, decline in under-five mortality rate, future disability-adjusted life years (DALYs) averted and vaccine delivery sustained after Gavi support ends.
Since 2000, Gavi has helped immunise more than 888 million children and prevent more than 15 million future deaths. In addition, nearly 1.2 billion vaccinations have been delivered through Gavi-supported vaccination campaigns.
But with new waves of COVID-19 hitting worldwide, the Delta variant on the rise and already-stretched health systems attempting to increase COVID-19 vaccinations, it is still to be seen if this rebound can be sustained. Gavi will continue to stand side by side with countries to help them weather the pandemic storm.
Many children continue to miss out on vaccines
Despite routine immunisation rates recovering, the number of zero-dose children not reached with even a single shot of vaccine increased by 30% in the 68 Gavi-supported lower-income countries in 2020, from 10.6 million to 13.7 million children. Many of these children live in remote geographies, urban slums, refugee camps or conflict areas with no access to healthcare and rely on outreach services for them to be able to get any vaccines.
As outreach services came to a near standstill during the early part of the pandemic, these children were never reached – which shows how critical reaching a child with that first vaccine is; once they've had one vaccination, they are significantly more likely to come back for the full course of vaccines.
The devastating rise in zero-dose children will mean they have less access to other health services, as immunisation provide a crucial connection point with health systems, a rise in malnutrition, children being more likely to drop out of education and greater health care bills that can push families into poverty.
For Gavi's current five-year strategic period – "Gavi 5.0", which runs from 2021–2025 – reaching these zero dose children in missed communities will be our core focus, because these children are a grim marker of the starkest inequity. Their families often suffer from extreme poverty, multiple deprivations, denial of even the most basic services such as sanitation and water, and gender discrimination. The COVID-19 pandemic has made our goal of vaccine equity even more urgent.