Pandemic Culture: Doubt and Faith in Padua
The artist Evyrein is not a believer: not in the church, not in the easy orthodoxy of the oft-repeated phrase of the early pandemic, "andrà tutto bene" – everything will be fine. But in early 2021, his mural of a rebel St. Anthony with a giant Pfizer syringe struck many in Padua as a declaration of faith in the vaccine. Was it?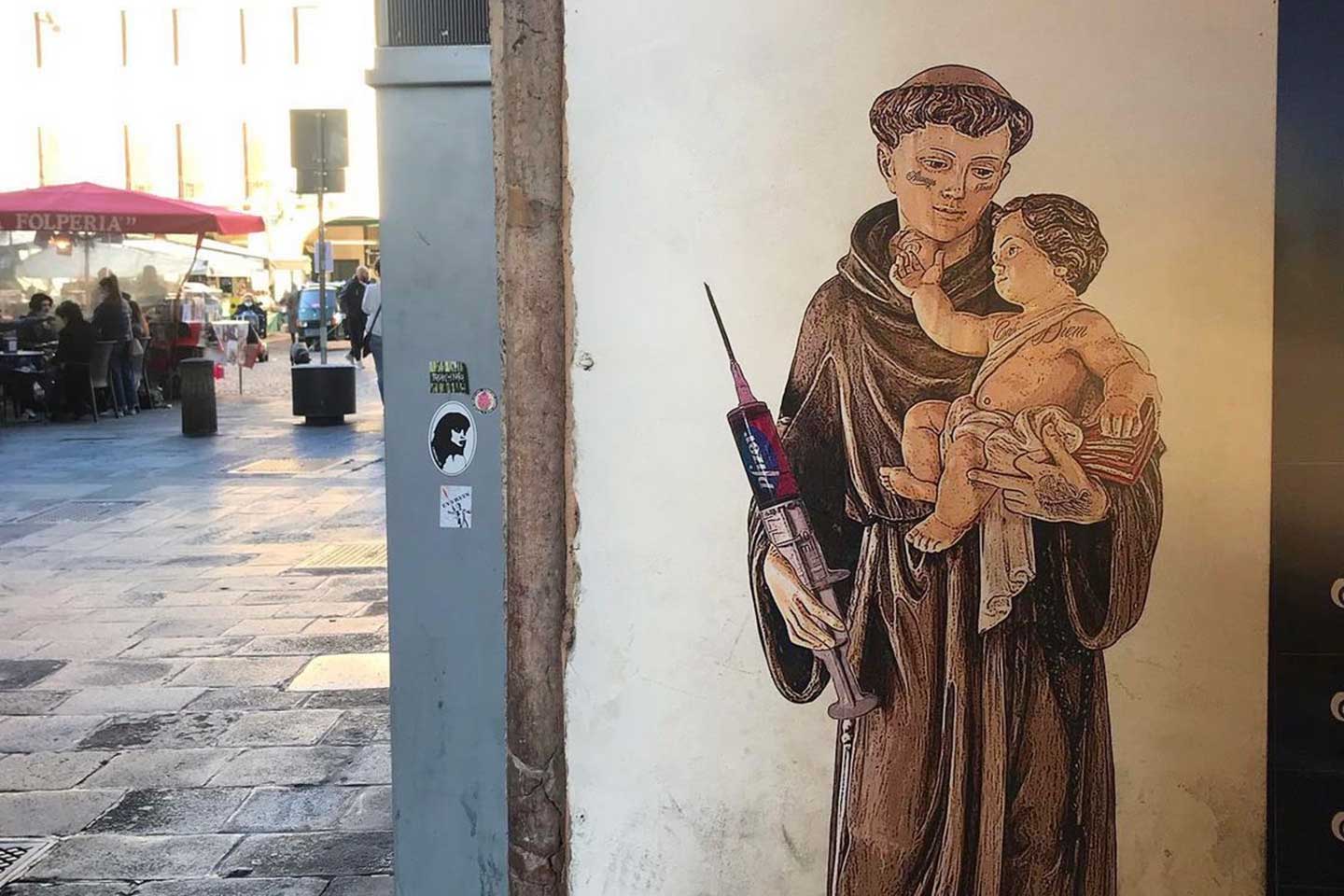 For most of us, the pandemic did not start with a close encounter with the virus. Instead, this new normal began when public life was suddenly snuffed out: streets emptied, squares and parks closed, shops and workplaces shuttered. But, even as life at street-level thinned, street artists in cities all over the world conjured up artworks that spoke to their fugitive publics about this strange pandemic moment. This is the first piece in a new series we are calling Pandemic Culture, in which we will profile some of the pictures and artists that have kept us company in our silent urban landscapes over the past 18 months.
St. Anthony and his COVID-19 vaccine appeared suddenly, the way street art often does, on a nondescript wall in an area of Padua called Arcella one Friday in February. Italy was a year into its traumatic experience with the novel coronavirus, and a new wave of infection had sent portions of the country back into strict lockdown.
The mural, a paste-up featuring a tattooed, tonsured, doe-eyed avatar of Padua's patron saint with an infant Jesus on one hip and a giant hypodermic needle labelled "Pfizer" on the other, appeared to meet the moment with a flickering mixture of embittered humour and determined hopefulness. Ci vorrebbe un miracolo (It would take a miracle) was the title chosen by its artist, who goes by Evyrein, when he posted it online.
The scientific process – the researchers working night and day on clinical trials; the regulators poring over thousands of pages of documents; the agencies monitoring millions of vaccinations for reactions – exists to remove the need for blind trust.
Within 24 hours, the piece had been vandalised. Gashes in the poster paper notched the saint's face and severed the arm of baby Jesus. PadovaOggi, a local newspaper, reported that the vandals "had managed to snatch the syringe from the saint's hands, but it was immediately glued back in place". After a Zoom conversation with Evyrein one June afternoon, I wondered whether the damaged picture – with its superimposed record of strong and conflicting feelings – might not make a better document of its maker's point of view than the original.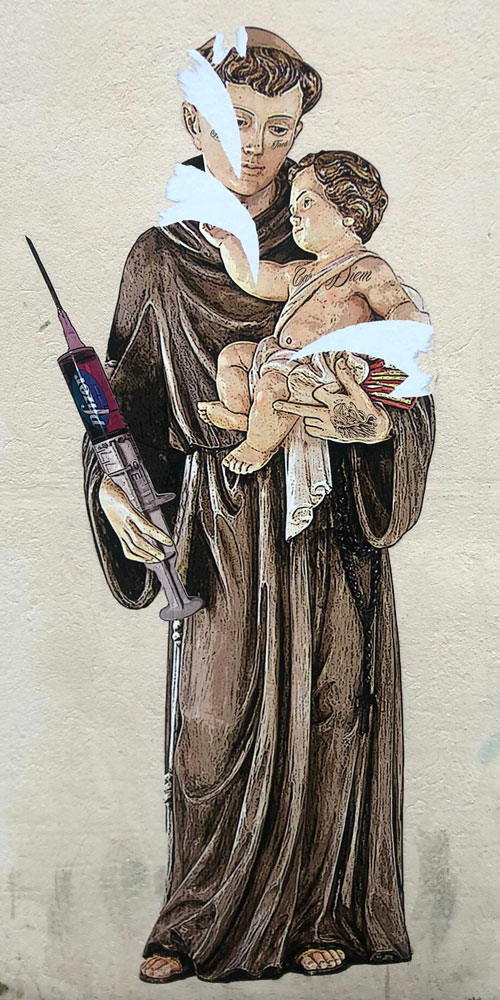 In the beginning, reports of the new virus struck Evyrein as too hysterical, too movie-like to be true. But as the evidence of a spiralling disaster in nearby Lombardy mounted during those early days, his disbelief faltered, and then he understood. "They closed the little city," he told me, "and I thought – what the f*** is going on? And then they closed everything. I said, okay maybe it's something. Maybe it's not a joke, this one. I saw on the TV strange things like dead bodies on military trucks. I said, wow, I think we are in trouble for real."
Things Evyrein trusts, according to Evyrein: the sun, himself, "a few people". He's dubious of orthodoxy: "I don't like the church, I don't believe in miracles". He's apparently scornful of uncritical optimism – one of his works crosses out a popular slogan of the Italian pandemic, "andrà tutto bene", meaning "everything will be alright," replacing it with the phrase "poteva andare meglio": "it could have gone better". Now 40, lean, clean-shaven, and tattooed, he retains some of the habitual wariness of the kid he was in the 1990s, when he played lookout to a band of graffiti artists. He knew his decision to invoke the saint would be controversial: "Here in Italy, if you touch the saint, the church, people are going crazy… But you have to do something. I want people to realise that something happened."
What had happened, among other things, was a November spike in COVID-19 infections that dwarfed Italy's first wave. Over Christmas, the entire country became a "red zone", meaning the population again found itself under the severest virus-containment restrictions. This time, though, the prospect of the vaccine was tantalisingly close: just before New Year, Italy would begin immunising its healthcare workers with a first round of Pfizer-BioNTech vaccines. 
Arriving when it did, after a weary year of lockdowns and losses, on the anxious threshold of mass vaccination, Evyrein's St Anthony was not just a provocation. "I don't believe in miracles," he told me, "but at the same time, I've done this Saint who used to make miracles – because in this time, we need a miracle." While it attracted vandals and its fair share of outraged online commentators, the work struck many as a rallying cry, a picture of hope. Even the church – in the form of the rector of the Basilica of St Anthony – had words of praise: "The irreverent and ironic spirit, typical of street art, is only the means chosen to convey a good message: that of continuing to fight together against the virus," said Father Oliviero Svanero.
The work is embroidered with jibes at systems of authority the artist resents (the flashed middle finger of the Saint, directed at COVID-19, is, like the face tattoos borrowed from the musician Post Malone, a subversive joke). But St Anthony and his Pfizer jab reads first and foremost as a statement of determined, if embattled, faith.
Faith doesn't come easily to Evyrein – not even faith in science. "I'm not a scientist," he repeated several times when we spoke in June, as Italy's vaccination campaign accelerated through younger age groups. "I don't know if it works, the vaccine. But the number," he said, referring to the declining COVID-19 infection rate, "is different right now." 
As for his own vaccine, he plans to get it when slots in his area open up: "I'm totally nervous, I'm not excited at all," he concedes. "I don't know, I'm a hypochondriac," he offers in shoulder-shrugging clarification, adding that he's "absolutely" not an anti-vaxxer. 
The scientific process – the researchers working night and day on clinical trials; the regulators poring over thousands of pages of documents; the agencies monitoring millions of vaccinations for reactions – exists to remove the need for blind trust. But for Evyrein, as for millions of others who encounter intuitive misgivings about taking medicine while healthy, believing the science can feel like an active choice. For many, even well-founded, open-eyed faith can feel like an anxious leap; it can demand a little courage.