Pandemic Culture: Painting for joy - and vaccine confidence - in California
As COVID-19 began to grip northern California, one furloughed lunch lady turned herself into the Velvet Bandit, a pandemic warrior spreading her pro-science message across the streets of the Golden State.
In late March 2020 – after it had become clear that the novel coronavirus wasn't going to just flare and fade, after 21 passengers on a cruise ship idling off the coast of California had tested positive, after the entire state had been ordered to stay at home, and after one particular Californian, a forty-something-year-old school lunch lady, had been furloughed – a series of bright little acrylic paintings started blooming like spring flowers on public surfaces in Santa Rosa and Petaluma.
They were hand-painted glyphs, as cheerful and communicative as emojis, except that they spoke with a clearly individual voice. That voice was sharp, silly, sometimes sweetly risqué, and stridently on the side of public health. "Vaccinate me, daddy" read a chubby, cartoonish syringe pasted to a street-facing power box. "Take me to your leader", menaced a lurid turquoise coronavirus. A pink lollipop affixed to a signpost complained that "COVID sucks," and a bouncy little gravestone urged passers-by to "keep 6ft apart" – or else.
The art was striking, and so was its extraordinary profusion. In another era, and in another moment, it might have felt appropriate to describe the spread of the Velvet Bandit's public pictures as "viral". Soon, passers-by in Brooktrails were warned by a cartoon coffin to "mask it or casket", a street in Guerneville and another in Penngrove were plastered with fluttering loo-rolls labelled "American Hoarder Story". In one month, the Velvet Bandit's Instagram page had recorded well over one hundred acrylic-and-wheatpaste incursions into public space. 
The woman behind the Velvet Bandit – that furloughed school lunch lady – has been painting all her life, but her street-artist avatar was born of the pandemic. "I was laid off my job, my kids were not going to school, I was stuck at home with art supplies and nothing to do but create," she told #VaccinesWork last month. Before the shelter-in-place order came in, she had hung a gallery show whose opening would be stifled forever by the virus. "I needed to connect with others. You see a lot of street art, and graffiti, and tags – a lot of it is an eyesore. I wanted to bring something that was pretty, and positive, and uplifting. A way to connect with others and let people know we're not alone – kinda, 'we can get through this together'."
She began painting differently: cheaply, on newsprint, and with a new, intoxicating kind of disinhibition. "With my other paintings" – the kind on canvas, which she says speak a very different language – "I have a lot of unfinished ones, because I get hung up on the detail," she explained. Knowing that street art had a limited life-span loosened the hand-brake: "I fell in love instantly. I started painting more and more, and I haven't stopped since."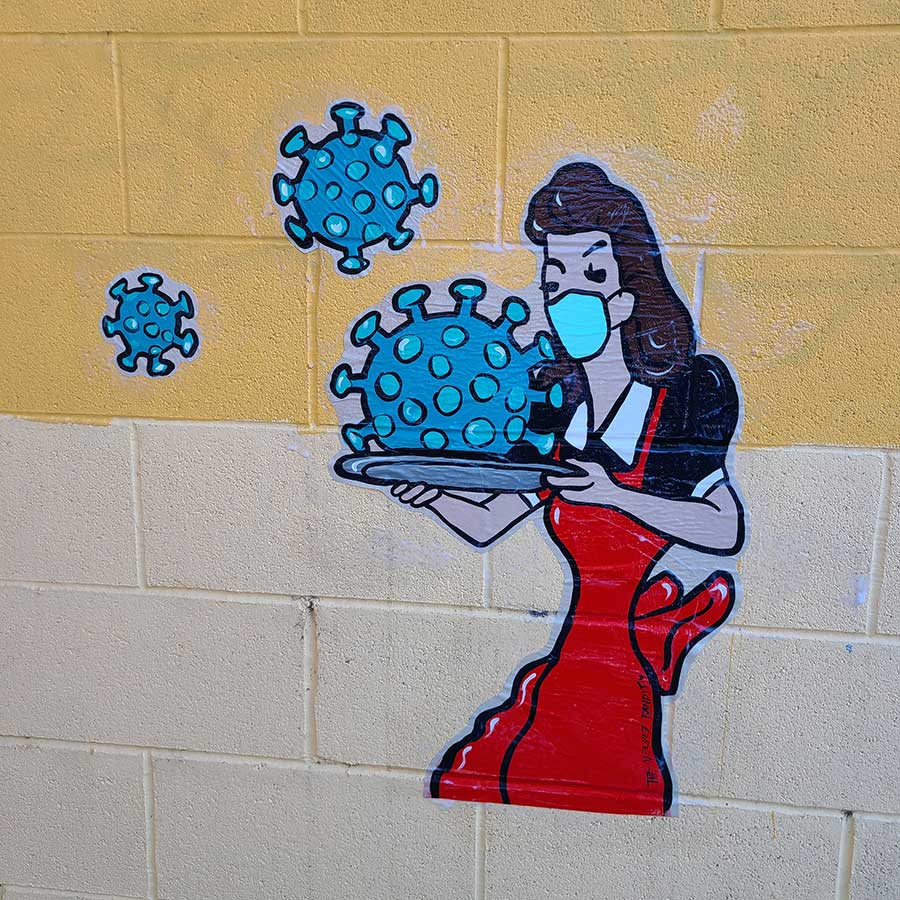 At first, she cooked batches of wheatpaste on the stove and snuck out at night to paste up work. Soon, she realised that her identity – white, female, approaching middle-age – afforded her "the privilege of being invisible… I don't think anyone's looking at me like I'm doing anything wrong." She bulk-ordered wallpaper paste and headed out in broad daylight.
Quickly, the work took on a kind of civic-minded urgency: "I felt it was my duty as an artist to bring some art to people during these times – something pretty to look at, something to smile at." In this, she joined a generous collective of rooftop buskers and balcony singers in cities all over the world. But the Velvet Bandit's medium had the advantage of nearly boundless flexibility. The glyphic alphabet she had begun to build – loo rolls, old-school Americana pin-ups, syringes, coronaviruses, glasses of wine – morphed to reflect the changing times.
In October, when President Trump was diagnosed with COVID-19, she painted a scientist peering down a microscope – the words "science or karma" ran down the arm of his lab coat. In December, as the weather changed, the neon coronaviruses sang "baby it's COVID outside." As the US approached a tense general election, her masked-up pin-ups chorused at Sonoma and Mendocino Counties to vote. The vote went the Bandit's way: "I'm hoping that my artwork kind of nudges people in the right direction," she says. "Our county had the highest turnout in California. I don't know if I'm responsible for that," she laughs, "but I'd like to think I had a small part in it. I'm hoping that my pro-vaccine art might start nudging people to consider it."
There is reason for concern. "I live in northern California. There's a lot of liberal, crunchy hippies – they don't view the vaccine as being organic and locally sourced. They don't trust big pharma. There are a lot of my friends who are not getting it – it's hard. It's hard to talk about." The artist – whose father spent some 18 months in an iron lung after a childhood polio diagnosis – has never been anything but pro-vaccine and pro-science. But around her, opinion is fragmented: "COVID became this divisive, real polarised issue," she says. Her response has been to appeal to symbols of American unity.
On a sunny, "not-too-cold" afternoon this past February, the Velvet Bandit and a friend pasted up a fresh mural on an abandoned wall in San Rafael. "We stood back and said, 'holy shit, this looks amazing'," she recalled. It was a beautiful, uniquely 2021 riff on Rosie the Riveter, the iconic war-time poster-girl for America's fabled can-do spirit. The character's familiar blue shirt and red-spotted headscarf were joined by a face mask stamped with the letters "H♡PE" and a badge reading "in science we trust." The Velvet Bandit's Rosie clutches a syringe in her fist and has a band-aid stretched across her flexed bicep.
"It's the one and only vaccinated Rosie I've done," says the artist. "As far as I know it's still there on that wall in San Rafael" – a sign, she'd like to think, that the painting's message has found its audience. "It's a call to action," she explains simply. "I'm just hoping that everyone will suck it up, get the vaccine and get to the other side of this."