Strengthening supply chains: a long-term investment
The Vaccine Alliance has been working hard in recent years to build greater resilience in supply chains, an effort that is starting to show results.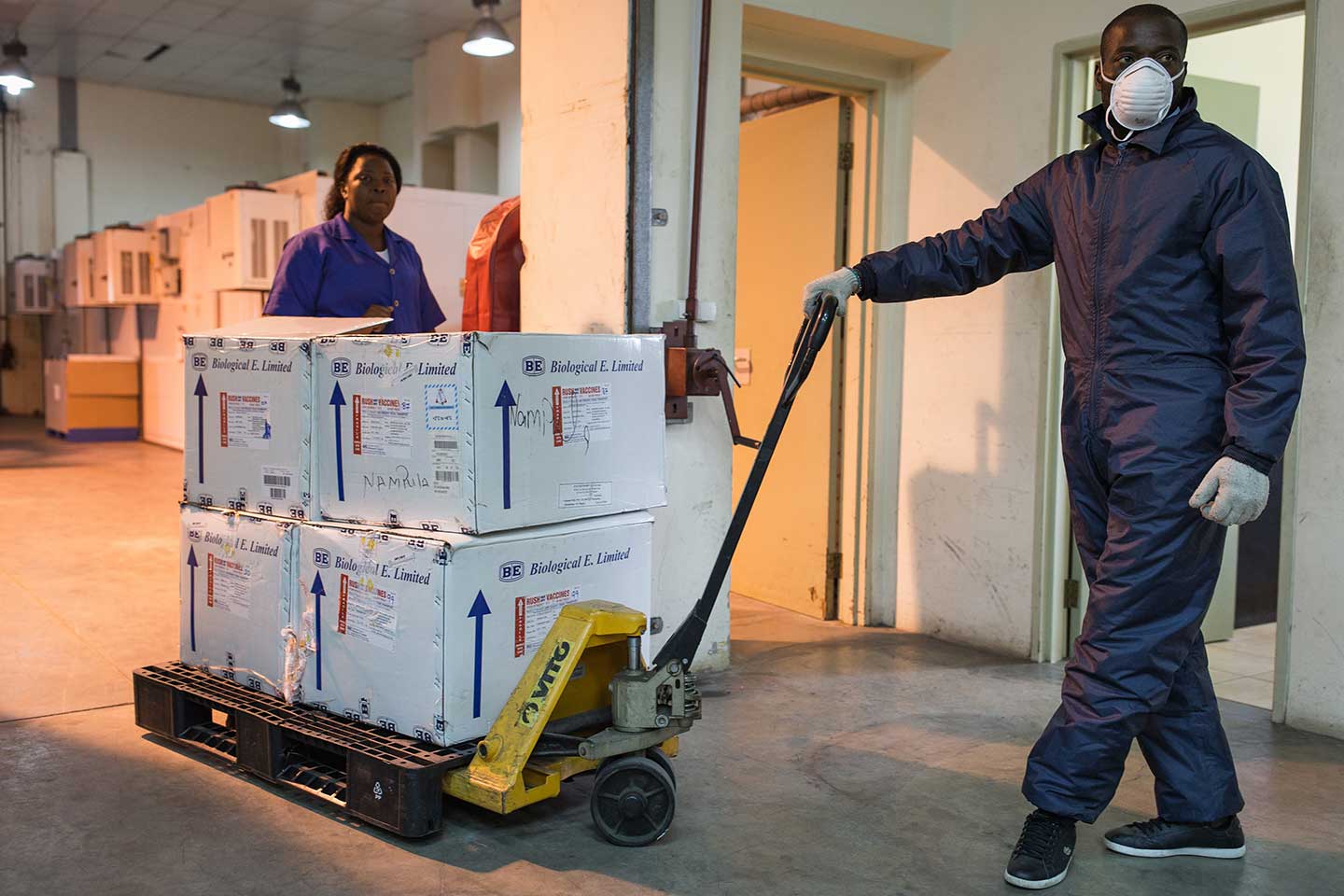 In 2019, scores for Effective Vaccine Management (EVM) – WHO's analysis of country supply chain performance – reached an average of 70% across Gavi-supported countries for the second year. All countries that conducted an assessment in 2019 gained an increased score – up by an average of nearly 7 percentage points from their last assessment. This suggests that countries continue to make progress in strengthening their supply chains – although the portfolio-level indicator was flat due to a limited number of new EVMs in 2019. A newly improved assessment tool will empower countries to conduct more regular self-assessments of their progress; also, it will provide more insights and greater clarity on where improvements are needed.a
of improved cold chain equipment procured to date
Countries making substantial commitments to improving their supply chain and procurement include the Democratic Republic of the Congo (DRC), which made it a priority under the Mashako Plan to boost immunisation coverage. The country used 43% of health system strengthening support on such key areas as scaling up infrastructure; building, procuring and maintaining cold chain equipment, facilities and vehicles; and strengthening data for management. Together with technical assistance from partners under the partners' engagement framework (PEF), this helped strengthen the supply chain and boosted the country's EVM composite score to 70% in 2019, up from 60% in 2014. Cameroon also made significant progress in this area, reaching an EVM composite score of 80.6% (compared with 62% in 2013).
countries applied for Gavi's Cold Chain Equipment Optimisation Platform support
A total of 49 out of 57 eligible countries have applied for support from Gavi's Cold Chain Equipment Optimisation Platform (CCEOP). By the end of 2019, the Alliance had procured nearly 40,000 units of improved cold chain equipment through CCEOP and was on track to reach the target of procuring 65,000 units by the end of 2020.b
---
---
Read more about how Gavi has accelerated equitable uptake and coverage of vaccines in Gavi's 2019 Annual Progress Report.