Vietnam vaccinates 90% of its population against COVID-19
In just five months, Vietnam has turned its COVID-19 vaccination drive around.
28 February 2022
4 min read
by Lam Le
In mid-August 2021, Vietnam had the second lowest COVID-19 vaccine coverage in Southeast Asia, with only 7.5% of adults having received at least one dose. Five months later, that rate jumped to 100%, with 90 percent fully vaccinated.
"Over time, people have come to understand that vaccines are a vital part of pandemic prevention," says Dr Pham. "Then, people scrambled to get jabbed."
Over that five-month period, the entire country was racing against the clock to obtain and administer as many vaccine doses as possible while the Delta-led fourth COVID-19 wave was ravaging the economy and straining the health system. 
After vaccines reached an airport in Vietnam, "there was no time for them to sit in storage," says Dr Pham Quang Thai, Head of the Expanded Programme of Immunisation in the North under the National Institute of Hygiene and Epidemiology.  
"It only took a few days for vaccines to reach provinces where they were used up in an instant," adds Dr Pham.
With support from COVAX, which has supplied just under 54 million vaccines to the country, the health sector has been administering COVID-19 vaccines day and night, through public holidays and even during the Lunar New Year. 
At the peak of Vietnam's vaccination drive in September/October 2021, there were times when more than 2.1 million doses were administered in a single day, according to Dr Pham. 
From the existing infrastructure of 11,000 immunisation points across the country, capacity has doubled to include schools and even stadiums. Buses brought people living in remote areas to vaccination sites, while mobile units made sure those who could not go outside for health reasons were inoculated at home. 
For the first time in its 40-year history, Vietnam's expanded programme on immunisation was joined by both public and private hospitals, the military, the police and even neighbourhood wardens to deliver COVID-19 vaccines to the people as fast as possible.
Han Cong Khanh, a 71-year-old warden who oversees a neighbourhood of 900 people in the capital of Hanoi, is part of this apparatus. Since summer 2021, he has been leading a COVID-19 community task force composed of local volunteers who enforce social distancing rules in addition to mobilising residents to register for COVID-19 vaccination.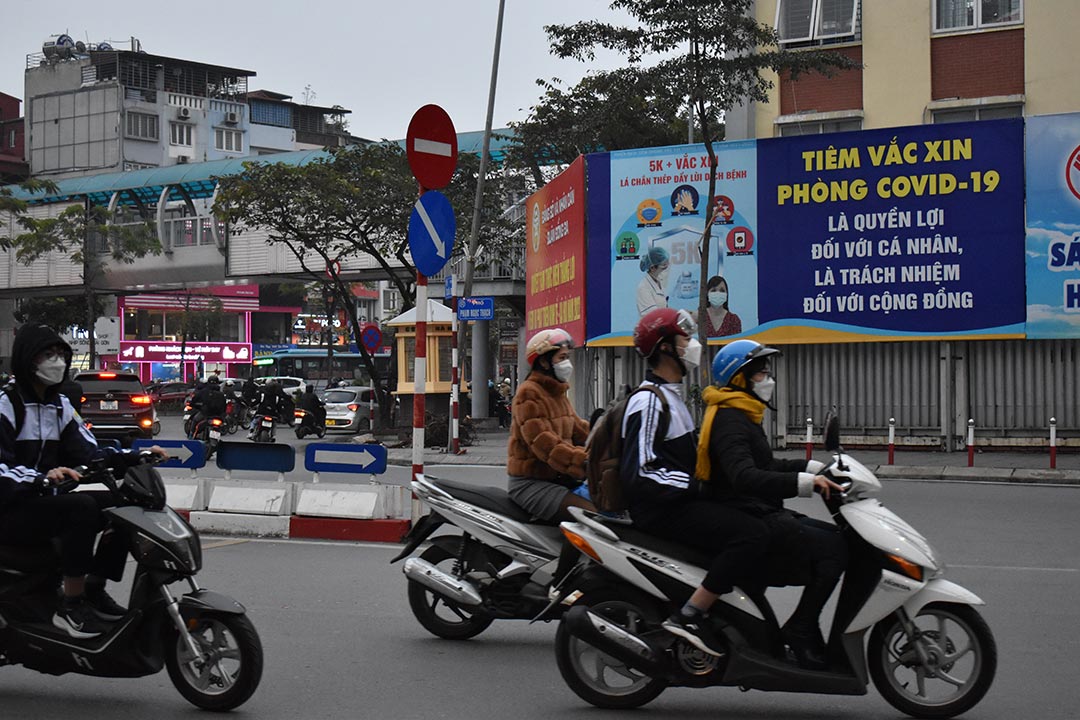 Han has been working round the clock. He received vaccination forms from the health ward as late as 22:00 for immediate distribution to residents in time for inoculation the following morning. 
At peak vaccination times, he spent his days informing residents on latest vaccination schedules via a local messaging app Zalo and even walking through his neighbourhood's sprawling alleys with a loudspeaker in hand to remind everyone to fill out their forms before they arrived at the vaccination point for smooth processing. 
Mr Han was also flooded with phone calls and messages from residents. "People were asking me all day 'when will my turn to get vaccinated come?'," he recalls. "They were worried for their lives."
The urgency to get jabbed hasn't always been so strong. While vaccine acceptance is generally high in Vietnam, uptake was initially slow when the first shipment arrived in Vietnam in February 2021, according to Dr Pham. Hardly anyone was getting COVID-19 at the time, let alone dying from the virus, thanks to Vietnam's rigorous zero-COVID-19 efforts. 
Things changed when the Delta variant slipped through the cracks of Vietnam's closed off borders in late April 2021. Contact tracers struggled to keep up with the then-new variant, which spread like wildfire, resulting in record high caseloads and deaths.
"Over time, people have come to understand that vaccines are a vital part of pandemic prevention," says Dr Pham. "Then, people scrambled to get jabbed."
Still, concerns over potential vaccine side effects remained. So the government launched a campaign slogan: "The best vaccine is the earliest one you can get." Given a choice of any vaccine or no vaccine at all, people went ahead with the former. As more and more people got inoculated, "others listened, word spread that this and that person was fine after getting their jab, and so more people went ahead," says Dr Pham.
As of February 2021, all adults in Han's neighbourhood have had a third COVID-19 vaccine dose. Dr Pham estimates that the country's entire adult population would be boosted by May 2022 at the latest.
Follow Lam Le on Twitter: @LamLe52