The worst disaster in a generation: Cyclone Ana wreaks havoc on health in Malawi
Malawi is using mobile clinics to try to alleviate the effects of a tropical cyclone that hit the southern region of the country.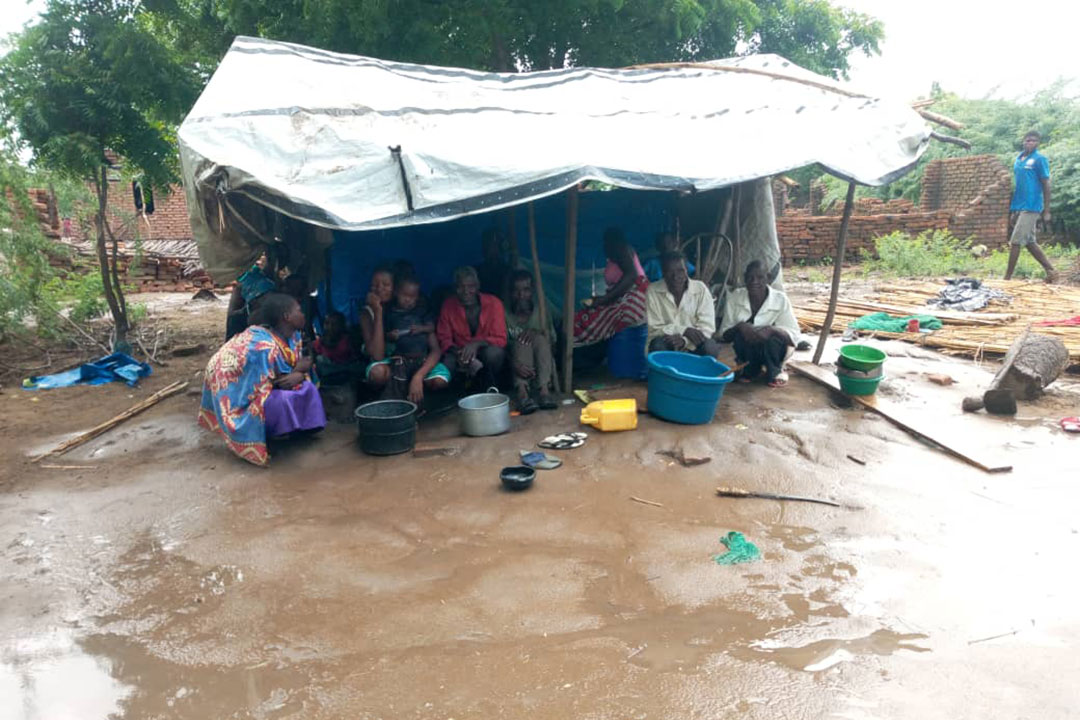 It's 9am and people at Matsukambiya camp, in Malawi's southern region, have crowded around a white Land Cruiser vehicle parked under a tree. It's mobile clinic day. 
These clinics have been visiting the camp regularly. The services offered include antenatal care, child vaccination, nutrition screening, vitamin A and deworming tablets for children, family planning, COVID-19 vaccination, condom distribution, antiretroviral (ARV) therapy and general outpatient services.
"This is a flood prone area. We always have floods during rainy season but this year's was something else. People lost everything."
Masakambiya is one of the 71 disaster camps the district established after Malawi, along with several other southern African countries, experienced tropical cyclone Ana in mid-January. 
According to the Malawi Department of Disaster Management Affairs (DoDMA), the cyclone affected 994,967 people, killed 46, injured 206 and displaced 221,127 people. Most of them are now living at temporary camps. The camps are situated on higher ground established in disaster-stricken areas.
The Department set up an Emergency Operation Centre (EOC) where government officers and partners are working together to respond to the impact of Cyclone Ana. A three-month (March to May 2022) response plan was developed to guide the coordinated response. In collaboration with the affected councils and humanitarian partners, the department has been providing life-saving assistance that includes food and non-food items in all the affected districts.
Chikwawa, the worst hit district, established different clusters to look into the welfare of the flood victims. The Health Cluster, which is led by Chikwawa District Health Office (DHO) established mobile clinics to cater to flood victims' health needs.  
Chikwawa District Health Office Spokesperson, Settie Piriminta says that his office is strained as a result of the cyclone.
"The heavy rains destroyed structures. This led to injuries, loss of health records and health structures damage. We had many injuries too. We are also likely to have more people not regularly taking their ARVs since many lost their medications," he says. 
Piriminta attributes Cyclone Ana to climate change, saying that this directly affects the operations of the health care system. He cites drought as one perpetual climate change effect on health in the district, as it usually leads to food insecurity and eventually malnutrition and its related ailments.
"This cyclone has come this year, but this district usually experiences persistent drought. We have recorded many cases of malnutrition since many households aren't food secure as a result of drought," he adds.
Piriminta further says that the DHO's office has managed to run the mobile clinics with partners' continuous support. The partners include Médecins Sans Frontières, Partners in Hope, Amref Health Africa, and Partners in Health, Save the Children and CARD.
He explains, "They support us in many ways. They provide fuel and lunch allowances for workers while others have provided additional medical supplies and mosquito nets. There are sanitation issues at the camps leading to an increase in water borne diseases. The camps are also overcrowded, prone to more health issues."
According to the DoDMA, all 71 camps in have limited access to safe water. As a result of the extensive flooding most water points, from boreholes to toilets and pit latrines, have been heavily affected. With most areas submerged in water, these are then contaminated or contaminating the water. Diarrheal diseases are a major threat.
Group Village Head Mafale of Traditional Authority Lundu says that water-borne diseases are the order of the day since the community is consuming water from unprotected sources.
"Luckily, the patients have been treated by the health workers who have been coming to the camps in the mobile clinics. They also provide us with water treatment supplies to use to protect ourselves from the diarrheal diseases. They were here last week," he says.
Malawi's Ministry of Health Spokesperson, Adrian Chikumbe, says that Chikwawa, Nsanje, Phalombe, Balaka and Mangochi are the most affected districts, with extensive health infrastructure damage including cold chain equipment damage, medicines and medical supplies.
"A good number of health care providers have also been displaced and are now living in camps themselves."
He adds that the cyclones with the concomitant flooding, drought and other weather conditions, including heat waves, are climate change issues that have negatively affected delivery of health services.
Meanwhile, public health expert, Dr Titus Divala says "the damage and disruption of public infrastructure that facilitates efficient delivery of health services is a painful reality. It is pleasing to see strong efforts by the districts and partners in getting to as many people as possible. However, the mobile clinics are not sustainable. They are also extremely difficult to operate given the infrastructure damage. The cost is always high and they never reach all people."
He feels that health workers are overwhelmed in delivering services through the mobile clinics, considering that different partners have different assignment places to deliver services to.
"To some extent, our general health delivery services are also affected by the time we spend aiding partners in mobile clinic operations."
Amref Health Africa has been supporting eight of the 71 camps. In a month, the organisation carries out 16 mobile clinic sessions amid a high demand for health services at the camps.
"Each clinic is supposed to have a team of 10 people, including health care providers, but we usually have less than that due to insufficient personnel. The few we have are stretched and the shortages delay the process but, in the end, all patients are assisted," says Amref Health Africa's Projects Officer, Bester Gondwe.
The repeated floods in Southern Malawi and neighbouring Mozambique, the high temperatures and the erratic rainfall also result in the increased incidence of insect-transmitted diseases like malaria and yellow fever.
Senior Health Surveillance Assistant for Chikwawa Nchalo area, Sydney Labeka considers this the worst disaster in his 18 years of health service experience. 
"This is a flood prone area. We always have floods during rainy season but this year's was something else. People lost everything," he laments.
Dr Divala says, "We need to focus on climate-change-resilience, in particular general economic diversification and infrastructure development for our people. We need to start now and move quickly to ensure that we are able to map communities at highest risk of these negative health effects and provide for preventive actions." 
Follow Josephine Chinele on Twitter: @JosephineChinel
More from Josephine Chinele