COVID-19 is still a global health emergency. What does that mean?
We've just passed the third anniversary of the declaration of the COVID-19 emergency – and WHO says it's not over yet. Let's talk about it.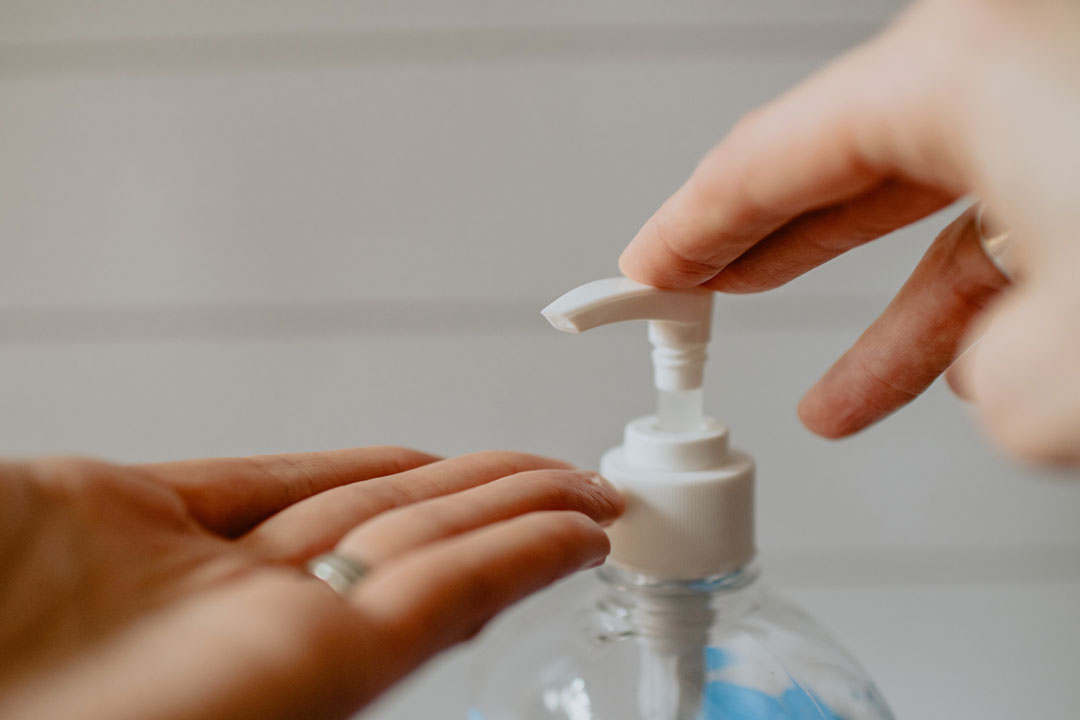 The COVID-19 pandemic is still a "public health emergency of international concern" (PHEIC), the WHO's Emergency Committee on COVID-19 determined at its regular three-monthly review meeting last week. That means we've just passed a grim milestone: as of January 30, we're officially over the threshold of year four.
What's clear is that the declaration of the end of the COVID-19 emergency – when it comes – will certainly not mean that COVID-19 is done with us.
As Gavi CEO Seth Berkley said, this is "a recognition that the global threat posed by COVID-19 is not over". It's not good news.
But what does it mean in practical terms? Let's get into it.
First: what even is a PHEIC?
Basically, it's a WHO-declared state of global alert – a call to action which has binding legal meaning for the 196 countries across the world who are signed up to the International Health Regulations of (IHR) of 2005.
Here's the formal definition of a PHEIC under the IHR: "an extraordinary event which is determined to constitute a public health risk to other States through the international spread of disease and to potentially require a coordinated international response."
The event in question is "serious, sudden, unusual or unexpected", with implications for health beyond the affected state's national borders, and which may demand immediate international action.
Here's how it works: a PHEIC is determined by the WHO Director-General, acting on the advice of an expert advisory body – the IHR Emergency Committee, convened ad hoc when a potential PHEIC crops up (potential PHEICs must be reported to WHO by IHR member-states).
The determination that the event in question is a PHEIC empowers the IHR EC to make "Temporary Recommendations" on what member states and the Director-General should do to handle the crisis. Member states are obligated to respond promptly. The EC's recommendations are reviewed at least every three months, until the PHEIC is terminated.
The IHR EC for COVID-19 first met on the 22-23 of January, 2020 and advised that the threshold for calling a PHEIC had not yet been reached. A week later, when they met again, the virus had been reported in 18 countries outside of China. This time, they recommended that the Director-General declare a PHEIC, which he duly did.
Fast forward through 12 lots of three-monthly reviews, and here we are: still in that same state of emergency.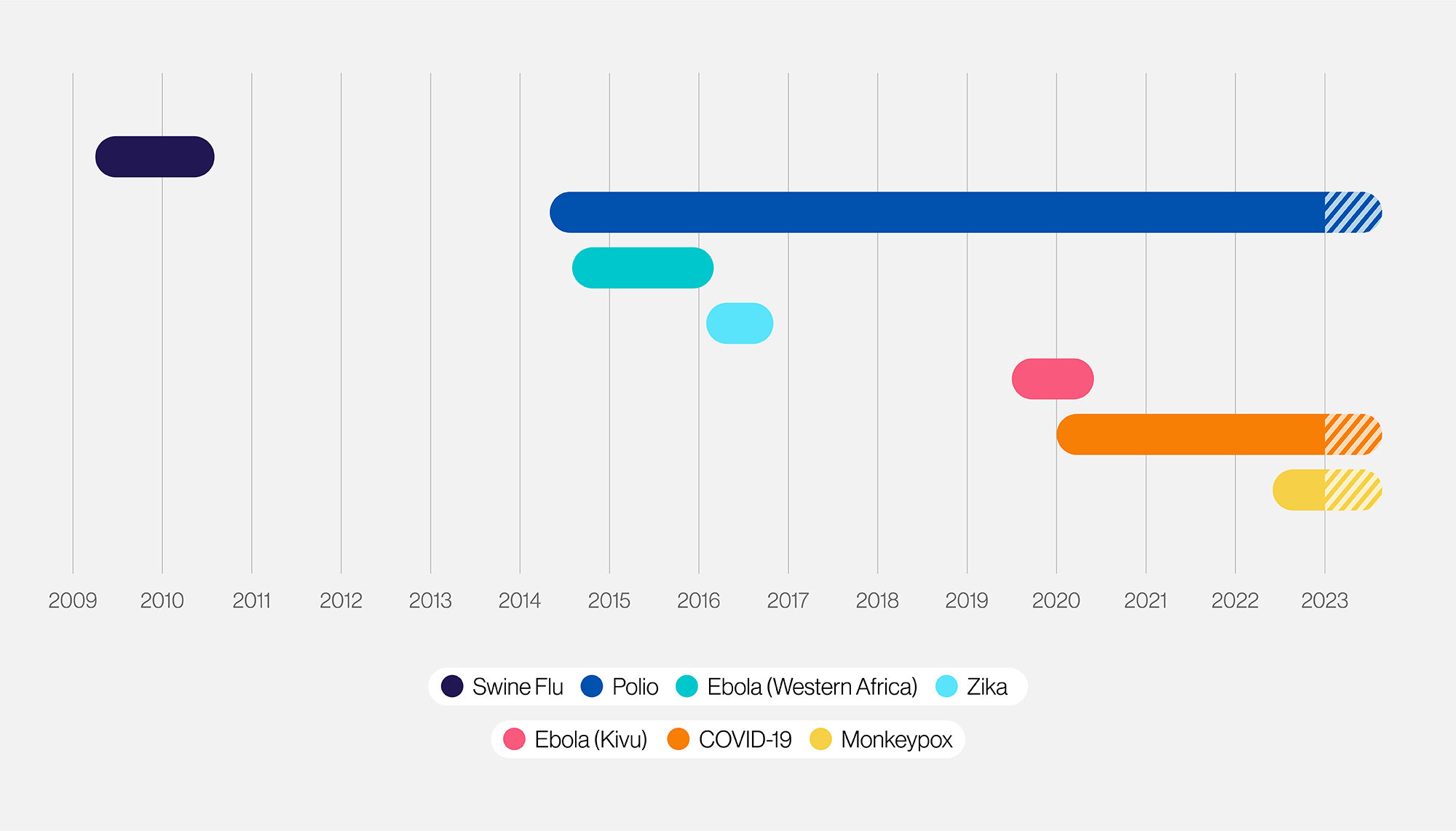 But, aren't things better now?
There's been progress to be grateful for – and proud of.
Vaccines, proven to vastly mitigate the odds of severe illness and death, are more widely available than they have been, with 13.1 billion doses already administered around the globe, and 81% of people over 60 protected with a "primary series" (that's two doses for most vaccines). Many hospitals worldwide are now in a position to supply therapeutics that help the very ill. In the vast majority of countries, fewer people are dying with COVID-19 now than during the Omicron spike of early 2022.
Acknowledging "substantial global progress over the last three years", the Emergency Committee described the pandemic as "approaching an inflexion point" in its recent statement.
But the fact that that our global state of alert has not yet been downgraded reflects the fact that things are still bad: vaccine uptake still isn't high enough in many places; the virus is still killing a lot of people every week, and straining a lot of taxed, tired health systems.
In just the last eight weeks, 170,000 COVID-related deaths have been reported worldwide, WHO said, and, the COVID-19 response remains "hobbled" in many countries. Those countries are consequently unable to provide the lifesaving tools that are turning the tide elsewhere – vaccines, medicines and testing – to their most vulnerable populations.
Risky inequality, in other words, persists. Across the 92 lower-income countries that make up the COVAX AMC cohort, 53% of people have received a full primary series – a disappointing contrast to Europe's 67% vaccination rate. Africa, at 34%, is only half as well protected.
That's dangerous for the under-protected groups, and for everyone else too. Areas of low vaccine coverage represent holes in our global wall of immunity – gaps where the virus is able to replicate at speed, increasing the likelihood of mutation, and therefore, the likelihood of virulent and vaccine-evasive new variants.
To mitigate the threat, we need to be collectively bolstering that immunity wall – but booster uptake is worryingly slow, with just 34 shots administered per 100 people worldwide.
And, what's more, it's difficult to establish the exact scale of the risk the virus currently poses to the global population, because testing and reporting compliance are in decline. So while in the 28-day period to 22 January, more than 11 million cases, with 55,000 deaths, were officially recorded, the actual infection numbers are probably many times higher.
We do know that those reported figures don't yet include the 72,596 COVID-19 related hospital deaths announced by China (not including Hong Kong SAR, Macao SAR, or Taiwan) for the period from 8 December to 19 January, during the dizzying and deadly spike that followed the government's recent decision to lift its zero-COVID policy.
And in the US, while this winter looks less grave than the last couple, average daily hospitalisations were still exceeding a sobering 45,000 people in mid-January.
As WHO Director-General Dr Tedros Adhanom Ghebreyesus said recently: "My message is clear – do not underestimate this virus, it has and will continue to surprise us and it will continue to kill, unless we do more to get health tools to people that need them and to comprehensively tackle misinformation."
Are there advantages to remaining on global alert?
Yes. The PHEIC is, at root, a means of concentrating global resources and attention on a problem. Our current virus-shaped problem is still too threatening to too many people to be safely treated as endemic; still capable, as Dr Tedros underscored, of delivering nasty shocks.
If PHEIC status can act as a bulwark against creeping complacency, terminating the PHEIC risks spurring it on. Even as millions of cases continue to be reported each week, up-close monitoring of the virus has declined, with, for example, funding for virus sequencing activities slumping in Europe. Out in public, maskless billions attest to street-level pandemic fatigue.
In this instance, The EC has used its right to issue recommendations to stress, among other measures, the need to maintain momentum on vaccination, strengthen virus surveillance and reporting to WHO, strengthen national response capacity in preparation for future events, and better handle the "infodemic" of misinformation.
Does "approaching an inflexion point" mean the PHEIC is almost at an end?
That seems likely. In December, Dr Tedros told a press briefing that the WHO was hopeful that at some point in 2023, "we will be able to say that COVID-19 is no longer a global health emergency."
But, as Dr Maria van Kerkhove, WHO technical lead on COVID-19 recently told CBC, "we thought we could end the global health emergency in 2022. We weren't able to do that, because we didn't have the access to these lifesaving tools – we didn't reach these targets that we're looking for, in terms of systems in place, reaching vaccination targets, getting antivirals out."
Still, it appears we're closer now. After its recent meeting, the EC stressed the need to prepare for a "safe transition" out of the PHEIC, which means establishing long-term, sustainable public measures against COVID-19. As such, the committee called on WHO to "develop a proposal for alternative mechanisms to maintain the global and national focus on COVID-19 after the PHEIC is terminated."
When the emergency ends, what happens to the vaccines deployed under the WHO's "emergency use listing" procedure?
The vaccines that have EUL status at the end of the PHEIC will retain that validity – but no new COVID-19 vaccines will receive EUL approval after that point.
That doesn't mean that no new COVID-19 vaccines will enter the market. New vaccine candidates will have to apply for prequalification – a comprehensive, ongoing evaluation that considers safety, efficacy, and cold-chain requirements. WHO will continue to work with manufacturers to advance towards prequalification, unless the manufacturer decides to withdraw their application.
Will the pandemic be over at that point?
Not necessarily – and in fact, probably not. They're not actually the same thing. WHO declared COVID-19 a PHEIC on January 30, 2020, and didn't describe it as a pandemic until March 11 of that year. Meantime, there are plenty of ongoing global epidemics – read: pandemics – that aren't being managed under the rubric of a PHEIC, such as the 7th cholera pandemic, r HIV/AIDS. This language is political, meaning arguably arguable.
What's clear is that the declaration of the end of the COVID-19 emergency will certainly not mean that COVID-19 is done with us. "There is little doubt that the virus will remain a permanently established pathogen in humans and animals for the foreseeable future," said the EC in its statement. Mitigation of its impact is the goal – now, and for the long term.