COVID poetry: how a new genre is helping readers to comprehend the pandemic
Many established poets published lockdown poems offering their perspective on the power of poetry to make sense of the pandemic.
Research has shown that in the early months of the COVID pandemic people in the UK both reported reading more and used reading to cope with the anxieties brought on by sudden changes to their lifestyle.
Since those early lockdown days, people have been writing about their experiences of the pandemic. And now, nearly three years since the lockdowns began, books are still being written and being published on COVID. Like other significant catastrophic events (think wars, 9/11, Brexit), this new genre of writing could continue for some time.
Poetry enjoyed a resurgence in public interest during the pandemic. As a literary form, it is easy to share and can capture emotion in widely relatable and comprehensible ways.
During the lockdown months, reading and sharing of poetry increased. For example, King's College London ran a "#poemsfromlockdown" initiative that saw contributors record themselves reading a favourite poem and then share it via Twitter.
The website Poetry Generation posted videos of poetry being read by elderly people who were feeling isolated. Many established poets published lockdown poems offering their own perspective on the power of poetry to make sense of the catastrophe. Slowly but surely whole collections inspired by the pandemic began to appear.
Over the last year, I have been researching the language of what I have termed "COVID poetry" (collections of poetry written during or directly influenced by the pandemic) and the ways that readers respond to these poems.

Although poets' experiences of the pandemic and lockdowns vary, there are some shared characteristics. Often the collections will draw attention to the pandemic in immediate and explicit ways. For example, George Sandifer-Smith's Empty Trains (2022) draws attention to reduced commuter travel and Kate Fox's The Oscillations (2021) has "After" and "Before" sections relating to life post- and pre-lockdown.
Many of the collections reflect public concerns about social distancing – isolation, fear and uncertainty about the future. But many other collections, and the poems within them, cover more personal concerns. Jamie Hale's Shield (2021), for example, is a powerful set of 21 unpunctuated sonnets about living through the pandemic as an immunocompromised person.
Reading COVID poetry
The poet Claire Shaw argues that during the pandemic:
We discovered we needed poetry more than ever before – its ability to console and connect, to express sorrow, to find beauty, to create meaning.
Some critics have suggested that literature offered much needed ways to reexamine the world around us in light of the changes forced on us by the pandemic. Not everyone feels the same. A study of public attitudes towards "corona poetry" in the Netherlands and Belgium, for example, revealed more negative feelings towards the genre than positive ones.
Research has shown however, that not only does reading have therapeutic value but that it provides a space for empathy. When we read, we build representations of the minds of others and can gain a better insight into their experiences.
As part of my own research, I have begun to look at how readers – a few years on from the onset of the pandemic – talk about COVID poetry to make sense of both their own pandemic experiences and those they read about.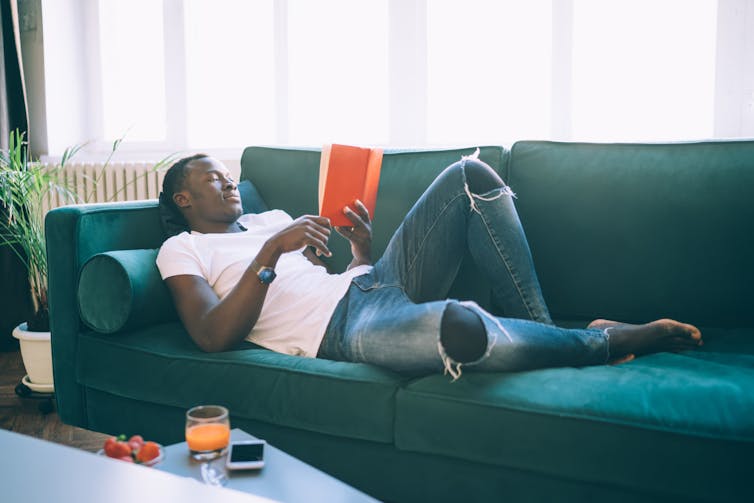 In a recent paper, which reports on participants' responses to The New Shape of Fear from poet Michele Witthaus's collection From a Sheltered Place (2020), I found that readers reported being drawn into the world of the poem and aligning its events and experiences with those of their own.
They often used the poem as a springboard for exploring their memories of similar events and aligned themselves with the viewpoint in the poem, showing empathy with the situation being described.
They were able to move away from the specifics of the poem to reflect on, for example, how people might feel about social distancing and mask wearing at the time of reading, even when it was no longer compulsory to do so.
So what might the future hold? It may be that there is a space for COVID poetry to play an important role in education in order to help people come to terms with their pandemic experiences and encourage empathy.
Poetry is capable of conveying the emotional experience of living through the pandemic in powerful ways that resonate with readers. It's likely that we will continue to turn to poets to help us understand the strange events of the COVID pandemic for years to come.

---
Authors
Marcello Giovanelli, Reader in Literary Linguistics, Aston University
---

This article is republished from The Conversation under a Creative Commons license. Read the original article.
Disclosure statement
Marcello Giovanelli does not work for, consult, own shares in or receive funding from any company or organisation that would benefit from this article, and has disclosed no relevant affiliations beyond their academic appointment.
Partners
Aston University provides funding as a member of The Conversation UK.
More from The Conversation