Drone delivered COVID-19 vaccines take to the air
The first deliveries of up to 2.5 million doses of COVAX vaccines by autonomous drone began this week in Ghana.
On the morning of 2 March in Mpanya, a rural spot in Ghana's southern-central Ashanti region, a launcher zinged as it whipped a drone carrying a small consignment of vaccines into the sky. The sound, that metallic whoosh, has become as familiar as a clock-chime in Mpanya, the site of one of medical delivery drone service Zipline's four Ghanaian "nests", and from which as many as 500 flights of the fully-autonomous aircraft can take off in a single day. But this particular drone carried a landmark payload: 250 doses of the Oxford-AstraZeneca coronavirus vaccine – the maiden flight of the world's first partially drone-borne COVID-19 immunisation campaign.
Across the country, Zipline is a mission-critical, reliable and resilient part of Ghana's medical supply.
In 34 minutes, the little red-winged "zip" appeared in the sky above Asuofua health center, more than 70 kilometres away. Government officials and health care and frontline workers who had assembled at the drop-site to be vaccinated squinted upwards. The drone slowed, briefly dipped altitude and disgorged its consignment. Packaged safely in a red insulated box, 25 glass vials twirled neatly to earth under a paper parachute. Within five hours, the 250 doses would find their mark in 250 arms, the first of 4,500 doses to be delivered in this way on the first day.
Just over a week earlier, those vials had nestled among the 600,000 COVID-19 vaccine doses in the belly of a plane taking off at Mumbai airport, Accra-bound. When that plane touched down at Kotoka International Airport early on the 24 February, it became the first shipment of COVAX vaccines to land in Africa, in fact, to arrive anywhere outside of India – a milestone moment for a logistical operation of historic scale and complexity. 
For Ghana's delivery partners, Zipline and global logistics leader UPS, everything happened slowly and then all at once. Months of communication with the COVAX facility, of meticulous planning for a secure COVID-19 vaccine roll-out, were galvanised and put into play in just over 12 hours. "We found out Tuesday afternoon that the vaccines would land Wednesday at 6 am," Zipline representatives told VaccinesWork. "We were with our partners at the Ghana Health Service when the shipment was confirmed, so we immediately began mobilising ground transport with UPS, and were on-site the following morning to help transfer the vaccines from the airport to the National Cold Room."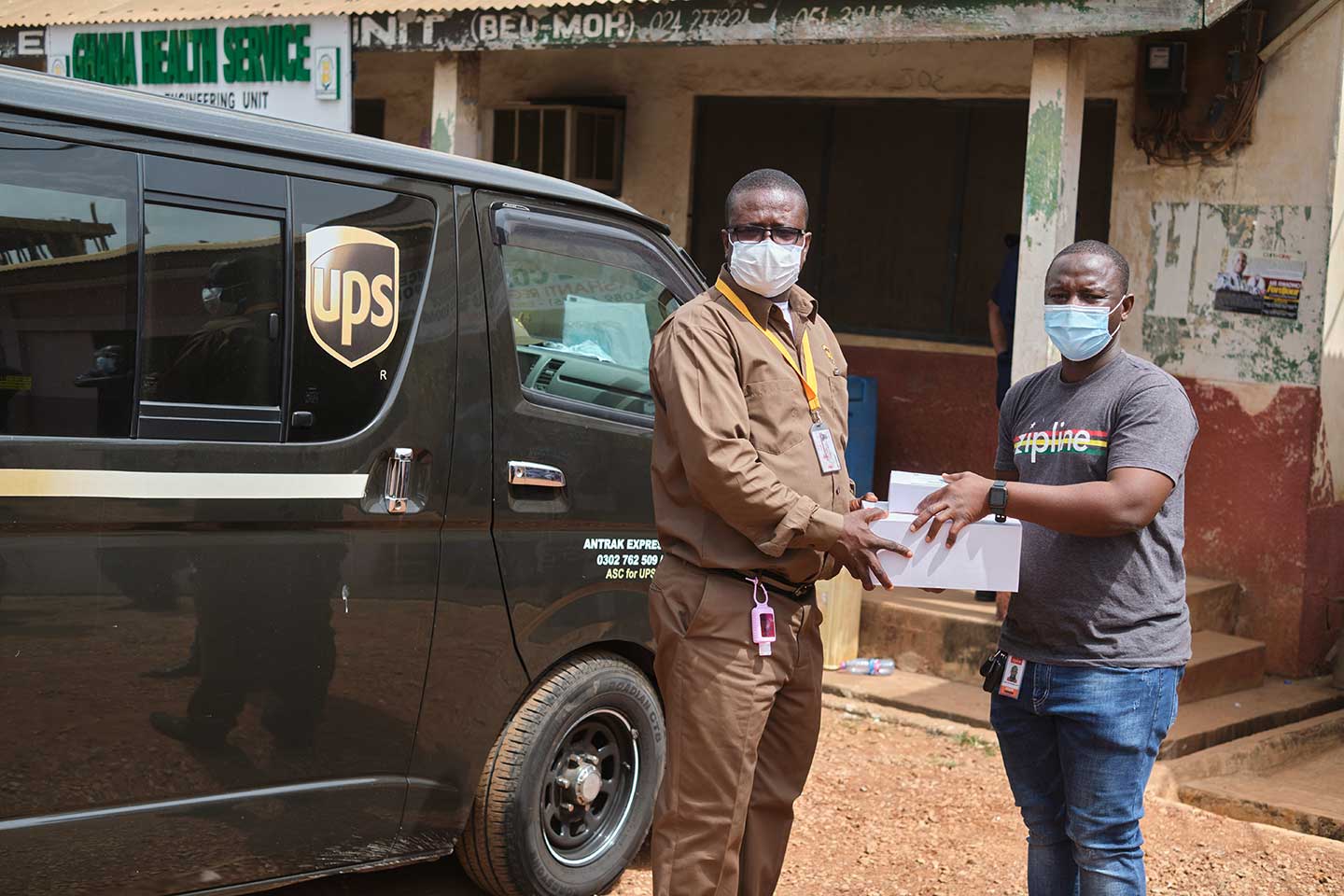 In Nigeria, UPS's regional head Ian Hood recalls the virtual cross-continental huddle that was triggered when Ghana's Ministry of Health confirmed the imminent arrival of the first volley of vaccines. "We were all extremely excited about it," he said. "We were on Zoom calls with our colleagues from UPS Ghana, UPS Healthcare and The UPS Foundation in the US, and from UPS in Dubai." UPS's sprawling global network has assisted the response to COVID-19 in a variety of ways, says Hood, including distributing PPE amid the scarcity of the early pandemic, and coordinating transport operations for vaccine clinical trials. When it came to gaming out the COVAX supply chain in Ghana, says Hood, it was less a matter of scrambling to adapt than making sure the company deployed the assets it had already amassed: a wealth of expertise; established, efficient partnerships. 
The UPS Foundation, Zipline and Gavi, the Vaccine Alliance first teamed up to deliver vaccines by drone across Ghana more than two years ago. For Gavi, the aim was to support Ghana's vision for the expansion and improvement its national routine immunisation programme, and by doing so create a platform that can benefit the wider health agenda. Since then, Zipline's fleet of fixed-wing flyers have delivered more than a million doses to rural healthcare centres, many of which can be tough to reach overland, or which struggle to ensure an unbroken cold chain. And now with the COVID-19 vaccine deliveries this is coming to bear fruit in terms of the broader health benefits. "UPS is extremely proud of these types of public-private partnerships," says Hood of the collaboration. "This work really fits the purpose statement of the company: moving the world forward by delivering what matters. In cases like this we are working on what truly matters most - saving lives."
Delve deep into the spider-web of collaborators bringing COVAX doses from the manufacturer to last mile health centres – that diffuse and varied assemblage of life-savers – and you might find yourself face-to-face with someone like Jacob Dwamena. A bespectacled 41-year-old with a concise, considered way of talking, Dwamena is an experienced delivery driver of both dry and refrigerated vans. In the pale early hours of the morning of 24 March, he was on the tarmac at the airport in Accra, clad in the trademark brown UPS uniform, ready to ferry vaccines securely to the central cold storage facilities of Ghana's Expanded Programme on Immunization (EPI). "It was really a great day," he told VaccinesWork. "It was excitement – meeting dignitaries and high-profile people," he says. Later, his wife and kids would tell him that they had spotted him on national TV, handling the precious consignment. "I am really honoured to be part of this historic event," Dwamena said.
Have you read?
Unlike many Ghanaian families, Dwamena's has come through the last year relatively unscathed - "I'm still working, so I'll say I'm ok," he said. But national-level records show hundreds of COVID-19 related deaths, tens of thousands of layoffs, with hundreds of thousands of households taking a sharp financial hit. "We having the vaccine in the country means there's hope – we're going to have some relief for some families," Dwamena reflected.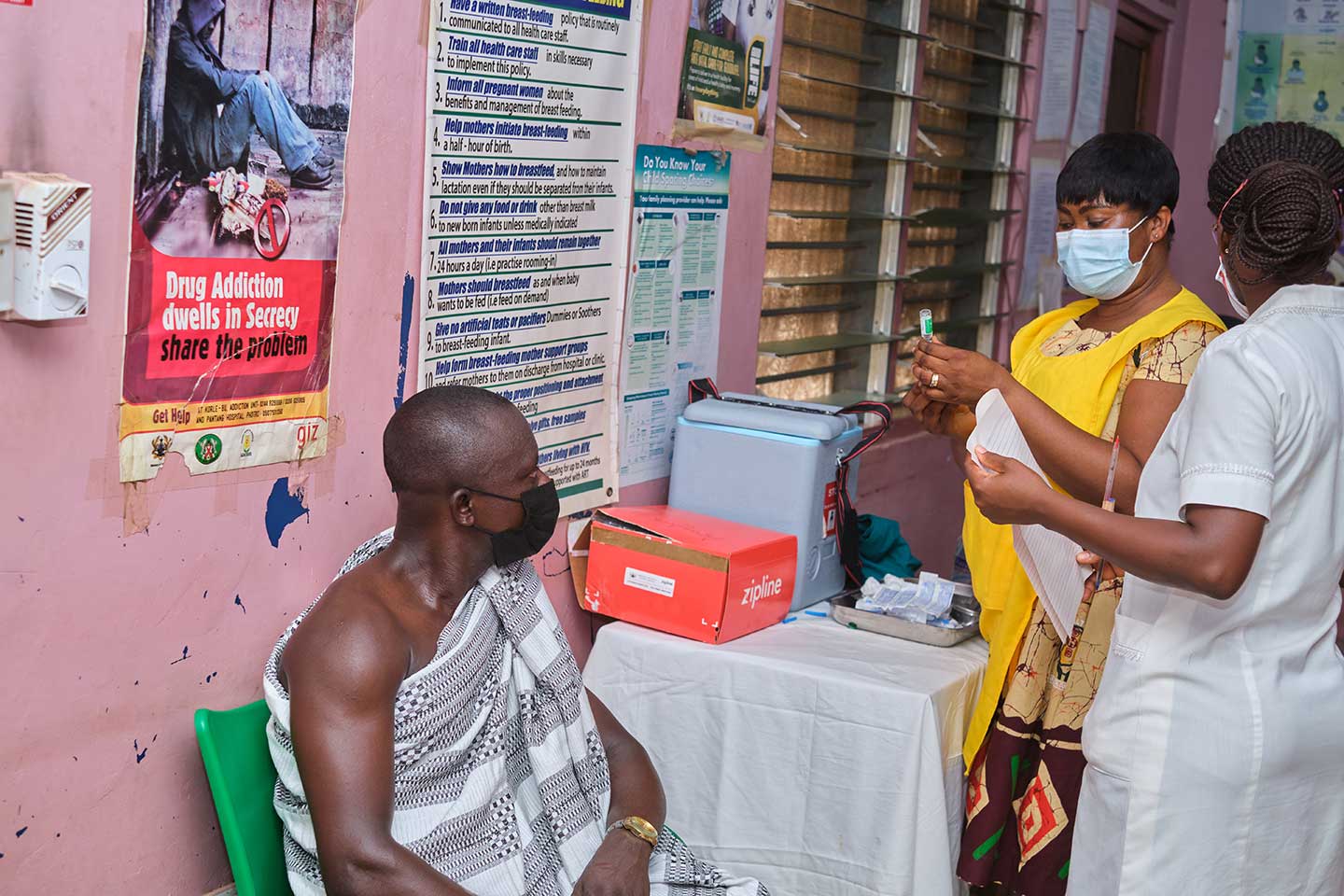 For many across the country, this relief will fall from the sky. If that sounds a little bit like magic, Zipline agrees – but adds that "it's not a moonshot idea". On-demand zip-borne deliveries of vaccines, blood and other medical essentials are already "an integral part of daily life" at thousands of health facilities in Ghana, they say. "Across the country, Zipline is a mission-critical, reliable and resilient part of Ghana's medical supply." The company now means to help the Government of Ghana achieve what they say should be, "the fastest, most convenient, safest and most equitable rollout of COVID-19 vaccines anywhere in the world."
Perhaps it was the contagious optimism – along with the "greenery and the forest view" - that made the drive from Kumasi to Mpanya on 1 March so pleasant. It wasn't the first time that Dwamena's delivery route took him and his refrigerated van to the Zipline distribution centre in Ashanti. "I've seen them launch the drones," he laughs. "It's marvellous. Very, very marvellous – to be frank." 
This time, though, Dwamena couldn't stay to watch the first COVID-19 vaccines take flight.  He handed his consignment over to technicians at Zipline's cold storage facility, and returned to his van. It was time to get back to Accra. The next batch of COVID-19 vaccines was bound for Central Region, and it was Dwamena's job to get them there.