"Everybody has heard how it kills": Uganda's veteran health system ramps up its Ebola response
One hundred and nine people have already contracted Ebola in Uganda's ongoing outbreak. Thirty have died. And the strain responsible doesn't yet have an approved vaccine.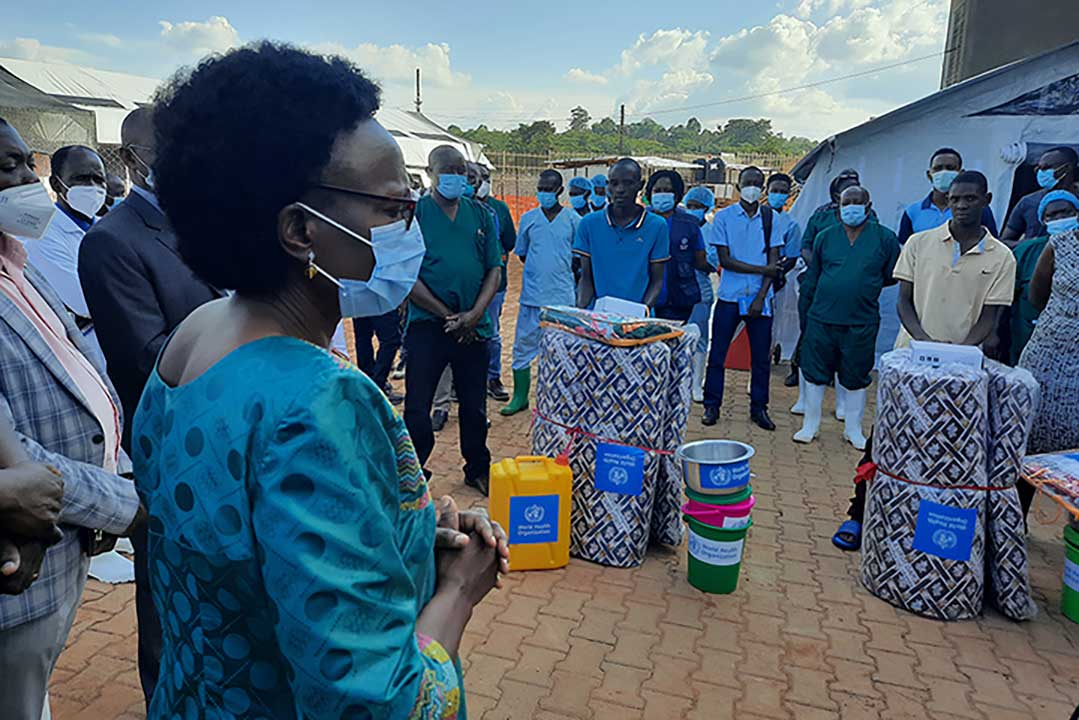 Dr Diana Atwine had just sat down at her desk in Uganda's Ministry of Health on 19 September when she received a phone call. Blood samples her office had sent to the country's virus research institute in Entebbe were positive for a rare type of Ebola, the so-called Sudan strain.
A jolt of fear ran through Dr Atwine.
Having served as the Ministry's Permanent Secretary – its most senior non-political figure – since 2016, Dr Atwine was well aware of Uganda's impressive record in handling outbreaks of the viral haemorrhagic fever.
Most recently in 2019, a family infected with the 'Zaire' strain of Ebola had travelled to Uganda from epidemic-hit DRC. Uganda's response had been quick and competent: by isolating the cases and their contacts, and ring-vaccinating to contain potential spread, in-country transmission was snuffed out before it had a chance to get going.
"We are afraid of the disease. Everybody has heard how it kills," says Justus Mucunguzi, a trader in Kampala. "But we are also afraid government might impose another lockdown in Kampala (if cases continue to rise), when people don't have food to eat."
But she also knew that this time, they were down one crucial tool: the Sudan ebolavirus currently has no available vaccine. Dr Atwine grabbed a notebook and began making phone calls.
The same day, a rapid response team was dispatched by her ministry to collect information and personal details from suspected cases – people who might have come in contact with patient zero, a young man from Mubende district, about 135km west of the capital, Kampala.
The team was also tasked with setting up Ebola isolation and treatment units in the area, isolating exposed individuals and monitoring them for symptoms.
But the virus had already spread.
Verbal autopsies indicated that six people from the Mubende man's family – three adults and three children – had died of the virus between 11 and 15 September in the two sub-counties of Madudu and Kiruma.
As of 26 October, more than 109 people in Uganda have contracted the virus while 30 have died. The virus has also been confirmed in five districts in Uganda, including, alarmingly, in the busy, well-connected capital.
"We have to be very effective to stop this virus," Dr Atwine told VaccinesWork.
Community-level containment
The rapid spread of the deadly virus has worried local leaders and a community that is still struggling to recover from the effects of COVID-19.
"We are afraid of the disease. Everybody has heard how it kills," says Justus Mucunguzi, a trader in Kampala. "But we are also afraid government might impose another lockdown in Kampala (if cases continue to rise), when people don't have food to eat." Government has already imposed limited lockdowns in Mubende and Kassanda districts, the two epicentres.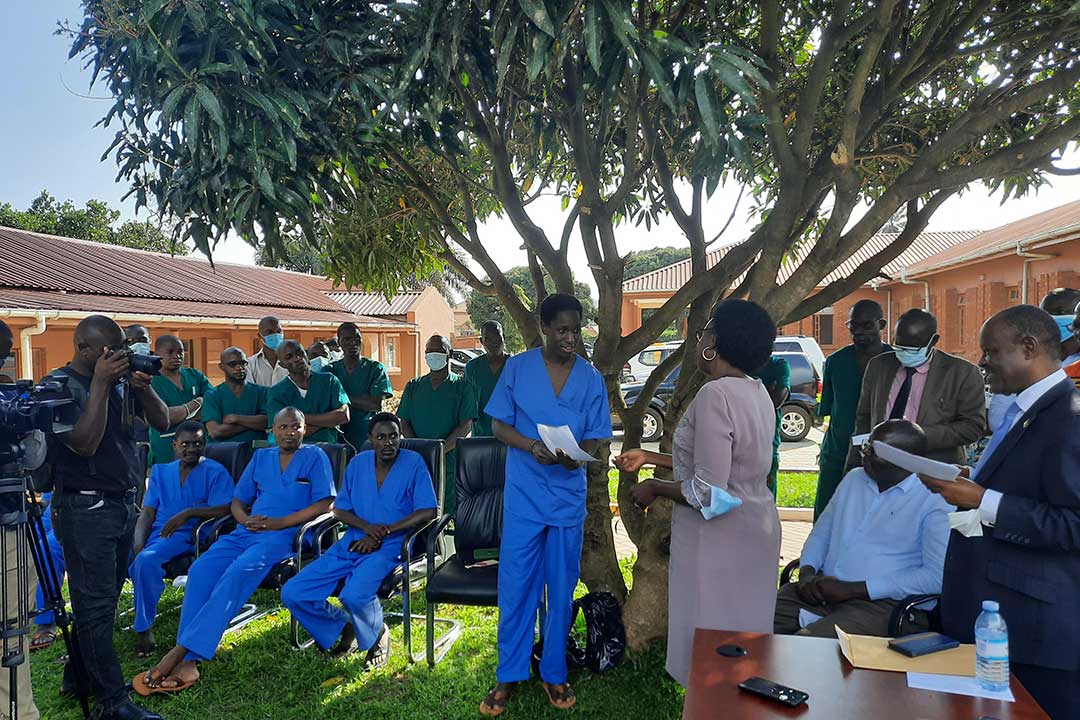 The outbreak response – rapid case detection, isolation of contacts, and treatment for the sick – has been aggressive, and the pace is only ramping up. Working with the African Centres for Disease Control and Prevention (Africa CDC) and the World Health Organization, Uganda's Ministry of Health is training teams in contact tracing, health workers in case management, and laboratory scientists in improving surveillance.
It is also training teams to bury the dead safely, is educating communities and mobilising volunteers, especially people who have previously worked on Ebola case management.
"The biggest challenge was that the community (in Madudu and Kiruma sub-counties) delayed in reporting cases to health facilities when people started to show Ebola-like symptoms," says Dr Daniel Kyabayinze, Director of Public Health at the Ministry of Health. "Instead of coming to health facilities, they attributed the illnesses to witchcraft."
At the Ebola isolation and treatment centres set up by the Ministry at the Mubende Regional Referral Hospital and in Kassanda and Entebbe districts, exposed individuals are isolated, tested and then watched for a period of 21 days – the virus's incubation period. As of 25 October, the teams were monitoring more than 1,800 people.
Those who develop symptoms and test positive for the virus are contained in separate units, and started on supportive treatment. Dr Kyabayinze says that the US has provided Gilead Sciences' remdesivir and Mapp Biopharmaceutical Inc's trial Ebola antibody drug to help control the virus.
Mubende and Kassanda districts, meanwhile, remain under dusk-to-dawn lockdown. Speaking at a press briefing, Dr Ahmed Ogwell, acting director of Africa CDC, said that the lockdowns are time limited for 21 days so that "we can contain spread (of the virus). After the 21 days the situation can be assessed again.
"It is not one of those tools that we like, but it is necessary if a threshold has been reached," he added.
Adding to the arsenal
The Ministry of Health is working with neighbouring countries, including Rwanda, Kenya and the Democratic Republic of the Congo, to step up surveillance of the virus. It is also working with the WHO to test candidate vaccines for the Sudan Ebolavirus. The most promising is a single-dose ChAd3 Ebola Sudan Vaccine being developed by the Sabin Vaccine Institute in the US.
Emmanuel Ainebyoona, senior public relations officer at the health ministry, says that they are ready to start the vaccine trials as soon as they receive the doses.
"We are doing all we can to stop the virus," said Dr Kyabayinze. "We are urging the communities to follow the processes we have shared, especially in terms of isolating when they develop symptoms. If they trust in the doctors, we shall contain this virus."