The hospital on the roof of the world
Kunde Hospital sits 4,000m above sea level in the Nepalese Himalayas. Set up by Sir Edmund Hillary 50 years ago, today it is saving – and changing – lives.
Pemba Tshering Sherpa's grandfather died without ever seeing a hospital. Aamchi, traditional Tibetan healers, provided treatment to the sick during his grandfather's time. Shamans were the only other alternative.
"The hospital has quality services and we have benefited greatly, especially with childcare, which is beyond comparison. Untimely deaths of children in the Khumjung region have dropped to zero."
The Everest region, being very remote, has not kept up with the development pace of Nepal's capital, Kathmandu. But for the past half century there has been one important exception: Khunde hospital, sitting snug in a Himalayan valley 3,840m above sea level.
The Kunde Hospital serves the 7,000 people scattered in nearby villages Khumjung (3,790m), Khunde (3,840m), Thame (3,750m), Monjo (2,835m) and Namche (3,440m).
'When the village lacked a hospital, only people in a good financial condition could reach hospitals in Kathmandu for treatment," Pemba Tshering recalls. "Most people were at the mercy of herbs, old healing methods and shamans. Luckily, my parents got to see a hospital in the village, although my grandparents did not."
Sir Edmund Hillary and Tenzing Norgay Sherpa scaled Mount Everest (8,848 meters) in 1953. Kunde Hospital was subsequently founded by Sir Edmund Hillary in 1966, supported by the Sir Edmund Hillary Foundation. Doctors from Canada and New Zealand volunteered to keep the hospital running until local doctors and health workers were appointed in 2001. The Himalayan Trust then took over its management in 2013.
There are 10 staff members in the hospital team, including two doctors, a BSC Nurse, an Auxiliary Nurse Midwife (ANM), a lab assistant, two office assistants and three Certified Medical Assistants (CMAs). Seven are deployed in the hospital with the remaining three health workers each assigned to satellite clinics in Thame, Monjo, and Fortse. The clinics have been set up with an aim of providing effective and affordable health services to a High Himalayan setting, with very low accessibility.
"We charge a minimal fee of 100 rupees to admit patients in our Out-Patient Department (OPD), and the medicines are provided free of cost. We also do not charge for minor surgeries while lab tests cost between 100 to 400 rupees," says Dr Mingma Kanchhi Sherpa, who is a full-time doctor at the hospital.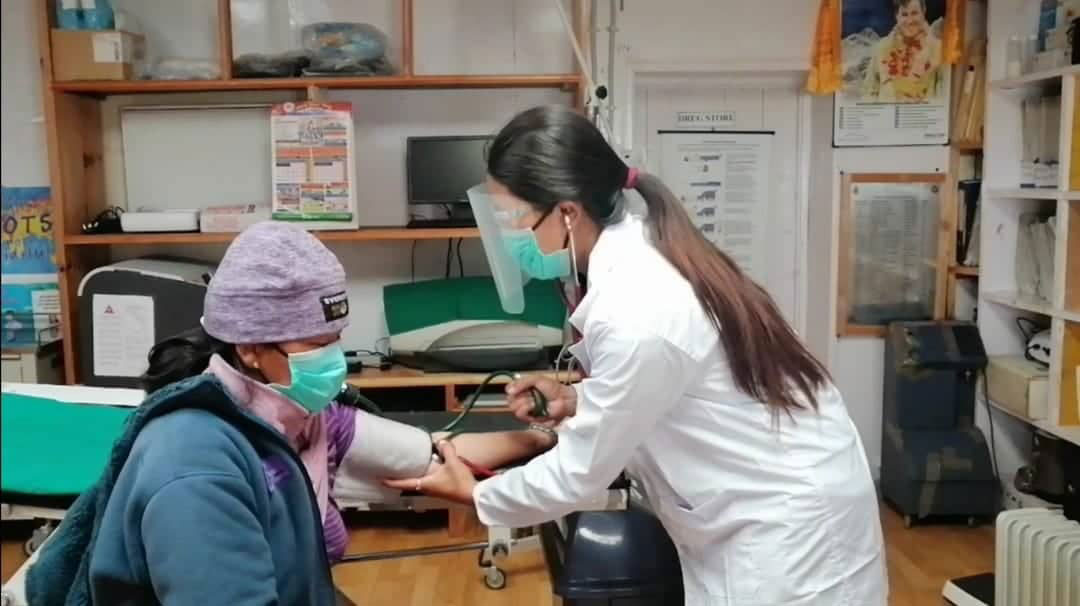 Kunde Hospital has shown how effective support can make a huge impact on people's lives. The hospital has helped the local region bring its Infant Mortality Rate (IMR) to zero over the past 20 years.
"The hospital has quality services and we have benefited greatly, especially with childcare, which is beyond comparison. Untimely deaths of children in the Khumjung region have dropped to zero," says Aang Tshering Sherpa, a local of Khumjung.
"Children from the hospital's periphery have regularly been vaccinated since the establishment of the hospital which, in turn, has improved the children's health and reduced infant mortality to zero," explains Mingma.
"I am impressed with the changes brought by the hospital. Children are born in the hospital now. The doctors are also very good. The village has changed a lot over the years. Health services have improved."
"BCG, DPT, polio and measles vaccines, along with vitamins, were made available in the hospital early."
The 21st day of every month has been fixed for the vaccination of the children. To store vaccines safely, a refrigerator has been placed in the hospital. Vaccines are carried to Kunde Hospital by porters, who travel for three days from the nearest major town to deliver them.
In addition to routine vaccination for children, COVID-19 and typhoid vaccines have also been administered through the hospital recently.
According to Mingma, apart from vaccinations, the hospital has prioritised antenatal care for pregnant women and family planning. Every month, two to three children are delivered in the birthing centre of the hospital. The hospital fixes dates for mothers to show up with their children for regular check-ups once they are born.
"We follow the routine seriously. Children are immediately referred for higher level treatment if any serious complications are diagnosed," Mingma adds. 
Every day the hospital sees up to 50 patients with a variety of ailments including colds, fevers, minor injuries, chest infections, and skin infection. While the hospital does not have specialised doctors, eye specialists are regularly brought in. Minor surgery and plastering of broken limbs is done by the hospital and it is equipped with a modern laboratory that can test blood, sugar level, urine and faeces.
"Diabetes, depression, and gastritis are more common than other ailments. This might be due to changes in people's dietary habits. Patients with hypertension are also showing up increasingly," says lab assistant Sitakala Rai.
Temba Sherpa, a resident of Khunde, says, "I am impressed with the changes brought by the hospital. Children are born in the hospital now. The doctors are also very good. The village has changed a lot over the years. Health services have improved. People show up eagerly to get vaccinated."