No 'human-to-human infection' of bird flu in Cambodia
Officials confirm that no human-to-human transmission of bird flu has occurred in Cambodia.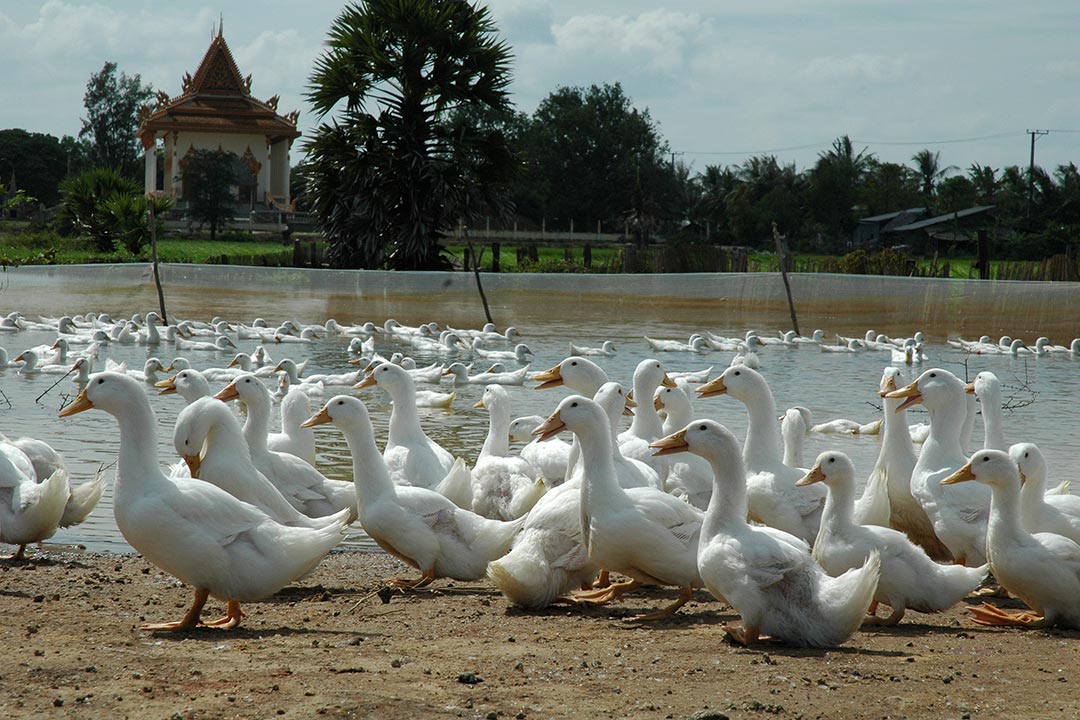 Cambodian health authorities have confirmed that the two avian flu cases last week in Prey Veng province were "infected from birds in their village" and that "no transmission between father and daughter has been found".
"As of today [1 March], there is no evidence of human-to-human transmission in Cambodia and the response is still ongoing," Ailan Li, WHO Representative to Cambodia, told SciDev.Net following the death of an 11-year-old girl from the virus.
"While there have been a few infections in humans globally, so far, the virus is not known to spread from person to person easily," she* added.
"The threat is still very low for human-to-human transmission. In terms of mutating into a transmissible virus, that's quite a distant issue"

Erik Karlsson, director of the National Influenza Centre of Cambodia and acting head of virology at the Institut Pasteur du Cambodge
The infection, which largely affects birds and animals, has a 50 per cent mortality rate in humans. Globally, 873 human cases of H5N1 and 458 deaths have been reported in 21 countries since 2003, according to the UN health agency.
"Most cases have been linked to close contact with infected birds and contaminated environments," said Li. "However, the virus is evolving; its risk to humans must be assessed and monitored closely. The threat is real. Irrespective of the current outbreaks in birds and other animals, avian flu poses an ongoing threat to human health due to its potential to cause a future pandemic."
Cambodian authorities had informed WHO last week of the two confirmed cases of avian influenza H5N1. The girl who died had H5 clade 2.3.2.1c virus, an endemic strain circulating in domestic poultry and wild bird populations in the country since 2013. Her father was also found to be infected with the virus.
Cambodia has reported 58 cases of human infection with the H5N1 virus, including 38 deaths since 2003 to 25 February 2023.
Human transmission risk 'very low'
"The threat is still very low for human-to-human transmission. In terms of mutating into a transmissible virus, that's quite a distant issue," Erik Karlsson, director of the National Influenza Centre of Cambodia and acting head of virology at the Institut Pasteur du Cambodge in Phnom Penh, which sequenced the virus, told SciDev.Net.
He said: "We're most worried about the highly pathogenic H5 clade 2.3.4.4 viruses that are currently circulating in the UK and North America and South America. But there are pockets of other viruses, like clade 2.3.2.1, here in South Asia and South-East Asia, that have been endemic in these birds for a long period of time. These could cause problems in poultry, and they are still a threat for spillover in humans."
Clades consist of a common ancestor and all the descendants of an organism.
"Interestingly, the H5 clade 2.3.4.4 viruses basically came from Asia in 2013-2014, spread into Europe then into North America and now in South America and they have come back into Asia. So, we'll see if those take over as the dominant clade circulating here as well," Karlsson added.
Since October 2021, in one of the worst global outbreaks, more than 46 million cases of avian influenza were recorded in poultry and non-poultry, including wild birds, in 86 countries; and as many as 17.7 million poultry birds have died from the disease and almost 246 million were culled. The strain has also infected mammals, such as red fox, minks, otters and seals, according to the World Organisation for Animal Health.
"It's a reminder that we have not dealt with avian influenza appropriately. The level of circulating virus in several developing countries remains high because we didn't take a poultry systems' approach to control it," said Robyn Alders, a senior consulting fellow with the Chatham House Global Health programme and an honorary professor with the Australian National University's Development Policy Centre.
Besides avian influenza, other preventable diseases, such as Newcastle disease and fowl cholera, also cause illness and deaths in birds, Alders told SciDev.Net. She said: "It's difficult for farmers to recognise if a bird has died from avian influenza or another disease because clinically you can't pick the difference."
When avian influenza H5N1 was a global concern, flocks diagnosed with the disease were culled by authorities.
"In majority of developing and other countries, no compensation was paid to farmers for the loss of their culled birds. As a result, they remain unwilling to report deaths in their flocks up to today," Alders added.
Vaccination for avian flu
Vaccination of poultry may be needed as a broader strategy to control the spread, experts say.
"Vaccines or other interventions is a critical way that we might need to get ahead of these widespread infections," said Karlsson. "The COVID-19 pandemic has greatly increased capacity and capability, especially in developing nations, to detect and respond to those viruses faster. A lot of countries have now developed their own vaccination production systems, which can be utilised to make vaccines for other diseases, such as potentially avian flu."
The young girl's viral sample was sequenced in Cambodia within 24 hours, exemplifying the way that the COVID-19 pandemic has increased the capacity of countries to sequence and share data very quickly.
"The recent human case highlights the need for rapid identification of flu cases in animals and humans along with open and rapid sharing of virus sequences for regional and global risk assessments," Frank Wong, bird flu expert at the Commonwealth Scientific and Industrial Research Organisation, told SciDev.Net.
---
Written by
Website
*This article was edited on 3 March 2023 to correct the pronoun used in reference to Ailan Li.
This piece was produced by SciDev.Net's Asia & Pacific desk.