Sehat Kahani is showing Pakistan that digital health services can change lives – for both patients and doctors
The healthcare app is giving sidelined women physicians a way to practise, and isolated communities a network of experts to turn to.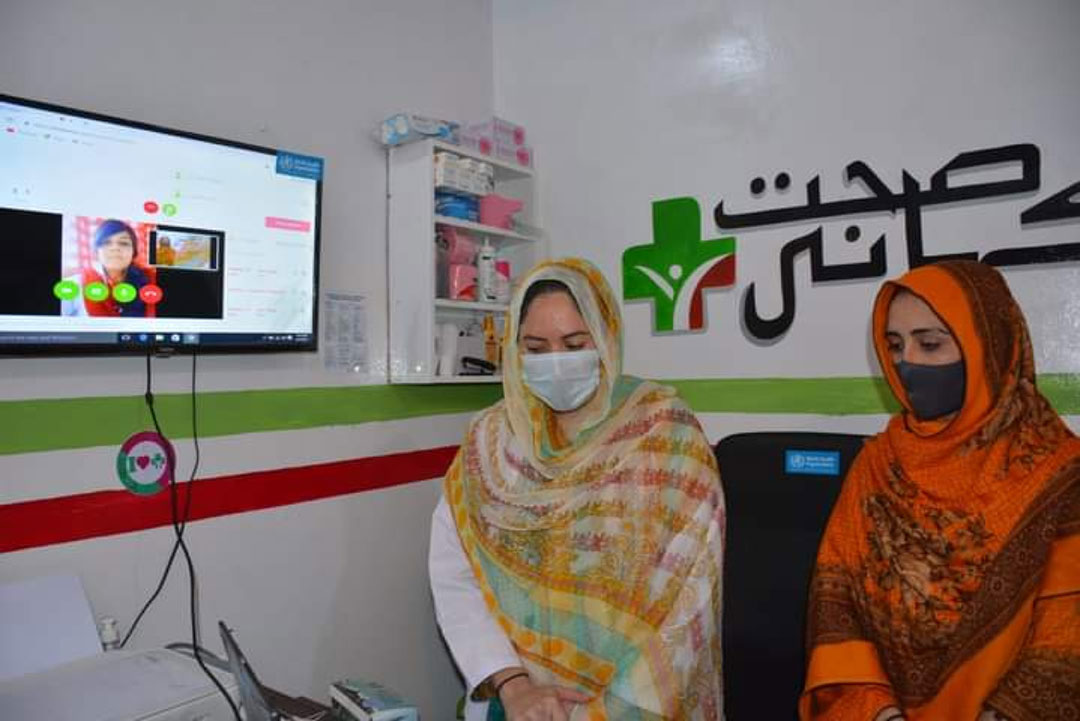 It was an icy, cold morning in January 2016 when Shagufta's elder sister died. She was being shifted from the Kurdap district of Mastung, a very remote area in Balochistan, to Quetta for her first child's delivery. Shagufta remembers that her condition had worsened abruptly after excessive bleeding during the last week of her pregnancy.
In 2016, healthcare workers and skilled women doctors hardly ever visited the area. This changed in 2021 when a collaborative initiative between the provincial government and several NGOs resulted in the establishment of a telehealth clinic in Kurdap, which connects local women to qualified nurses and gynaecologists across Pakistan.
"There's tremendous emotional and psychological turmoil for a woman who spent several years getting a medical degree but cannot practice due to societal pressure. I am one of such women.
"I got married in January 2022 and I am pregnant now. Since the newly established clinic is located a few miles from my house, I can easily visit and connect to qualified doctors in Quetta and other cities. This gives me confidence, and I am no more scared about my delivery," says 19-year-old Shagufta.
Telehealth goes the extra mile
According to Dr Nisha Zahid, a Karachi-based doctor who did research on e-health facilities in Pakistan after COVID-19, the unstructured healthcare system in Pakistan has resulted in a chronic shortage of doctors in peri-urban and rural areas. The physician-to-population ratio in Pakistan is significantly lower, at approximately 1:1127, than the WHO recommended ratio, which is 1:1000.
With that said, healthcare delivery in Pakistan has improved massively by bringing in a combination of advanced technologies with vast network services. Telehealth is an up-and-coming technology that is assisting in delivering quality healthcare services to people's doorsteps.
Sehat Kahani, established in 2017, is a leading initiative in this regard. Its founder, Dr Sara Saeed, is a medical doctor whose mission is to help shore up Pakistan's fragile healthcare system by bridging the gap between patients and physicians through digitalisation.
"As per recent statistics, around 210 million people in Pakistan don't have access to basic healthcare facilities. To address this, Sehat Kahani connects a vast network of predominantly female doctors to patients in far-flung areas of Pakistan," says Dr Saeed. She and cofounder Dr Iffat Zafar Agha managed to raise seed funding of US$ 500,000 in 2018, followed by a pre-series of $1 million in March 2021.
In 2019, the app launched with about 60 doctors. Today, Sehat Kahani comprises a large network of more than 7,000 doctors.
Ninety percent of those 7,000 doctors are women. Approximately 50% of them are home-based female doctors who have returned to practice after leaving when they got married and had children.
A path back to work for sidelined women doctors
"Our network has several doctors who have been facing severe mental toll due to psychological and verbal abuse for years from husbands and in-laws. These highly qualified medical doctors are forced to re-switch their lives to the role of housewives only," says Dr Saeed.
Pakistan has a higher ratio of female graduates in medical and dental fields than India and Bangladesh. It is worrisome, however, that 70% of these female graduates are not practising due to cultural norms and stereotype-driven gender attitudes.
"There's tremendous emotional and psychological turmoil for a woman who spent several years getting a medical degree but cannot practise due to societal pressure. I am one of such women who had been limited to the house after marriage. Sehat Kahani helped me to regain my confidence, and I started participating in quality healthcare services from my home," says Dr Sidra Abbasi, based in Islamabad.
"I'm in touch with colleagues who provide services in remote areas of Khyber Pakhtunkhwa and Balochistan through e-clinics. We want to learn more and adapt to the new technological advances to serve the nation and fulfil our oath, which we took when we joined the medical profession. In fact, these e-clinics play a vital role in equalising many factors that were earlier limited due to logistics and accessibility," Dr Abbasi adds.
Right place, right time: Sehat Kahani steps up during COVID-19
During the first wave of the COVID-19 pandemic in early 2020, Sehat Kahani was one step ahead of other government and private organisations. They provided telehealth services rapidly through their mobile app, including free telemedicine consultations and connecting about 70,000 patients with COVID-19 testing and treatment services .
The app was brought into the federal government's 'Digital Pakistan' drive and used in 65 intensive care units (ICUs) across Pakistan under a project with UNDP, Health Services Academy and the federal and provincial governments. This allowed health workers to access critical care consultation through a Virtual Critical Care Specialist (VCCS).
In connection with that project, and in collaboration with WHO and the federal government of Pakistan, six clinics were launched in hard-to-reach areas of Pakistan during the COVID-19 pandemic, and a specific focus on sexual and reproductive healthcare services was also added to this project.
"Around 1,500 doctors across Baluchistan, KPK, and Punjab were trained in sexual reproductive services, primary healthcare, and telemedicine," says Dr Saeed.
"Telehealth services have the potential to bridge the gap between patients and physicians in Pakistan. However, poor education, illiteracy in rural areas, lack of resources, poor internet connectivity, excessive loadshedding, etc., have limited the accessibility of qualified doctors to reach to the population in remote areas," says Dr Zahid.