Pandemic Culture: Fatherhood and Fear in São Paulo
Henrique Montanari, also known as EDMX, has been daubing the walls of São Paulo with striking images conveying his fear for the impact the pandemic is having on his children, part of the "the pandemic generation".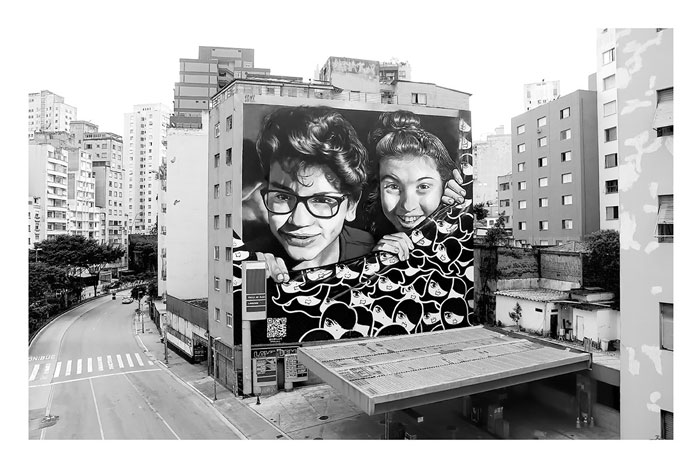 The prize-winning Brazilian street artist Henrique Montanari spent a good portion of the week before São Paulo finally went into lockdown working uninvited on a "crappy wall" in Vila Mariana. It was May 2020, and the virus's presence in the city had first been confirmed in late February. The wall was lousy with flaking posters and other obstructive debris, but time was running out, so Henrique made do. "I had the idea for No Panic, and I was like – I need to do that," Montanari says, "and I had to rush."
The black-and-white mural that resolved as he painted was, contrary to its titular message, unsettling. A little girl in a white nightgown and a World War I gas mask stood, backed into a corner, next to a teddy bear in a similar ghoul-faced respirator. The words No Panic dripped red, like blood, like a warning. Viewed with the naked eye, it was a static, striking, large-scale painting, the child many times life-size. Viewed through the lens of a phone, it came alive: the bloody text dripped away to reveal a new message – "United we Stand, Divided we Fall". It was intended as a message of encouragement, Montanari has said, but he'll forgive me for thinking that it reads a little more ominously than that.
The fact was that Montanari was, himself, very worried – less about the virus (though he never doubted that it was real, and a killer) than about the "fear culture" he saw being seeded and nurtured by governments all over the world. Most acutely, he worried about his children. His kids, fourteen-year-old Max and ten-year-old Rosa, were living with their mother, whose COVID-19 safety protocols struck Montanari as excessive: he describes them as a kind of ritualised anxiety. "She was really freaked out," he told me recently. "Like, she was the kind of person who goes to the supermarket and then puts all the stuff outside the house for three days. You know, come home, take a shower, take another shower – kind of like that." For a while, Montanari barely saw the children. "I couldn't get my kids to come out to my place. I had to go there," he says. "I couldn't come inside the house. I saw them for like an hour."
Though I, a recovering grocery-scrubber, empathise with Montanari's anxious ex, I also felt his dismay at the realisation that his son had grown almost superstitiously attached to his mask. He describes a trip to a nearly empty beach: "There's no-one around, but he don't wanna take it off. You know what I mean? You're not gonna catch COVID here. It's so sad to see that he has that inside of his brain," Montanari says. "I'm thinking, how am I gonna take that out?" At Max's age, Montanari was out with his friends, going to parties, being a kid. "He didn't have that. He lost that. Gone." The saddest element of No Panic, I realised, was the teddy bear's gas mask – that futile talisman for a scared child's stuffed best friend.
For more than half a year after No Panic went up, the coronavirus raged in Brazil.Then, the new year rolled in and Brazil's case-load went into sudden decline. Soon, those figures would spike again, reaching record highs in March, and peaking again in May, such that by the time I spoke to Montanari in August 2021, he sounded profoundly fed-up.
But back in that January moment, it felt fleetingly like the beginning of an ending. Montanari began a new pandemic mural, a huge one, covering the entire side elevation of an eight-story building, dwarfing the scale of No Panic. It would be named Max e Rosa, and it was full of tender, tentative hope.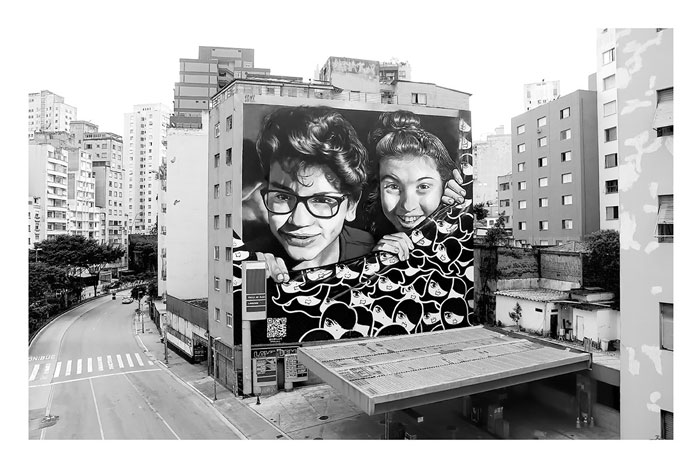 In it, the monumental faces of the children peer out from behind a printed curtain, their expressions full of excitement and anticipation. Like kids waking up on Christmas morning, I proposed. The image is, Montanari agreed, about a kind of awakening – the awakening of the "pandemic generation". "We stayed too much locked up inside ourselves in this year," he explained. "What's it going to be for this generation that grew up in that? What's the side effects that you're going to have?"
There was a phrase that had been on his mind, he said. It went something like: "you look inside and you dream, you look outside and you wake up." When I Googled it later, I found the sentence, a Carl Jung quote, reversed – "Who looks outside, dreams; who looks inside, awakes." But it made sense that to Montanari, an artist who paints for the public, whose work provides the backdrop to the traffic and bustle and commerce of the city, the lucid, waking world was only ever out there. It made sense that he wanted his children to be able to step into it with joy, with appetite, and without fear.