The peril of polio control in shadow of war
Satellite imagery and deft negotiation are critical tools for polio vaccination teams working across the world's conflict zones, writes Adeline Tchouakak.
Conflict zones pose enormous challenges to those involved in polio surveillance and eradication, as security fears close off access routes and push populations underground.
Polio is a debilitating viral disease that mainly affects children under five, where one in every 200 infections leads to irreversible paralysis, and up one in ten paralysed will die. Vaccination is the only way to stamp it out.
"There are special strategies that need to be adapted and they depend on the individual situation of each conflict zone," says Oliver Rosenbauer, spokesperson for the poliomyelitis eradication program at WHO in Geneva.
For example, the 2002 civil war in Côte d 'Ivoire gave health agencies just two groups to negotiate with, but in Syria the WHO had to spend time reaching out to several conflicting groups.
"Each time, we have to look at the specific situation not only in the affected country, but also in the sub-region, to find the best ways to access children, " says Rosenbauer.
Yet in all cases, health agencies need to work "through intermediators and negotiators—those trusted on both sides of the conflict ", explains Carol Pandak, director of the PolioPlus program at Rotary International, a network of decision makers working to improve living conditions around the world through, among other things, the fight against disease.
Organisations such as the Global Polio Eradication Initiative (GPEI) work to maintain relationships with both sides of the conflict in order to ensure work is not disrupted.
This approach reaped benefits in Afghanistan when there was a transition in government. "The program had been working with anti-government elements and were able to sustain relationships after the regime change, " Pandak says.
During negotiations with warring factions, health workers underline the risks of polio and the benefits of vaccination.
"We have found that parents on both sides of a conflict want to protect their children from disease and perhaps death, " says Pandak.
"We appeal to their sense of wanting to protect their children and argue that health is apolitical. "
At the Alliance for International Medical Action (Alima), an organization specializing in medical action with vulnerable groups, health workers underline their neutrality to get access.
"We are able to deploy ourselves by making the various actors understand the independent, neutral, impartial nature of our intervention and by having a community anchor, " explains Soma Bahonan, head of mission of Alima in Cameroon.
The NGO operates in northern Cameroon, amid attacks by Boko Haram in the far north of the country, and a war with the English-speaking minority in the north west.
Health agencies say warring groups usually agree to temporary ceasefire agreements or conflict-free days to allow their staff to vaccinate the children. Children will then be taken out of risky areas to checkpoints in the markets and in refugee camps.
Yet sometimes, health worked are faced with blunt refusals from warring factions, with fighters fearing an enemy ploy.
It happened during the 2016 conflict with Boko Haram in Borno, in north eastern Nigeria.
"There were a lot of military movements and the situation changed from week to week, " Rosenbauer says.
"So we could only do vaccinations when people were leaving the area. "
Yet it is very often not the conflict itself that prevents vaccination, but managerial, logistical and administrative issues, he says.
When a population is being permanently displaced, it can be very difficult to find children to be vaccinated, and if health agencies can 't get a handle on the number of people involved, they can 't prepare the right number of vaccines, or make enough provision for the cold storage needed to keep doses fresh.
Help from above
To try to overcome these difficulties, health workers turn to geographic information system (GIS) software that uses satellite imagery to estimate the size and location of the population in inaccessible places, and to follow the progress of surveillance.
This allows for mapping that can identify and indicate the location of villages and children who have not yet been reached by vaccination.
In addition, these maps provide distance and proximity readings to ensure that all settlements and hamlets are visited by vaccination teams, and that the appropriate number of teams are deployed.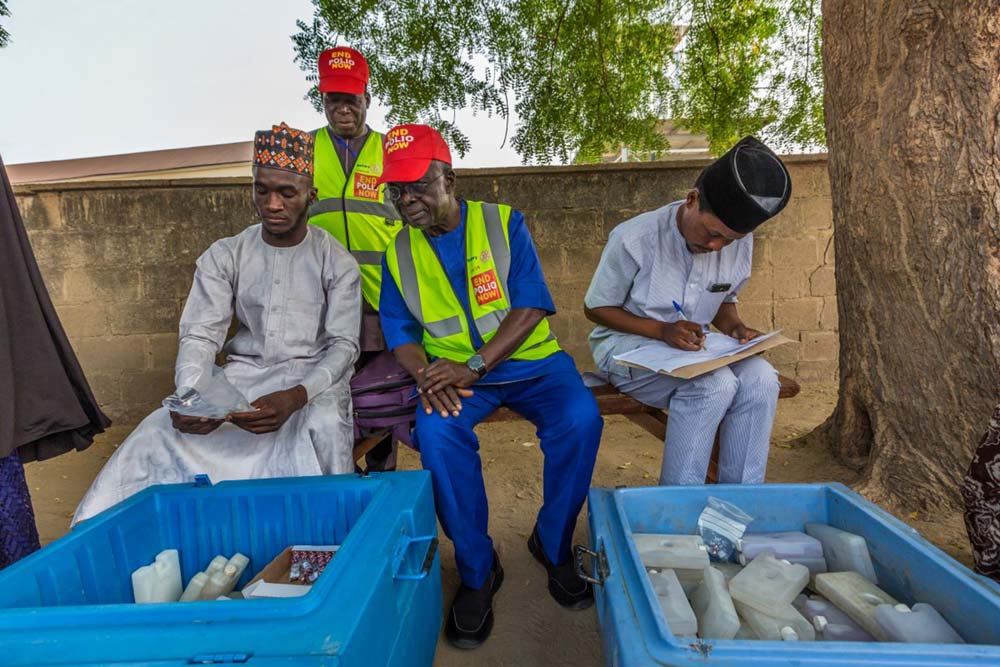 ---
Written by
Website
*This article was edited on 13 December 2022 to update the photo captions.
This piece was originally produced by SciDev.Net 's Sub-Saharan Africa French desk on 9 December 2022.
This article was supported by Global Health Strategies (GHS), an organisation which uses advocacy, communications and policy analysis to improve health and wellbeing around the world.
H.E President Macky Sall, Chairperson of the African Union (AU) and President of the Republic of Senegal, will be hosting the Forum on Immunization and Polio Eradication in Africa on December 10, 2022, in Dakar, Senegal.