Q&A: Cold chain experts on keeping vaccines cool
The global COVID-19 vaccine rollout would not have been possible without cold chain equipment (CCE) keeping vaccines cool as they are transported and stored. We spoke to supply chain experts Karan Sagar and Shahrzad Yavari about why COVAX's work to deliver CCE is critical for pandemic preparedness and prevention.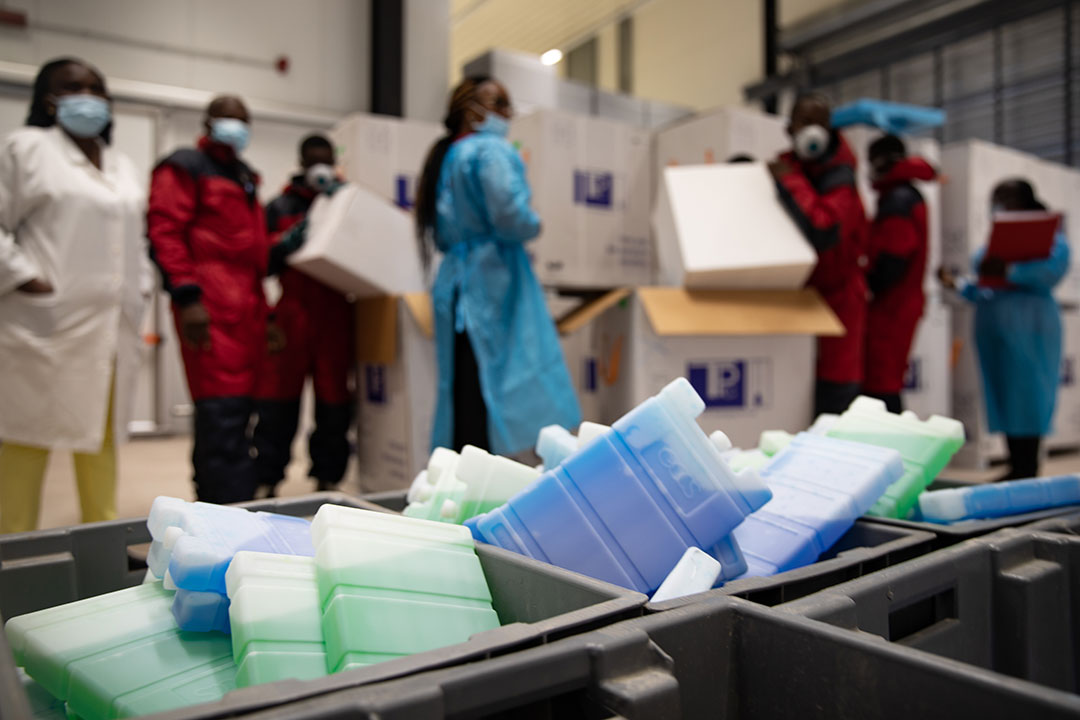 1. What were the initial challenges that were identified when COVAX was first formed? 
When the pandemic was declared, the world was not ready for what it takes to safely store and distribute the unprecedented scale of vaccines that were in demand. To be able to end the pandemic we didn't just need COVID-19 vaccines, we also needed to ensure that everyone in the world had access to them. That requires cold chain equipment like walk-in cold rooms, freezers, fridges, temperature monitoring devices, and passive equipment like cold boxes and vaccine carriers. 
Investing in CCE is not enough. If you really want it to make an impact you must think through the whole cold chain ecosystem from training health workers and technicians at the country level to the maintenance and upkeep.
We also didn't initially know about the thermostability of vaccines, so it was hard to plan and invest in ultra-cold chain equipment at scale. We needed to ensure investments were made mindfully and effectively to ensure they were available in the correct quantities, which made planning in an environment with finite resources a complex process. There were a lot of conversations about whether [countries] would need ultra-cold chain equipment (to store mRNA vaccines below -60°C) and so it was a case of weighing up whether to invest now or whether it was too early to respond. It required contingency plans, designs and forecasting. Volume commitments, in-country demand, logistics and workforce availability all had to be taken into consideration. 
Many countries needed additional cold chain capacity at the national and sub-national level to be able to receive the vaccines they needed to reach the most vulnerable members of their population. Relying only on the existing routine immunisation cold chain would have been impossible, as many countries don't have the buffer needed for a pandemic response of such proportions. 
2. What challenges do you foresee? 
We have invested more than US $51 million into cold chain for vaccines requiring 2-8°C storage conditions, which has procured more than 230 walk-in cold rooms, 5,863 fridges and freezers and allowed their installation, and 161,285 items of passive equipment. We have increased vaccine storage capacity in 74 countries (once all installations are completed) but if complacency sets in and countries stop prioritising cold chain management, the long-term performance and upkeep of the equipment in the countries COVAX supports could suffer. Investing in CCE is not enough. If you really want it to make an impact you must think through the whole cold chain ecosystem from training health workers and technicians at the country level to the maintenance and upkeep. 
If we drop the ball on those key factors and the cold chain equipment stopped working, we would be back at square one. We have to think more holistically now to prevent that scenario. 
3. How does COVAX provide tailored support for cold chain optimisation in different countries? Is there an assessment process to calculate what is needed? 
Since November 2020, COVAX has processed applications from 74 countries for standard (2-8°C) cold chain equipment from among the 92 participants eligible for the Gavi COVAX Advance Market Commitment (AMC). WHO, UNICEF Country Offices, and other partners supported governments in the planning and development of these applications, which took resources and time. The COVAX CCE support covered the equipment costs and shipping costs of the equipment by sea, as well as funding for in-country distribution, installation and training, which were coordinated all through UNICEF. 
The World Health Organization (WHO) has developed a useful tool called the supply chain sizing tool, which helped countries to identify and quantify any cold chain capacity gaps at the national and subnational level. It then suggests what kind of cold chain equipment they can order based on equipment's storage capacity.
4. What is the journey of cold chain equipment from procurement to delivery and installation? 
The countries apply to Gavi for meeting the CCE gaps, these applications are reviewed by our independent review committee, and thereafter UNICEF works closely with countries on the technical reviews and the procurement orders. Once these are approved by countries, UNICEF places the purchase orders with pre-approved manufacturers and the procurement journey starts. Once the CCE is manufactured, UNICEF schedules via its freight forwarders the shipments to the final destinations. The CCE arrives in the country and has to go through the customs clearance and be placed in a warehouse. Then coordination for installations needs to take place at the country level, so UNICEF works closely with the government to ensure installations are planned and implemented successfully.
5. How do the Vaccine Alliance partners work together to strengthen vaccine storage facilities?
Pandemic response takes effective and global collaboration. Gavi has played a pivotal role in responding to cold chain gaps and the needs for reaching the population, but also for reaching the last mile and ensuring vaccine equity. WHO and UNICEF have played a key role in developing guidance and training materials for countries on supply chain. UNICEF is supporting countries to procure the necessary cold chain equipment and to ensure there is coordination in vaccine storage capacity and vaccine shipments for all vaccine allocations. It has truly been a team effort. UNICEF has deployed additional personnel in the countries to support the vaccine and stock management, and help identify and mitigate risks in vaccine and supply chain management. 
There has been a tremendous effort from regional and in-country partners working behind the scenes to help COVAX understand the logistics, inventories and deployments, as well as understanding which sites need equipment and how to get it there safely.
6. What do we do with Ultra Cold Chain equipment (UCC, or vaccine freezers) when the Pfizer thermostability improves or COVID-19 vaccines are not required?
As requirements for UCC decrease, Gavi will work with its core partners to develop strategies that countries can adapt to their circumstances. Several have been proposed already, and it is likely many countries will use a combination of them. These include (but are not limited to):
Redistributing UCC to research and medical institutions within the health system that can have uses for UCC;
Where viable by the design of the UCC and cost-effective (e.g. power consumption), adjusting the settings of the device to operate as a standard (-20°C) freezer.
Working with suppliers to implement safe decommissioning practices that allow the Ministry of Health to hold the asset in long-term storage should it be required again.
7. Why is COVAX's work to deliver cold chain equipment important for pandemic preparedness and prevention of future threats?
The additional cold chain capacity can strengthen routine immunisation programmes and primary health care systems in the long-term, and act as a backbone if and when another pandemic hits. Just the process of understanding what countries need, applying for equipment and getting it all procured and installed has taken over a year, so that timeline could be greatly reduced. 
The pandemic also put a lot of pressure on global supply chains. Manufacturers faced shortages of components and long lead times, while shipments of finished cold chain equipment were backlogged due to a lack of shipping containers and reduced availability of ships. It took a new level of coordination, creativity and collaboration among all stakeholders to overcome these delivery challenges. 
Despite the challenges, COVAX-funded vaccine refrigerators arrived in countries within four months of government approvals. There have been a lot of lessons learned within the global community throughout the pandemic and we've been gathering best practices on how we respond quickly to future threats so it's more proactive and less reactive. Thinking through how we can align and respond together is a really important lesson learned coming out of the pandemic for all the stakeholders.