Reaching out to communities in rural Zambia
In rural Zambia, clinics and health centres rely on a limited number of medical personnel to run immunisation programmes, which makes the support of community leaders vital.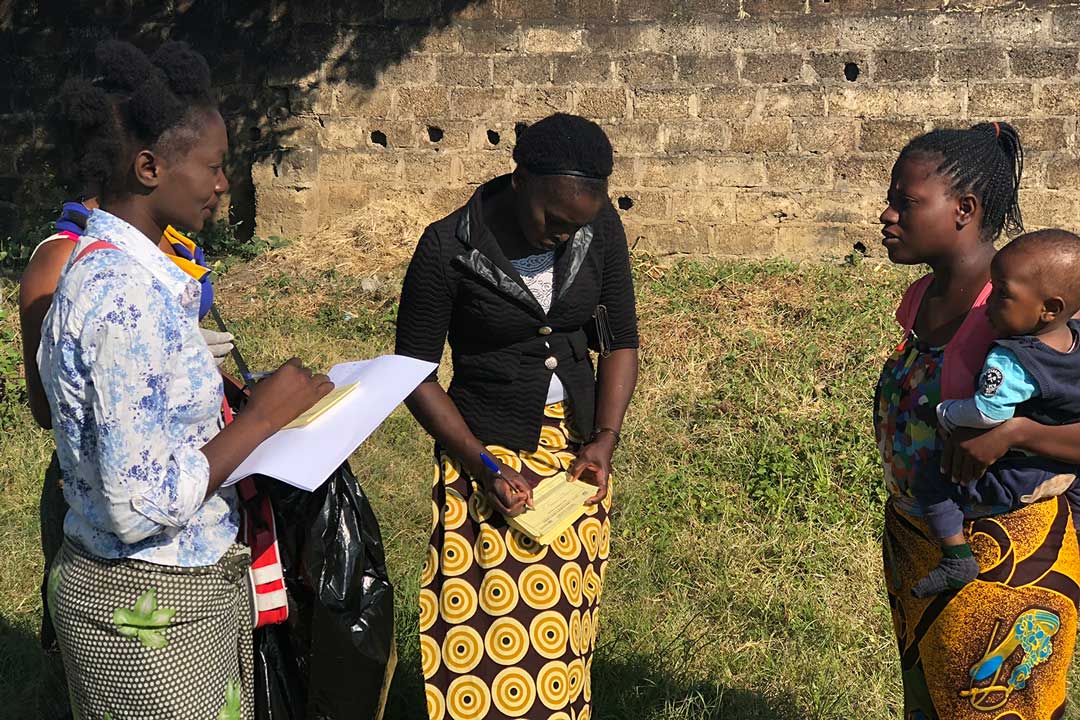 Kanakantapa is a farming community in Chongwe District, about 46 kilometres away from Lusaka, Zambia's capital. The area, originally inhabited by the Soli tribe of Central Zambia, has seen a mixture of tribes moving into farms allocated by the government. Different areas of Kanakantapa are divided into farming blocs, with the letters A to J for each section. The area is vast, with Kanakantapa Rural Health Centre the sole health facility catering to the needs of the community.
"Every Tuesday, we hold an open clinic day from 09:00 to 14:00 for under-five immunisation," says Flannel Monde, the nurse in charge. "This is to ensure that babies born in the previous week are able to get their vaccinations."
Our job has been to go door to door to talk to people who do not vaccinate their children, to find their reasons and give them scientific facts.
Monde, walking through the room where they store vaccines, adds, "The power has gone out now, but it will be back soon," as she opens up a blue fridge that contains vaccine doses for measles and other routine immunisation requirements. The blue fridge has a list on it that is used to keep track of what needs to be replenished at the end of every Tuesday to ensure that no mistakes are made.
To ensure that people are informed of vaccination needs, Monde says, "we have outreach programmes. We have people, mostly community leaders, who assemble people in farming blocs D, F, K, and H. These leaders are educated on vaccines in the clinic and, in turn, educate their community on vaccinations." 
It is having an impact. Gift Mwamba, a mother of one, says, "I am originally from Mufulira, but we moved to Kanakantapa two weeks ago. I came here today to register my son for his next vaccine in August. He is 1 year and 5 months old."
And mother of four Janet Nalwinga says, "I have been bringing all my children here for all their vaccinations. Even this one will get the same vaccines."
Have you read?
Both Mwamba and Nalwimba feel that the one thing that is lacking is transportation that will ensure that mothers are able to bring their children for routine vaccinations on time. 
Nalwinga says, "I walk for one hour to come to the clinic, which is not even far compared to most of the women who come here."
Community leaders play an important role in vaccination outreach, ensuring locals don't miss their vaccination sessions. "We are actually church leaders," says Elly Sambaka, who is with the Seventh Day Adventist Church. "Our role is to educate and pass on helpful medical information. We have some parts of the community where there is a lot of misinformation on what vaccines do to children and our job has been, where necessary, to go door to door to talk to people who do not vaccinate their children, to find their reasons and give them scientific facts."
Matthias Zulu, who is with the Catholic Church, adds, "We have instances where some people are following what their parents and grandparents did. We try to get them to visit the clinic to talk to a doctor or nurse for greater understanding."
Activo Mweemba from the Apostolic Church concludes: "We are making strides: it's rare to find an unvaccinated child in Kanakantapa. It has also been helpful with schools making it a requirement that a child should have an under-five vaccination card to start school. We have cases where some parents come here to ask for under-five cards when they want to enrol their children. We then educate them on the importance of vaccines."
The COVID-19 vaccine has not yet been distributed to Kanakantapa Health Centre. The vaccine is available at the District Hospital in Chongwe, an almost forty-minute drive away. Mr Zulu says, "I will get my dose this week. I had misgivings about the vaccine from misinformation, but I see the need for it now."
These outreach leaders are bridging the gap between health care workers and their communities. They will be instrumental in the national fight against COVID-19.