Reaching zero-dose children in Nigeria's IDP camps
In Nigeria's insurgency-ridden north-east region, volunteers are taking the message of immunisation to IDP camps.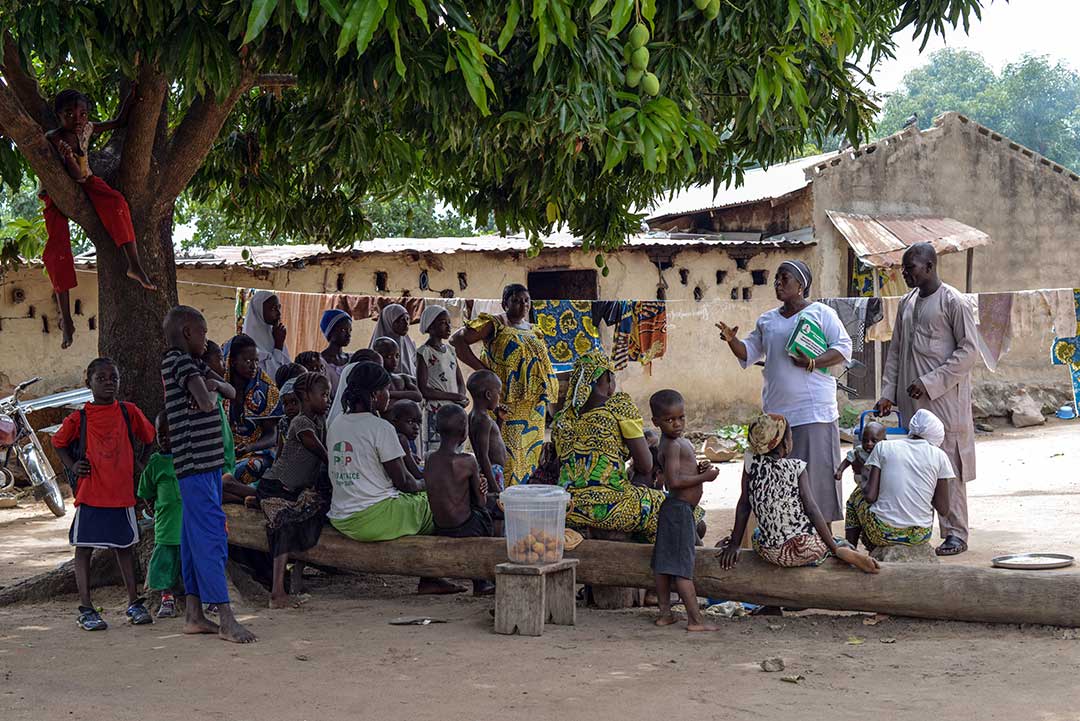 A decade-long insurgency in north-east Nigeria has devastated the lives of civilians, resulting in a humanitarian crisis affecting 7.7 million women, men and children, according to UNICEF estimates. Since the start of the conflict in 2009, more than 20,000 people have been killed, more than 4,000 people abducted and 1.7 million displaced, most of them in Borno State.
Among the displaced are thousands of children who still go without basic, routine vaccines, leaving them vulnerable to some of the world's deadliest diseases.
"Some of our children here have never been immunised. However, we have been campaigning on the need to immunise such children and gradually, some mothers are beginning to listen to us."
Stephen Adeyele, a volunteer health worker, has been helping to sensitise mothers on why they need to immunise their children in Adamawa state's internally displaced peoples (IDP) camps. The region in north east Nigeria has been badly impacted by the Boko Haram insurgence.
Although the job is taxing, Adeyele and his team derive joy in it because, to them, immunising children means preventing them and communities from succumbing to disease outbreaks and helping them to realise their potential in the future.
"We tell mothers, especially those who have never presented their children for immunisation, the benefits of the exercise. Yes, there are many cases of zero-dose children here because some mothers don't trust the vaccines; they believe the vaccines give their children diseases and that it's a tool by the Western world to depopulate them. These are the misconceptions that we fight against when we embark on sensitisation tours to the various IDP camps and rural areas here," Adeyele says.
In Gombe State, where more than 34,000 IDPs are scattered across the province, Isa Maina, a displaced person from Maiduguri, epicentre of the Boko Haram insurgency, has joined a team of health volunteers campaigning for zero-dose children to get vaccinated.
Maina, who now resides in Hammadu Kafi after fleeing his home due to insurgents' attacks, says: "Some of our children here have never been immunised. However, we have been campaigning on the need to immunise such children and gradually, some mothers are beginning to listen to us. Luckily for me, I can speak eight local languages, and this makes communicating with them easier for me."
Aishat Mohammed, a mother whose one-year-old daughter recently received a vaccine for the first time, says people like Maina convinced her to vaccinate her child.
"I will preach the message to my friends that vaccines are not haram ("forbidden") and tell them that not vaccinating children can make them prone to severe diseases. Hopefully, they will be convinced as I am," she enthuses.
Determined to not leave vulnerable children to their fate, Victoria Magaji, whose volunteering job has taken her across many IDP camps in Northern Nigeria, says that increased sensitisation has encouraged many mothers to present their children for immunisation.
"We tell them the benefits of immunisation and also provide gifts like toiletries, towels and diapers. When you give them gifts, they are better encouraged. They even inform their friends to bring their children for immunisation. At the IDP camps, we start by providing them with refreshments and services like hair-plaiting and barbering before we move on to sensitisation and the actual immunisation," she says.
Emmanuel Audu, a humanitarian worker who also traverses many IDP camps and communities in Yobe and Borno states, says that vaccinating zero-dose children is important to protect them against diseases, and decries the shortage of health workers and facilities in the conflict-ridden region.
"However, humanitarian actors over the last five years have come up with partnerships with government agencies to ensure children in the IDP camps have access to vaccines," he says.
Hajia Rabi, a health worker who works at Girei, the headquarters of Girei Local Government Area of Adamawa State, says that with time, the number of zero-dose children will reduce in northeast Nigeria as many "mothers now realise the importance of immunising their children", adding that she and her team go to IDP camps to ensure that "no child is left out" in the national and global plans to immunise children.
The World Health Organization, in its Immunization Agenda 2030, targets a reduction of 50% in the number of zero-dose children by 2030. The newly launched Zero-Dose Immunization Programme (ZIP) between Gavi, International Rescue Committee and World Vision seeks to help meet the target by dedicating up to US $100 million to reach such children – those living in displaced communities and fragile and conflict settings in sub-Saharan Africa.
On 11 April, the Executive Director of Nigeria's National Primary Health Care Development Agency (NPHCDA), Dr Faisal Shuaib, announced an integrated vaccination strategy, known as the Optimised SCALES 2.0 Strategy, whereby parents and caregivers with children or wards aged zero to two years are encouraged to bring their children along to COVID-19 vaccination sites, where childhood vaccines are also available.
"While the adult receives COVID-19 vaccines, the children are assessed for the antigen they are due for and vaccinated," Shuaib said.
More from Jesusegun Alagbe