Working to extend the reach of immunisation in South Sudan
One-fifth of zero-dose children live in conflict settings. In South Sudan, Gavi has been working with the International Organisation for Migration (IOM) to reach the children being left behind.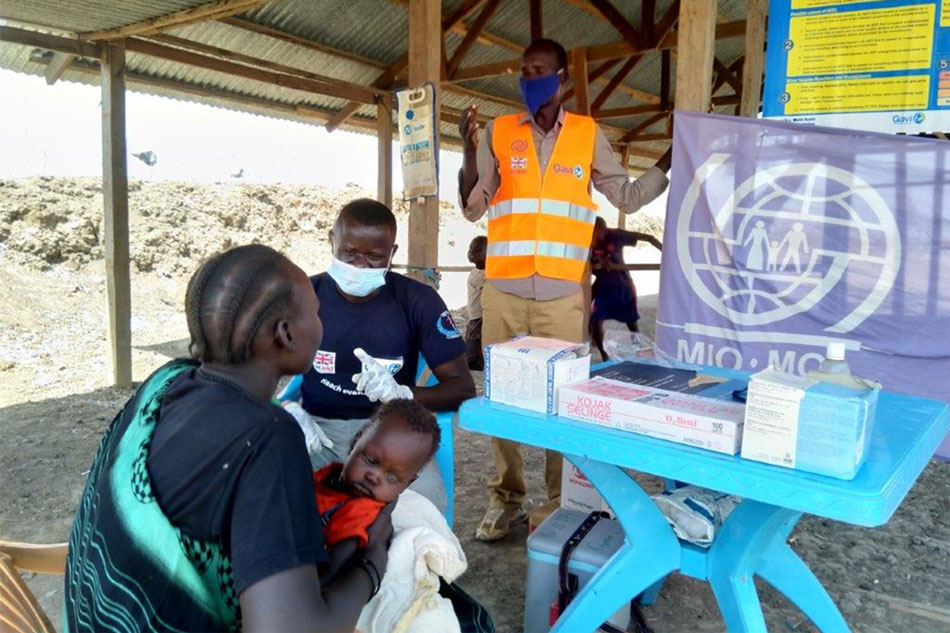 The International Organization for Migration (IOM), in collaboration with the State Ministry of Health and the County Health Department (CHD), has increased access to immunisation services for children in Rubkona County, South Sudan.
With support from Gavi, IOM has set up ten new immunisation sites, including in internally displaced persons' (IDPs) camps, and regularly conducts mobile and outreach sessions in remote locations to reach more children.
In an effort to minimise missed opportunities, we have vaccinators working in strategic locations including nutrition centers run by humanitarian partners,
says Teshome Adebabai, IOM South Sudan's Head of the Migration Health Unit.
IOM has also set up a vaccination site at the main Rubkona bus stop targeting arrivals mainly coming from Khartoum and at the entrance gate of the IDP camp in Bentiu.
In addition to the outreach and mobile Expanded Programme on Immunization (EPI) services, IOM also contributes to supplementary immunisation activities in the county, in collaboration with other health partners, such as National Immunization Days (NIDs). These target children from zero to 59 months with the polio vaccine as part of the national strategy to end polio. Under the leadership of the County Health Department and in coordination with other health partners and the EPI technical working group, IOM supported the logistics of supplies from the central cold chain to Bentiu IDP camp, as well as the supervision and collection of vaccination reports to the data center.
Have you read?
An 8-month-old baby recently received the polio vaccination at the entrance of the main gate of the Bentiu IDP camp where the IOM team was stationed.
IOM vaccinators briefed parents and caregivers of children on the importance of completing the vaccination schedules of children and informed them where this service is available.
"We came to the IDP camp to visit our relatives who still live here," said the mother.
"I am very happy that my baby got vaccinated. I know there is a door-to-door vaccination campaign but every morning I wake up early to go work in the fields so that my children can eat, so I always miss the vaccinators," she said.
She was happy to find the IOM team at the gate. It was easy to get her baby vaccinated.
More from International Organization for Migration (IOM)