World leaders and private sector commit to protecting the vulnerable with COVID-19 vaccines
In the COVAX Advance Market Commitment Summit, hosted by Japan, countries and industry came together to pledge support to the mission of making vaccines available equitably worldwide.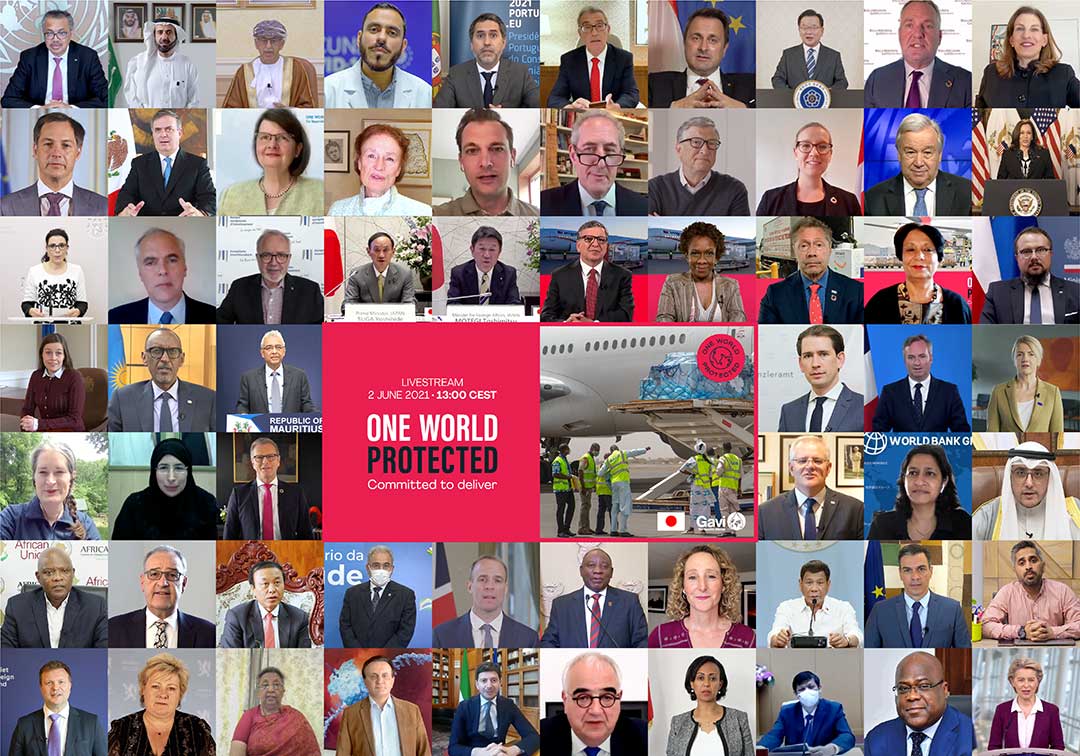 Global leaders and private sector companies have pledged US$ 2.4 billion to the COVAX Facility to accelerate access to 1.8 billion COVID-19 doses for lower-income economies. The pledges, which exceed the original US$ 2 billion target and bring the total raised to US$ 9.6 billion, came today at the Gavi COVAX Advance Market Commitment Summit, hosted by the government of Japan. 
COVAX is a global initiative to ensure equitable access to COVID-19 vaccines, under the leadership of Gavi, the Vaccine Alliance, the Coalition for Epidemic Preparedness Innovations and the World Health Organization. So far it has delivered 77 million doses to 122 economies.
One year on from the launch of COVAX key lessons have been learned, including the vital importance of technology transfer not just in vaccine production but also disbursement and other parts of the supply chain.
Five countries also pledged to donate more than 54 million vaccine doses to lower-income countries, including through COVAX, to bridge short-term supply challenges. This brings the total number of doses shared to more than 132 million.
This is a significant achievement, but now is not the time to be complacent, said Dr Seth Berkley, Gavi CEO. While a third of people in the richest countries have now had their first dose, less than 1% of people in lower-income countries have received any so far. "We must redouble our efforts. We need donors to finance the procurement of hundreds of millions of vaccines, we need wealthy countries to share doses of vaccines or allow COVAX to move up the manufacturing queue."
Maintaining high levels of commitment
Summit hosts Japan made the biggest pledge of the day, committing US$ 800 million to COVAX. Prime Minister H.E. Suga Yoshihide acknowledged the urgency of COVAX's work, especially "considering the harsh reality of the spread of new variants." He added that "Japan will continue to strengthen research and developments of innovative vaccines," including improving the clinical trial landscape through capacity building.
Commitments came from all over the world including US$ 100 million from France, CHF 125 million from Switzerland, as well as US$ 1 million from the Philippines and US$ 500,000 from Vietnam - making the latter two countries both AMC recipients and donors.
In addition to these, private sector partners also committed significant sums, with a total of more than US$ 300 million. New partners such as UBS Optimus Foundation (at least US$ 1.5 million from an ongoing campaign), and Twilio (US$ 10 million) joined COVAX. Existing partners such as Google.org (an additional US$ 2.5 million through employee giving and matching), Mastercard (US$ 28 million) and Visa Foundation (US$ 3 million) increased their commitments. The Bill & Melinda Gates Foundation gave US$ 50 million.
Lessons from a year of COVAX
One year on from the launch of COVAX key lessons have been learned, including the vital importance of technology transfer not just in vaccine production but also disbursement and other parts of the supply chain. COVAX has proven to be a true public-partnership in the fullest sense of the word – with in-depth collaboration and sharing of knowledge, and skills between public and private sectors. 
Another lesson is that while supply bottlenecks have challenged vaccine distribution, hesitancy has also played a role. Several speakers spoke of the importance of building confidence and trust. Gavi's Deputy CEO Anuradha Gupta said that "to build trust, we need to understand communities and their needs – this is how we can encourage them to access to medicines. We need to understand how people think, feel and act. We saw this with polio eradication in India. We had to mobilise cadres of women from the communities who took the time to understand people's concerns." 
Resilience is a word that came up frequently during the summit. The need for resilient systems, not just health but also education, transport, financing and digital infrastructure. These were all needed desperately during this pandemic, but some countries were able to be more resilient than others.
Committing to pandemic preparedness
The current response needs to go hand-in-hand with future preparedness, a tricky line to walk, but a necessary one. Although remarkable progress has been made against COVID-19 so far, as President of Rwanda Paul Kagame said: "The shortfall of vaccines in Africa is acute. We must diversify the sources of vaccines available to COVAX even as we work to build Africa's capacity for the future."
Prime Minister Yoshihide emphasised the need for continued global solidarity. "We must not allow a country's economic power to determine its access to vaccines. We need continued solidarity and commitment to building back better," he said. 
Prof José Manuel Barroso, Chair of the Gavi Board added: "We urgently need to reach more people and reach them faster. We need more ambition to have One World: Protected. This is the opportunity to make things right. To make history."