Carrying the hopes of a nation on her back: Nepalese health worker goes above and beyond
Health worker Lila Thapa walked 30 minutes over hilly terrain with an elderly community member on her back, ensuring she received her COVID-19 vaccine.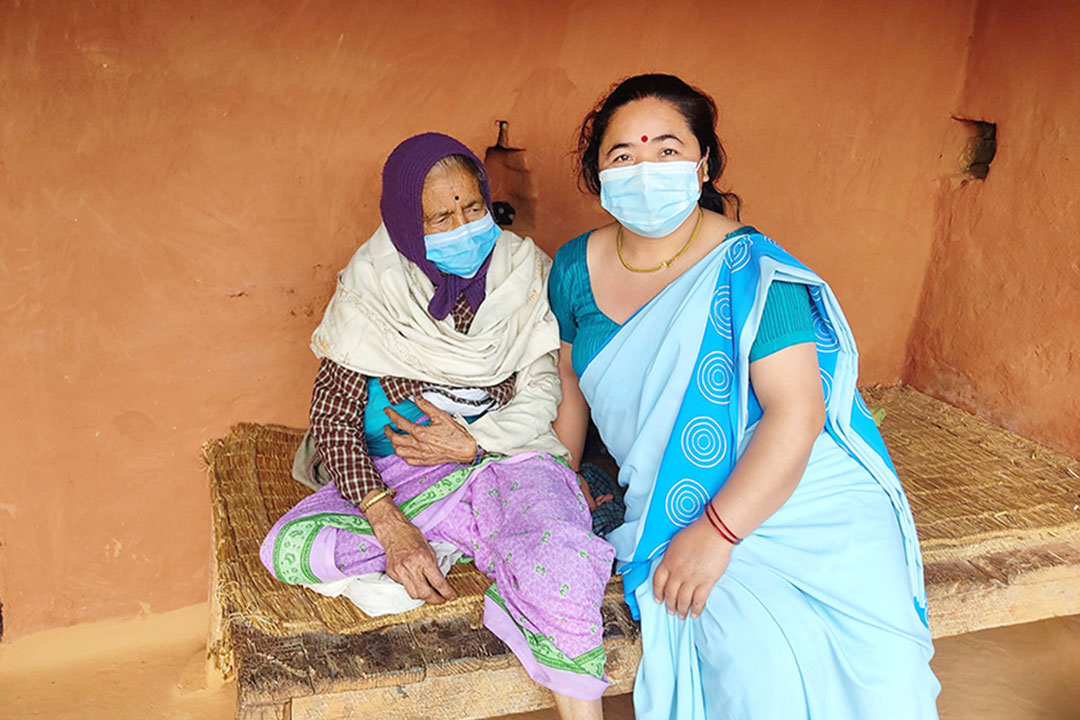 Earlier this year, Lila Thapa, a community health worker from Gulmi district, western Nepal, drew the attention of the whole nation with one symbolic 30-minute journey.
On 28 January, she carried 78-year-old Devi Kali Tandan of Dharapani on her back to and from the nearby Gaudakot health post for a COVID-19 vaccination.
"She would be left behind if she did not receive her vaccine that day so I decided to take her to the health post even if I had to carry her on my back."
The last date for getting a vaccine at Gaudakot health post was imminent. The health post is a 30-minute hilly and tedious walk from Tandan's house, and transportation facilities are completely absent. Under such circumstances, Tandan, who is a patient with diabetes and high blood pressure, would not be able to reach the health post on her own.
Tandan lives alone. With the men in her village all being at a funeral – there's a belief in the villages of Nepal that women should not attend a funeral – there was no one to take her to the health post, except Thapa. Vaccine cards had just become mandatory for receiving social security allowance.
"She would be left behind if she did not receive her vaccine that day so I decided to take her to the health post even if I had to carry her on my back," says Thapa.
She recalls that it was especially difficult to carry the old woman on the tough road that passed through a forest.
Health workers at the health post administered the single-dose Johnson & Johnson vaccine to Tandan. She was happy to receive a jab.
"I feel that I was born to be a health worker. I wish to continue the work for the rest of my life," Thapa says with pride and satisfaction.
Bhesh Raj Pandey, the head of Gaudakot health post, is highly appreciative of Thapa.
"Her action of taking a patient from her home to the health post, getting her vaccinated, and returning her back to home is praiseworthy. It is an inspiration for other health workers as well. She has been delivering health services to people's doorsteps for seven years now," he exclaims.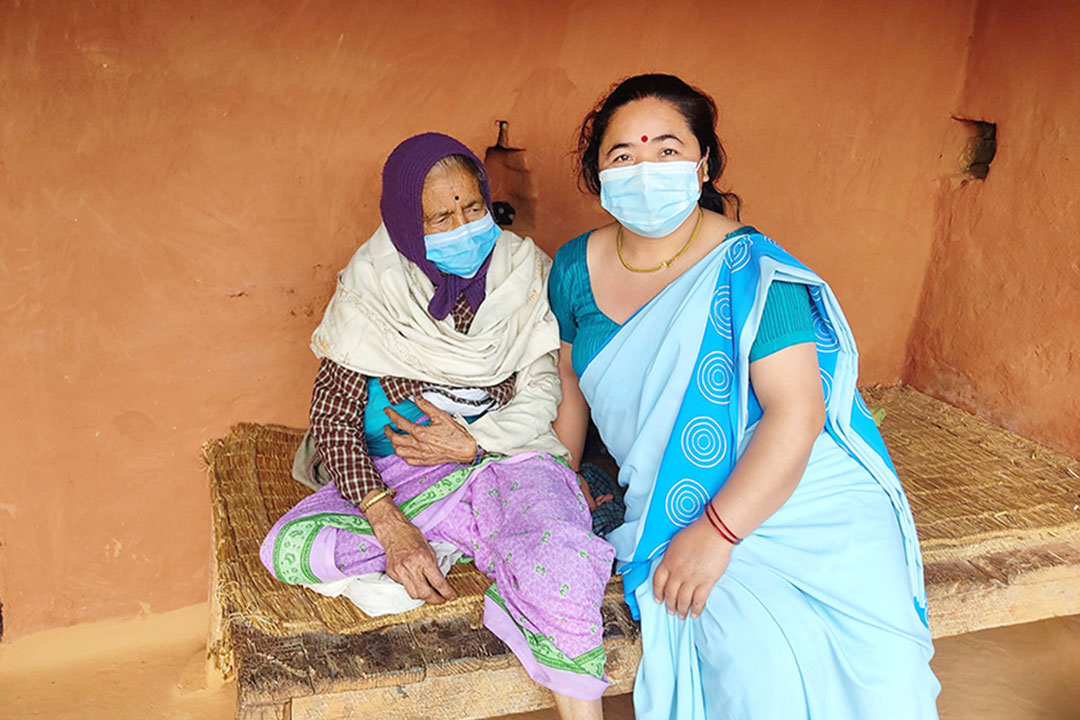 Thapa's action is the perfect example of how much women community health workers have been contributing to the COVID-19 vaccination campaign in rural areas of Nepal. They have been delivering health services to disabled and poverty-stricken patients because of their passion for service. The government provides a monthly allowance of only 700 rupees to them. Pandey believes that this allowance needs to be increased in order to motivate them.
According to the Ministry of Health and Population (MoHP), there are currently 51,416 women health workers in the country, with 46,088 in the rural areas and the remaining 5,328 in urban centres.
Sagar Dahal, the head of the vaccine section at Family Welfare Division of MoHP, lauds the role of women community health workers in making the COVID-19 vaccination campaign successful.
"From reaching people's homes for awareness generation to carrying them to the vaccination centres, these community health workers leave no stone unturned to ensure the vaccination campaign in Nepal is successful," says Dahal.
More than 70% of the total population has received a full dose of COVID-19 vaccine in Nepal. The government has announced that, by 30 April, the target is to fully vaccinate 80% of the population.