COVID-19 through the lens of a Ghanaian photographer
While the pandemic forced everyone else indoors, a Ghanaian photographer took to the streets to document Accra on lockdown.
11 February 2022
4 min read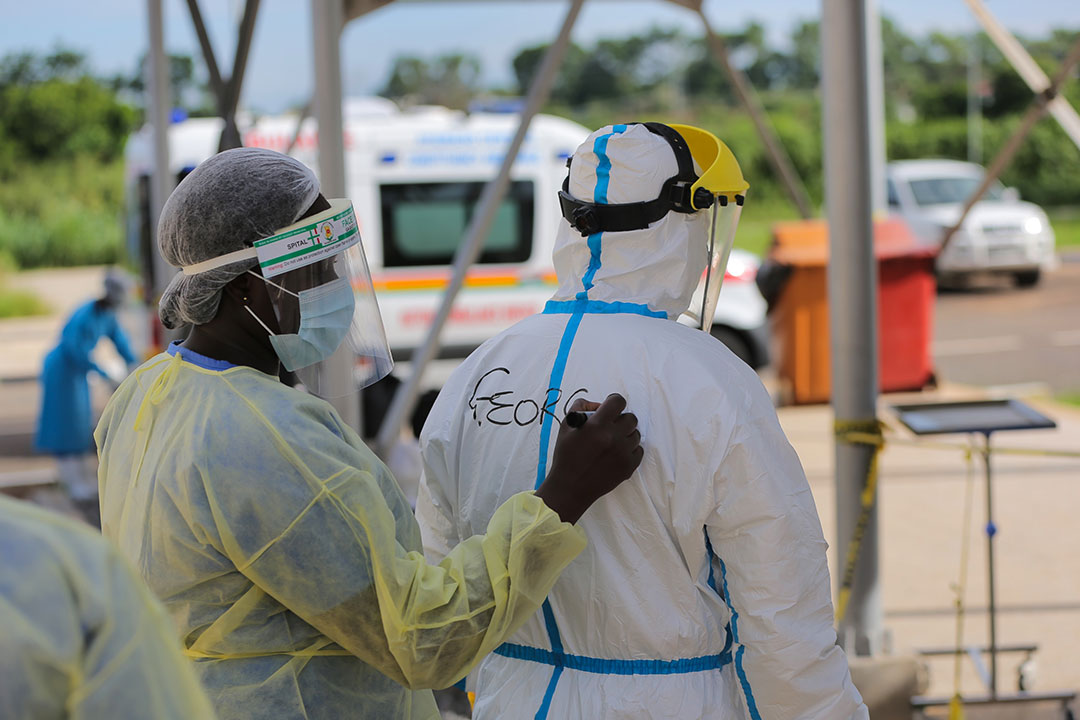 While work came to a standstill for millions of people around the world amid the COVID-19 pandemic, documentary photographer Rodney Quarcoo took to Accra's locked-down streets to document how the new rules of hygiene and social distancing had changed daily life for the city's inhabitants.
"In my own circles, there was a sense of fear and doubt about coming into contact with things and people, but the communities I visited had other worries."
Rodney, a self-taught visual creative with over 15 years' worth of experience, considered it his duty to document that moment in time.
He says, "I decided to pick up my camera, primarily, for posterity's sake. This is the first and, hopefully, last pandemic I will live through, and it was important for me to tell the story as I saw it. In December 2019, the only reported cases were in Wuhan, China, and while the news piqued my interest, my alarm bells didn't go off immediately."
It wasn't until early 2020 when it had begun to spread to other parts of the world, including Europe and the United States, that he started to worry.
He adds, "We'd just celebrated 'The Year of Return' in Ghana which marked 400 years since the arrival of the first African slaves in Jamestown, Virginia, and there'd been a huge influx of visitors from all over the world. I just knew it wouldn't be long before we confirmed our first case."
Sure enough, in mid-March 2020, the country recorded its first case and went into lockdown later that month.
"In my own circles, there was a sense of fear and doubt about coming into contact with things and people, but the communities I visited had other worries."
With a group of organisations and private citizens that had come together to donate food, water, hand sanitisers and other necessities to the needy, Rodney documented three communities: Fadama, Agbobloshie and Madina.
"These were some of the hardest hit neighbourhoods; they typically depend on money they can scrape together doing odd jobs – and with the lockdown, their livelihoods had been abruptly cut. Many of them either didn't understand what was going on, or didn't believe in the virus, and even for those who did, it was near-impossible for them to social distance as they live in such close quarters with one another."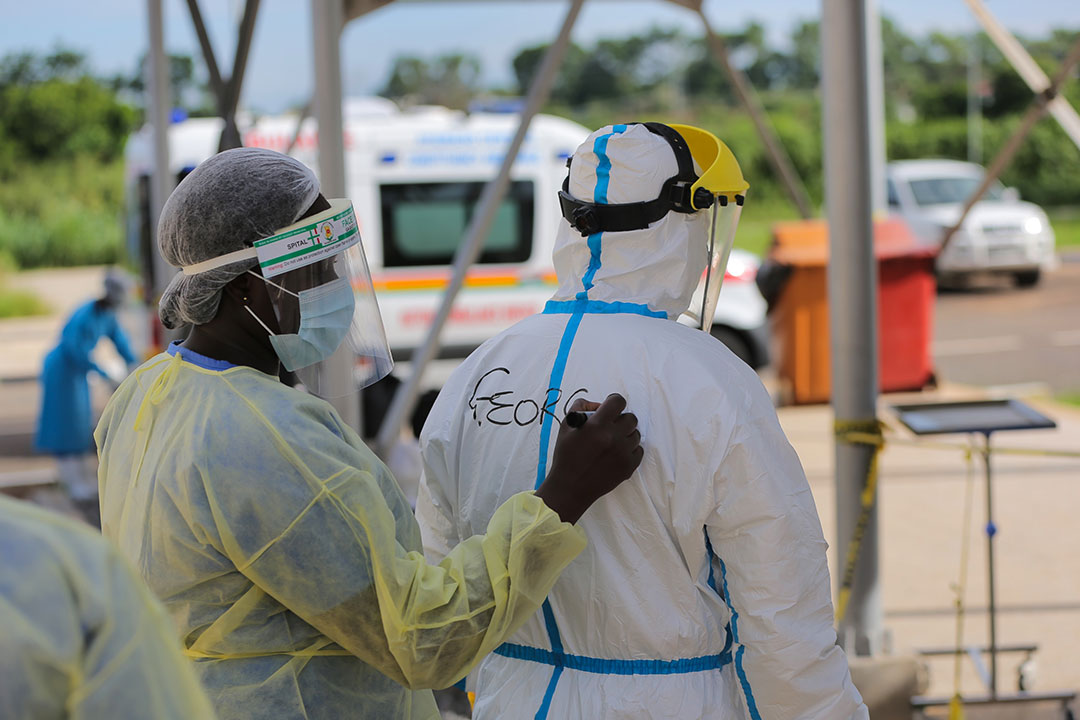 In July 2020, Rodney began documenting Ghana's COVID-19 response and management for a World Bank report. "I shot videos and photos at two centres, the Ga East COVID-19 Isolation and Treatment Centre and the Level 2 COVID-19 Treatment Centre, which was a field hospital set up by the Ghana Armed Forces at El Wak Sports Stadium. At Ga East, I met with Dr Joseph Oliver-Commey, the physician-in-charge of the COVID-19 team at the hospital, and a member of the National Case Management Team."
There, after donning the mandatory PPE, he observed healthcare workers and their sick patients, many of whom were on ventilators, fighting for their lives.
"I witnessed the sheer amount of effort and dedication the hospital staff put into caring for and handling their patients. I also watched as several patients who were being discharged after making full recoveries, were advised on how to avoid reinfection, as well as how to handle possible ostracism, as there was heavy stigma against COVID-19 survivors and their families at the time."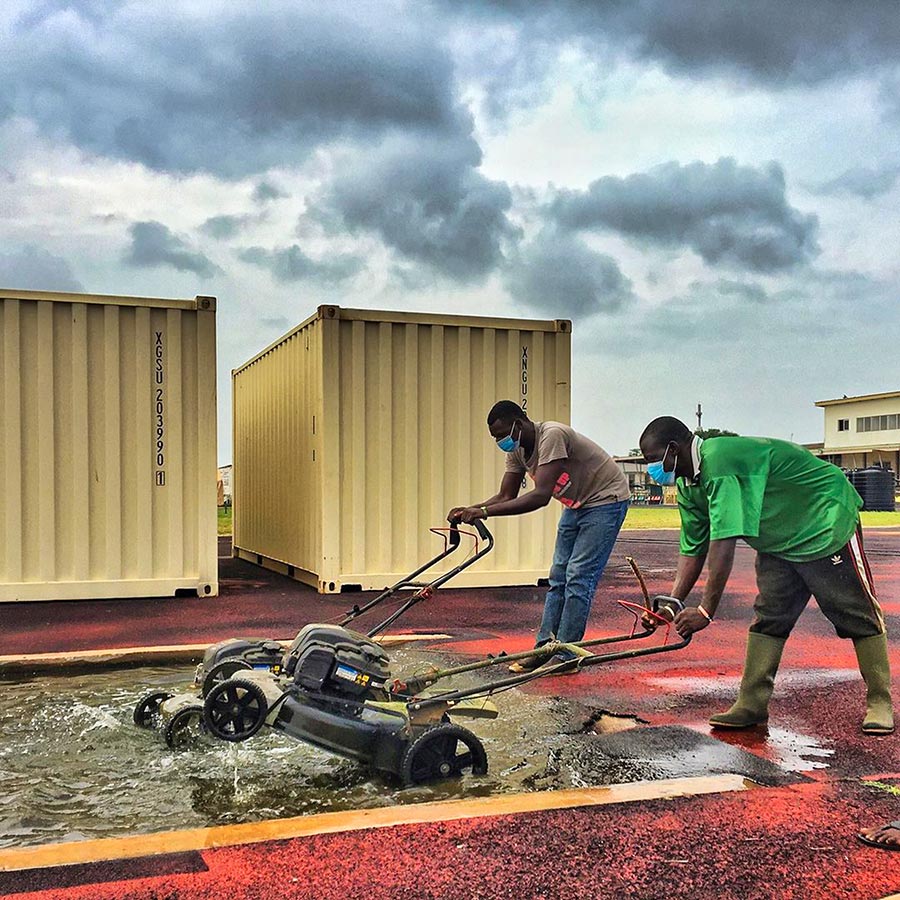 That day, Rodney spent over eight hours on his feet. "It was the most harrowing experience of my life. I have never been more mentally or physically drained," he says.
"I have tested positive twice for COVID-19. The first time was in January 2021. I was very ill but was able to manage it with prescribed medicine while I self-isolated at home. Around the same time, my friend and fellow photographer, Emmanuel Bobbie, also caught it, and he died a few weeks later while on admission. That news devastated me."
The second time, his symptoms were mild.
Rodney currently consults for the United Nations Capital Development Fund (UNCDF), and through them, he was one of the first to be vaccinated with the first shipment of the AstraZeneca vaccine donated to Ghana by COVAX in February 2021.
"There was a sense of urgency I felt to get my family vaccinated. Not long after the rollout, my wife and my mother got their shots, and I took my grandmother to go get hers."
Ten months later, on 8 December 2021, Rodney documented the arrival of one million doses of the Johnson and Johnson vaccine at the Kotoka Airport, which had been donated by the United States, Government of Denmark and the European Union, through COVAX.
All photo credits go to Rodney Quarcoo
More from Nanama Boatemaa Acheampong