Dial-a-vax: Pakistan's 1166 helpline has answers for the country's vaccine questions
Is my child eligible for the new typhoid conjugate vaccine? I'm living in a flood-zone and I'm spiking a fever. Can my baby get immunised against COVID-19? In Pakistan, a multilingual government helpline funnels information-seekers straight to a trustworthy – and trusted – source.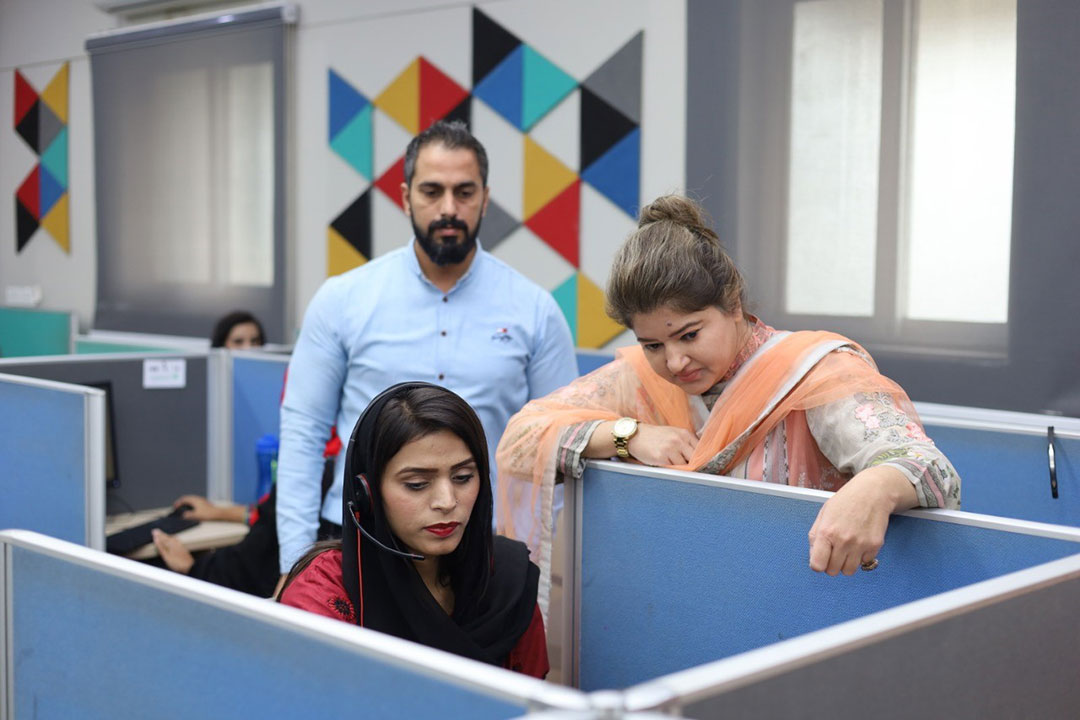 A woman in Charsadda, Khyber Pakhtunkhwa, has misgivings: her child has been offered a vaccine against typhoid. Not the familiar polio drops, not a measles-rubella jab, not an inoculation against COVID-19, but something else, something new. She wants to be sure of what she's dealing with. She picks up her phone.
"We believe 1166 is an important communication channel in which vaccine hesitancy and rumours can be addressed, and verified information provided."
There are many unwholesome places to which a phone might lead a nervous mother on a fact-finding mission: spooky WhatsApp videos tagged 'forwarded many times', for instance; conspiracy websites dressed up as newspapers; social media threads that read like a high-stakes, high-octane game of whispers.
But this woman is not trudging any of those shady alleys. Instead, she's dialling 1166, the Pakistani government-run helpline known as Sehat Tahaffuz.
A hundred and fifty kilometres away in Islamabad, in a busy room as colourfully decorated as a paediatrician's waiting room and as brightly lit as a hospital corridor, call agent Nadia Khan picks up her call, and answers in the woman's native Pashto.
She addresses her questions quickly, specifically, and – crucially – authoritatively. Yes, she verifies, this introductory Typhoid Conjugate Vaccine (TCV) drive is being organised by the federal immunisation programme. And yes, she confirms – the woman's child is eligible.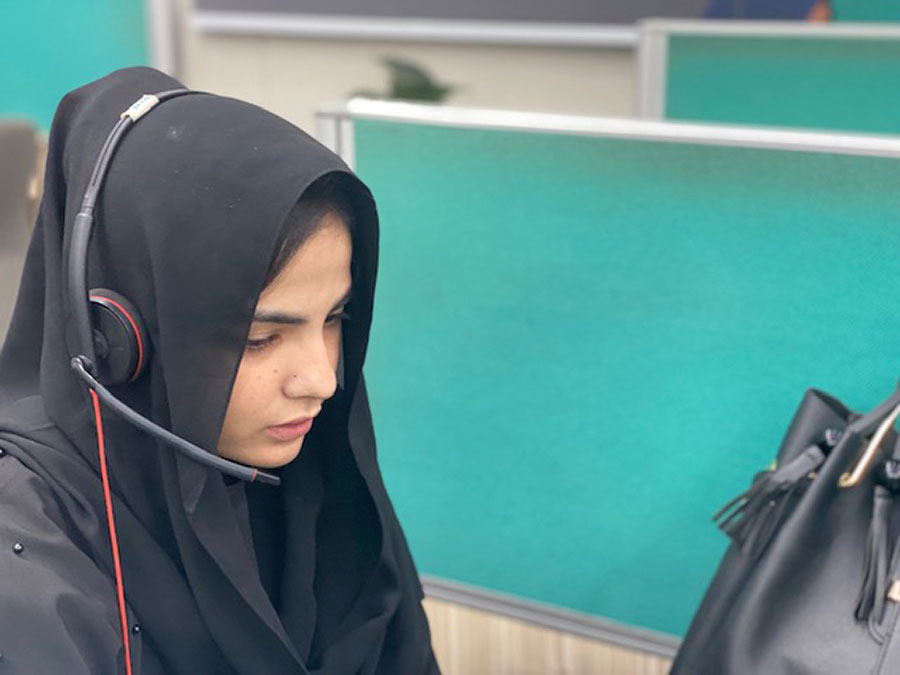 Pakistan is, at this point, about a week into the two-week campaign – the final portion of a geographically phased nationwide TCV introduction drive. This last wave aims to "catch up" 5.5 million children with immunity against Salmonella typhi, a bacterium that can cause severe gastrointestinal illness, and, in extreme cases, death.
"Pakistan has already vaccinated more than 30 million children with TCV in the past three years," says Dr Muhammad Ahmed Kazi, director general of the Federal Directorate of Immunization. "Once the current campaign ends, the vaccine will be part of the routine immunisation schedule."
But before it's routine, it's unfamiliar, and parents are bound to have questions. In the next booth over from Khan, Danyal Sarwar, 23, speaking Urdu, is convincing a mother from Mianwali in Punjab – which rolled out the TCV shot last year – that her son is neither due, nor eligible, nor in fact within realistic geographical reach of a booster of what is anyway a single-dose vaccine.
The majority of callers have straightforward, nuts-and-bolts questions, says call agent Fariyal Tariq. Is the TCV roll-out  government-organised? Is my child eligible? Others ask whether the vaccine is free (it is). Some want directions to their nearest vaccination point. The call centre's first-line agents – of which there are about two-dozen working today, in a blended hum of Urdu, Pashto and English – are trained to tackle these simpler queries.
More technical questions — from concerned patients who wonder how the vaccine might mix with a pre-existing health condition or interact with a prescription, for instance — are passed up the chain to one of 1166's medical doctors. "Sometimes a parent will call and ask us if a child is already suffering from typhoid, should he or she be vaccinated? Or they ask us about side effects," Tariq says. "We transfer such calls to the doctors."
Conversations with a qualified doctor help promote confidence in the immunisation programme and help to reduce vaccine hesitancy and refusals, says Dr Kazi, adding that sometimes, the doctors field calls from parents who simply want to know whether a child's symptoms are indicative of a particular vaccine-preventable disease.
Launched in November 2019, the 1166 helpline was born as an innovation of Pakistan's famously inventive polio eradication programme – an ear for grievances, as well as an invitation to two-way communication in a field more accustomed to blast public service messaging.
Pretty soon, however, a new health emergency demanded the call-centre's services. "In 2020, due to the emergence of COVID-19, the Ministry of National Health Services, Regulation and Coordination decided to expand its scope as a tool to not only disseminate awareness on COVID-19, but also address the concerns of callers related to COVID-19," says Huma Shaukat, manager at the 1166 call centre.
In March of the first pandemic year, 1166 went toll-free. "The volume of calls increased dramatically, from approximately 9,000 calls a day in 2019 to over 50,000 calls in March 2020," Shaukat says. When COVID-19 vaccines began to roll out in February 2021, 60 new agents were hired to bolster the ranks, and a total of 185 agents were fielding up to 60,000 calls each day.
"Our helpline operators did an extremely tough job of reducing the panic among the public. It was a frenzied environment nationwide, and 1166 was the only communication channel available to the public," Shaukat recalls.
"Many complain of fever of unknown origin and we try to help them as best as we can," says the helpline's Dr Arooj Iftikhar. "But some just want to be listened to."
Dr Afifa Raja, who joined the helpline in April 2020, fielded more than 100 calls a day during the first two waves of the pandemic, guiding mildly symptomatic patients about testing, isolation, symptom-alleviating medicines, diet and medical facilities near them. "It helped reduce the burden on the healthcare delivery system," she says – a particularly vital function once beds ran out in hospitals all over the country.
Part of her role, Dr Raja understands, was not so much remedial as soothing – to calm callers' nerves. Some COVID-19 patients called in every day until their symptoms resolved and their tests came back negative. "It was the most rewarding time for me as a clinician when callers thanked me with heart-touching prayers after they completely recovered with help of our advice," Dr Raja said.
"We have witnessed the value of this platform over and over," says Mario Jimenez of Gavi, the Vaccine Alliance, which contributed US$ 600,000 in funding to the call centre as part of COVID-19 vaccine delivery support. "We believe 1166 is an important communication channel in which vaccine hesitancy and rumours can be addressed, and verified information provided." Further Gavi investment will go towards exploring the helpline's capacity to support routine immunisation, says Jimenez.
Dr. Muhammad Ahmed Kazi, DG, #FDI @EPIPakistan visited 1166 Sehat Tahafuz Helpline today. Established at the @EPIPakistan @nhsrcofficial office, the state-of-the-art Call Centre responds to calls on EPI targeted 12 VPDs inclusive of Polio and also catering for COVID-19.@gavi pic.twitter.com/ESkx0aO3Rs

— Federal Directorate of Immunization (FDI) (@EPIPakistan) August 26, 2022
The chatter on the call centre floor is already a little more varied than it used to be. 1166 – currently staffed by 85 first-line call agents and eight doctors – has in recent months been made available to support a range of immunisation initiatives, from Pakistan's mammoth 2021 measles-rubella introduction campaign, to paediatric COVID-19 vaccination, to the ongoing TCV drive.
But it's also because the public has, in turn, seemed to adopt 1166 as a trusted interlocutor for a broader array of health concerns.  Lately, as large parts of Pakistan lie under water, and waves of water- and insect-borne diseases ripple through the disaster zone, the helpline has often received calls from flood-affected areas. Sick, worried, and cut off from functioning health centres, stranded people dial 1166.
"Many complain of fever of unknown origin and we try to help them as best as we can," says the helpline's Dr Arooj Iftikhar. "But some just want to be listened to."