Pakistan's polio and routine immunisation programmes are linking hands. It's working wonders
Their aims are aligned and their tools are complementary, says Huma Khawar, a health journalist who also works as a CSO coordinator with Pakistan's Expanded Programme on Immunization (EPI).
Every time I went near the big glass door, I wanted to turn the handle and walk through – to simply ask our colleagues on the other side what they were up to. But the door was locked.
The door opens
It was 2014. I had recently joined the Expanded Program on Immunization (EPI) as part of their Communications team. Colleagues told me that the other side of the locked glass door housed the Emergency Operation Centre (EOC) of Pakistan's polio programme, the Polio Eradication Initiative (PEI).
Protection was extended. Colossal amounts of time, effort, and resources were saved. It was a "win-win for both the programmes", as the Synergy Focal Person Huma Nayyab at EPI puts it.
The two programmes worked under one roof – literally – and yet, their teams worked separately. I'll be frank: I found it confounding.
But two years ago, the glass door opened for the first time.
If we on the EPI side of the of the door might have glanced a little enviously, at first, at the Polio EOC's digital display rigs flashing real-time vaccine coverage data – our walls were more likely to be adorned with curling posters – we were well aware of the single most important fact. We all wanted the same thing: to protect Pakistan's children from deadly infectious disease.
The unlocked door seemed to be ushering in a new chapter of collaboration between these two life-saving sister vaccination programmes. Now the evidence is rolling in, and it's telling its own story: synergy works.
Putting cooperation to the test: South Waziristan
Both programmes, the 'routine' EPI and the 'emergency mode' vertical PEI, have made major strides over the last two or so decades. But it seems practical to walk the last mile together, joining forces, combining our knowledge and energies to reach the most remote and underserved communities; to finally make sure that no child would be left out.
Think of remote and underserved and you'd be justified to think of South Waziristan. Forming part of Khyber Pakhtunkhwa (KP) province, and abutting Afghanistan on its western border, the district recorded a full immunisation coverage (FIC) of just 3.3% in the 2022 TPVICS survey.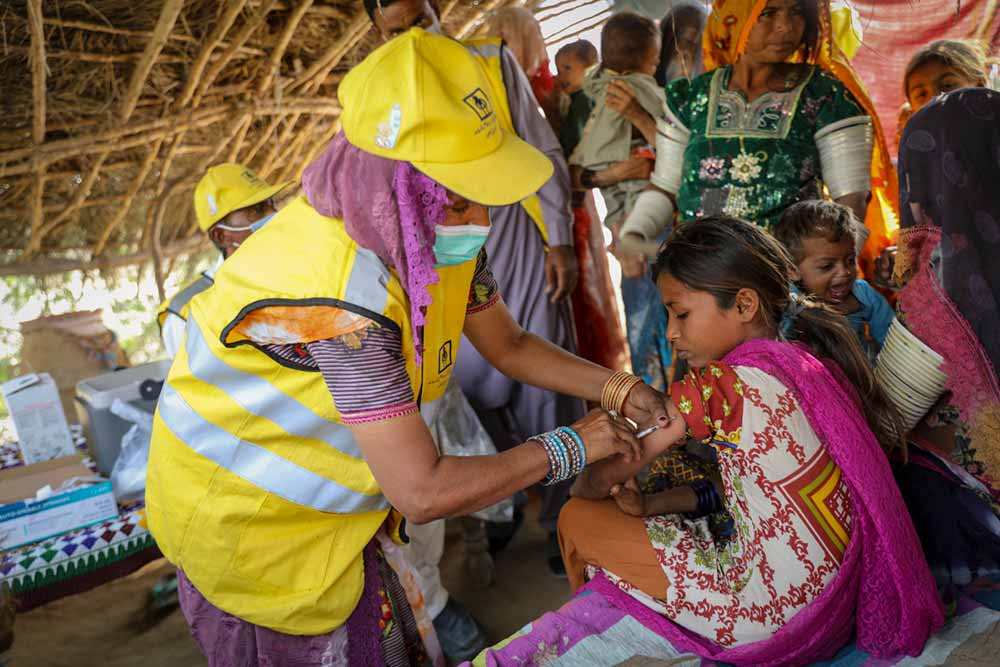 Three of the 107 wild polio cases recorded in Pakistan - a country of 231 million people - since 2020 emerged in South Waziristan, population 800,000.
There are multiple reasons that South Waziristan lags on immunisation. Until 2018, when it became part of the KP province, it was a stronghold for non-government insurgents. Refusals to vaccinate were common: the insurgent group discouraged vaccination, and the community lacked confidence in government interventions, including in life-saving vaccines.
Elsewhere in KP, community social mobilisers have routinely made rounds to administer polio drops house to house, collecting information on unvaccinated babies as they went, and sharing that information with local EPI counterparts. That has been more difficult in South Waziristan, where no polio campaign has taken place for a year.
But now an alliance of EPI and PEI workers are working to extend protection against all the vaccine-preventable diseases stalking the most at-risk communities.
An arguably counter-intuitive observation fuelled the initiative: the EPI's jabs are proving more acceptable to communities in the district, whose history appears to have encoded an elevated wariness about polio drops.
After much brainstorming between the two programmes, an ambitious goal was set: raising coverage levels for both routine antigens and polio to 60% by the end of 2023 in the targeted union councils (UCs).
It began last month, as seven UCs – those with the very lowest coverage indicators for pentavalent vaccine – were taken on. The campaign is shaping up as an object lesson in the merits of collaboration.
Equipped with a strong cold chain and trained vaccinators, EPI took charge of all the vaccines involved in the conjoined campaign, including oral and injectable polio vaccines.
But EPI was low on human resources and tight on transport budget.
Pairing EPI's vaccinators with social mobilisers employed by PEI addressed the personnel gaps. PEI covered the fuel bills – and so, the sister programmes bridged the distance between the needle and the kids in need.
It's a compelling test case: if it can work in South Waziristan, it can work anywhere.
Can synergy help beat polio?
Nationally, about 77% of children are fully immunised, according to the most recent TPVICS survey. That means about a quarter of Pakistani children are missing some vaccines. This group remains at elevated risk of contracting polio – even as the world concentrates its energies on eradicating the virus once and for all.
Developments from the last few years showcase the value of working across the metaphorical "glass door" to extending the reach of vaccination in general.
The two programmes are running in tandem, and I, for one, am full of optimism.
2021's history-making measles-rubella (MR) vaccine campaign, in which the government was able to vaccinate approximately 95 million children aged nine months to 15 years of age, provided a unique opportunity to co-administer Oral Polio Vaccine drops. This meant 32 million under-five children were protected against polio, for an 88% coverage rate.
Protection was extended.  Colossal amounts of time, effort, and resources were saved. It was a "win-win for both the programmes", as the Synergy Focal Person Huma Nayyab at EPI puts it.
Resources to generate confidence in vaccination have also been shared with success. Sehat Tahafuz 1166 call Centre, a helpline started as a polio-focused information service for the people, is now also addressing EPI vaccines, responding to queries of concerned parents on all 12 antigens in the EPI schedule. In August, the helpline took 15,916 calls with questions about polio immunisation, and 33,127 calls regarding one or more of the "routine" EPI jabs.
The two programmes have come a long way. Their goals are finally perfectly aligned: to protect children from debilitating disease with vaccination. The latest potential in collaboration has hardly gone unnoticed at the national level.
Dr Muhammad Arif, the Provincial Director EPI KP, says the programmes have come out of their silos and can receive massive support from each other in achieving their respective targets. "All that is needed is political will and joint planning."
Looking back over these last few years, I can attest that this would not have been possible without the extraordinary efforts put in by Dr Muhammad Ahmad Kazi, Director General Federal Directorate of Immunisation and the leadership of the two programmes.
I can also say this: I'm no longer a guest or a stranger on the other side of the glass door. I turn the handle and enter the EOC offices with barely a second thought. I walk down the corridors and ask for any information I might need.
The same generative allegiance is being built out in the field. The two programmes are running in tandem, and I, for one, am full of optimism.