Kisumu County's 100-day immunisation campaign
In November 2021 Kenya's Kisumu County launched a large scale measles-rubella vaccine campaign to reach 100% of unvaccinated children.
19 January 2022
3 min read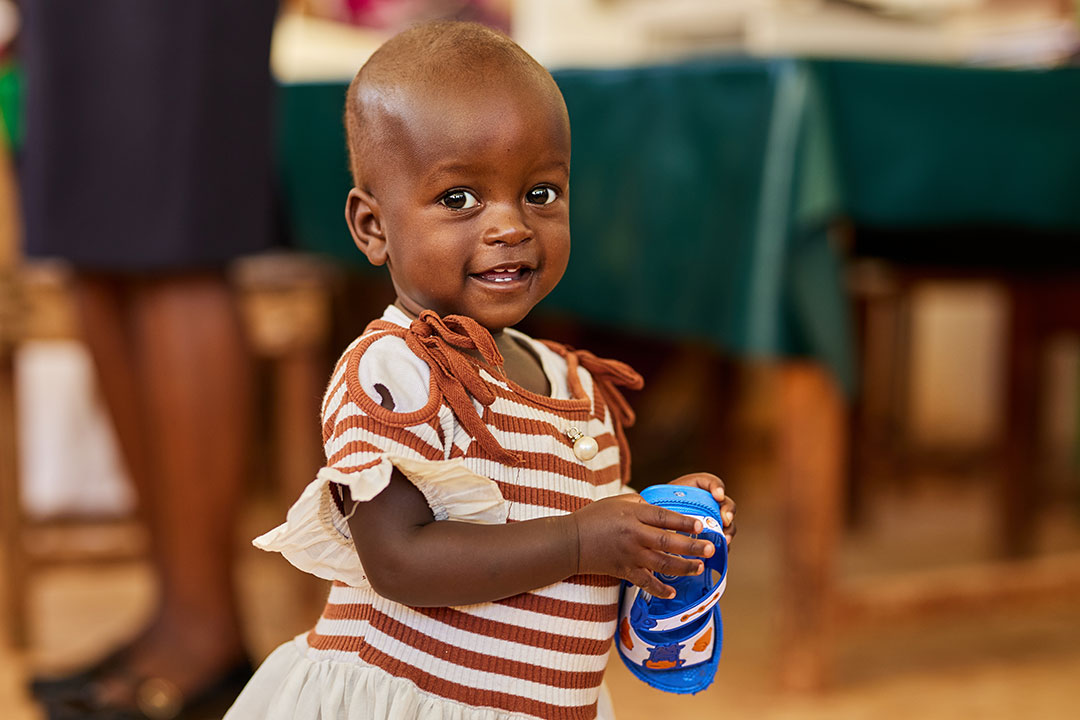 When Kenya launched a nationwide measles-rubella vaccination campaign in August 2021, many parents were looking forward to having their children benefit from the programme, 
However, despite the vaccines being brought closer to the residents, Elizabeth Akinyi, a resident of Muhoroni, Kisumu County is one of many women who were unable to bring their children to the facilities to be vaccinated.
"We hope that, by the end of the 100 days, we will be able to achieve 100 percent vaccine rollout among the children aged five and below."
She is hoping that her two children, aged four and two respectively, can receive the vaccines during the second rollout, which will be coming to an end in February 2022.
"I had a number of commitments that hindered me from taking my son and daughter for the immunisation," says Akinyi.
Kisumu County Health Promotion officer Elijah Oyolla says that a number of children missed the vaccinations, including measles-rubella vaccines administered to children aged five and below in a countrywide campaign. COVID-19 proved to be a major challenge among the breastfeeding women, who were often scared of being infected after attending hospital visits.
Most newborns delivered in health facilities receive their first doses of the immunisations, but will often miss vital follow-up vaccines that are given during subsequent clinic visits.
"Our major challenge has been the women who skip the other vaccines, which are considered important for growth and development of the newborns," Oyolla says.
He notes that poverty has continued to be a major barrier towards the rollout of the early childhood immunisations.
"A number of families will buy food with the funds they have over seeking medical attention at the various hospitals around the country," he says.
In Kisumu, however, a number of health facilities are located closer to the residents, who now have a better option than trekking to the health centres. In addition, with more hospitals spread across the county, more expectant women have been delivering in health centres, contributing to more children being vaccinated.
"We still have a few cases of those who seek the services of traditional birth attendants. A number of those often miss vaccines, hindering our target of 100% rollout," he adds.
Due to the drop in vaccine coverage in Kisumu, the county government launched a programme in November 2021 aimed at boosting vaccine coverage.
During the launch, the county and sub-county health management teams underwent training aimed at reaching all unvaccinated children within 100 days.
According to county health director Fred Oluoch, the programme is aimed at reaching children who missed out on routine vaccinations due to the COVID-19 pandemic.
The programme is currently running in all the sub-counties in Kisumu: Muhoroni, Nyando, Seme, Nyakach, Kisumu East, Kisumu Central and Kisumu West .
"We hope that, by the end of the 100 days, we will be able to achieve 100 percent vaccine rollout among the children aged five and below," says Oluoch.
More from Angeline Anyango