Malawian polio case prompts mass vaccination campaign
After registering its first polio case in 30 years, Malawi has undertaken a door-to-door vaccination campaign across the country targeting 2.9 million children.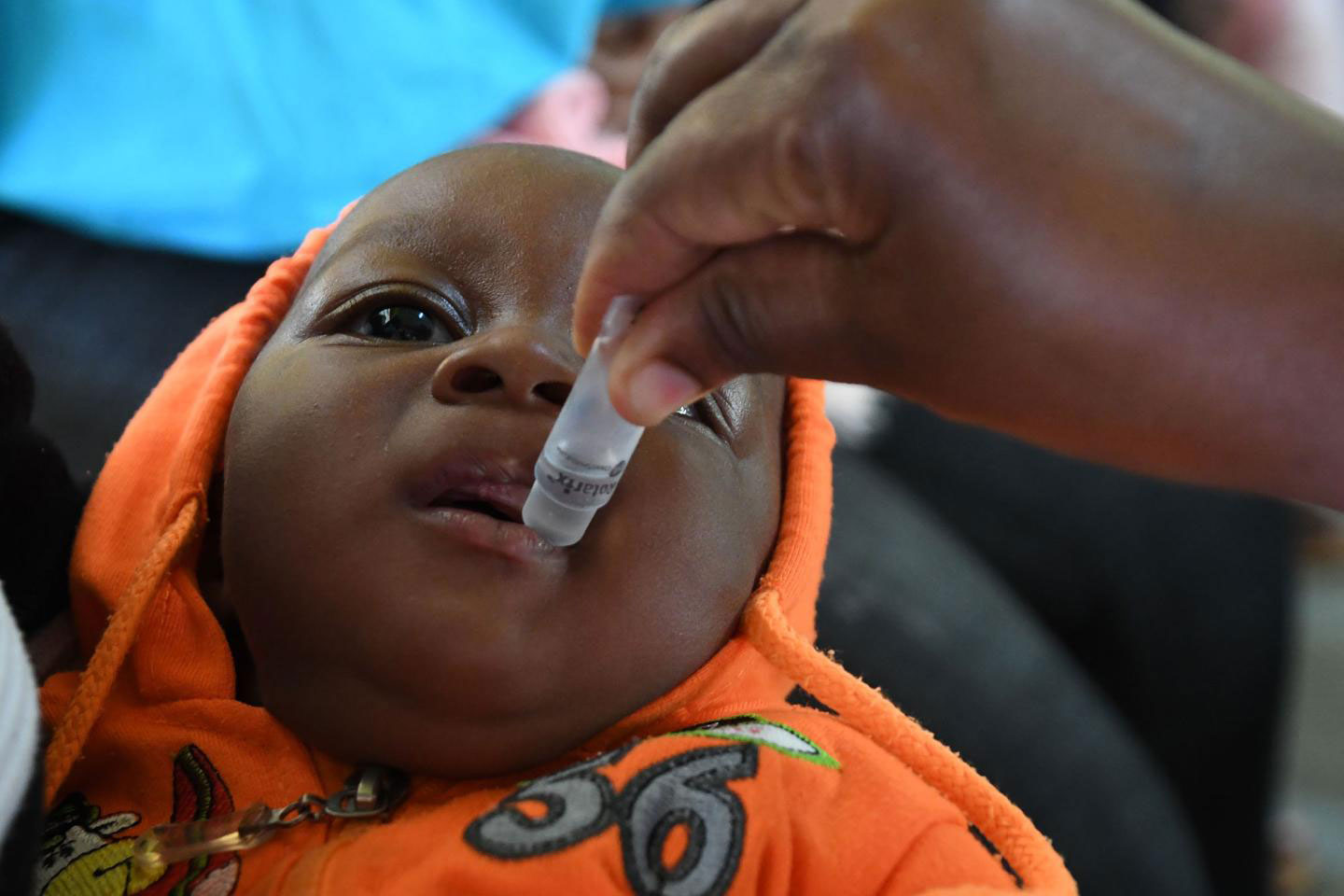 Since 21 March 2022, Health Surveillance Assistants (HSAs) in blue uniforms, carrying blue, medium-sized, square cooler boxes across their shoulders, have become a common sight across all townships in Malawi, as they go from door to door giving emergency polio vaccinations to all children under five.
"The African region has already defeated wild poliovirus due to a monumental effort by countries. We have the know-how and are tirelessly working to ensure that every child lives and thrives in a continent free of polio."
The mass vaccination campaign aims to reach about 2.9 million children under five across Malawi, with the children receiving a total of four doses of the Oral Polio Vaccine (OPV) by June 2022. This is following the recording of the first polio case in 30 years in February 2022.
Yvonne Mwamanyeta, a mother and Naperi resident, says that she had her three-year-old son vaccinated because she does not want him to develop disabilities due to a preventable disease. 
Having seen pictures of what polio can do to the unvaccinated, she says, "The children may not know anything now, but it's better to protect them from any vaccine preventable disease at our convenience. Vaccines have always been there and they are the best way to prevent most deadly diseases."
Director of Health and Social Services at Blantyre District Health Office (DHO), Dr Gift Kawazila says, "We want to vaccinate each and every under five child in this country to protect them from polio. They will get a full polio vaccine as per requirement, receiving the vaccine monthly until June this year. Blantyre has a total of 240,463 children under five. We are targeting all, regardless of the child's routine immunisation status."
To do so, Blantyre DHO spokesperson, Chrissy Banda explains, "We have local and international monitoring teams that follow up with households to capture data and verify if indeed all eligible children have been vaccinated." 
Banda adds that they are also making sure they reach children who do not have stable homes, including street children: "We have set up temporary sites at market places, schools and religious institutions, among other places."  
Meanwhile, parents and/or guardians are strongly encouraged to continue following the child's routine immunisation protocols on top of receiving this vaccine.
Banda emphasises that, "The OPV campaign isn't replacing routine immunisation and therefore they should continue with the routine immunisations and have details documented in a child's health passport."
She also explains how, during the campaign period, the DHO team is conducting polio symptoms surveillance in order to bring suspected cases to health care centres for further diagnosis. 
Have you read?
In the period 21 to 24 March, the Blantyre DHO vaccinated 126,000 children. For that specific portion of the campaign, they extended to 26 March due to rainy weather conditions.
Adrian Chikumbe, Ministry of Health spokesperson, says, "We have 6.9 million vaccines in stock with more coming. It will be enough for the whole campaign up to June." He adds, "We developed communication materials for print and electronic media and coordinated with religious institutions to get information to parents and/or guardians." 
Public health specialist Elizabeth Mbamba commends the MoH and its partners for a job well done in ensuring access to correct information and the vaccine for all children.
"Being mindful of the short time for some to plan and get to traditional vaccination centres, especially for some families with multiple children, the door-to-door campaign is an effective approach," she notes.
Mbamba feels that the current polio situation confirms why it is important to always be vigilant when it comes to public health, adding: "The Ministry is doing a great job of raising awareness and providing easy access to vaccines. It would be useful for the Ministry of Justice and Parliament to look into enacting and enforcing public health emergency laws. Given the state of our healthcare system, prevention is a must and not an option. There is a need for systems to follow up and establish the vaccination status of all children. Plus, strengthening public health structures is key."
According to WHO, more than 80 million doses will be administered to more than 23 million children under the age of five years in the four-round vaccination drive in five southern African countries after Malawi declared an outbreak on 17 February. The other countries are Tanzania, Mozambique, Zambia and Zimbabwe.
The objective is to reach all children, regardless of whether they are not immunised, partially protected or fully immunised. 
In a statement, Dr Matshidiso Moeti, WHO Regional Director for Africa, states, "Polio is a highly infectious and untreatable disease that can result in permanent paralysis. In support of Malawi and it neighbours, we are acting fast to halt this outbreak and extinguish the threat through effective vaccination. The African region has already defeated wild poliovirus due to a monumental effort by countries. We have the know-how and are tirelessly working to ensure that every child lives and thrives in a continent free of polio."
More from Josephine Chinele