Ten years, five epidemics, one country: What Guinea learned from its battle against disease
Guinea has suffered outbreaks of Ebola, measles, Lassa Fever and Marburg, as well as COVID-19, over the past decade. VaccinesWork spoke to Gavi's Senior Country Manager, Magdi Ibrahim, about how the country is learning from a troubled recent past.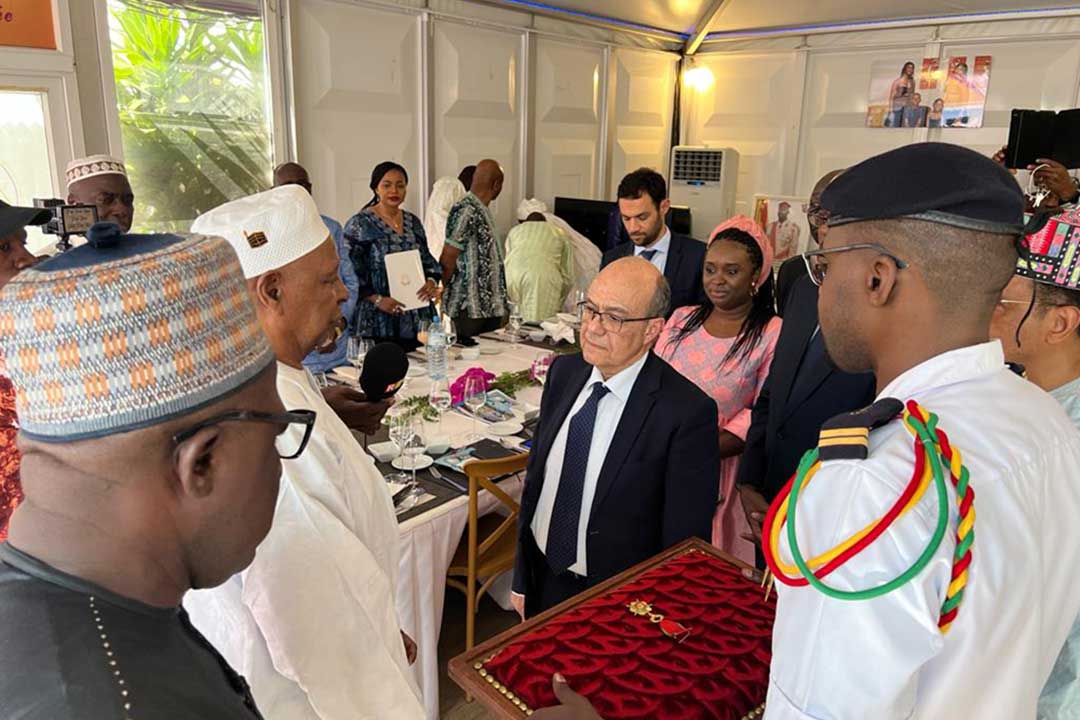 In the short three and a half years since COVID-19 first began its tragic journey across the world, decades of hard-won progress to immunise the world's children has been lost, as countries were forced to divert resources from other primary and routine health services to respond to the pandemic.
Now the world is moving into a new era, acutely aware that countries and communities cannot wait for an outbreak to occur before strengthening health systems and investing in immunisation infrastructure. To face down the next pandemic, as well as ensure nobody is left behind when it comes to immunisation, we need to create an impermeable global health infrastructure.
Now in the throes of pushing back against a Marburg outbreak unfolding in parts of the African continent, the 'muscle memory' response to outbreaks is well-practised.
This is precisely what global health veteran, Magdi Ibrahim, has been doing with the government of the populous west African country of Guinea during his near 10-year tenure as a Senior Country Manager with Gavi. With a pathway into public health that began with his medical studies, Dr Ibrahim has worked for international NGOs and humanitarian agencies all around the world, including supervising refugee camps in Honduras, Lebanon and Jordan.  
Recently, Dr Ibrahim received an award from Guinea's highest authority when he was presented with a National Order of Merit by the President – a testament to his tireless work to support immunisation and strengthen the health system in Guinea as the country has overcome recurring epidemics.
Dr Ibrahim has been collaborating with the Guinea Ministry of Health since he joined Gavi in 2014, during which time the country has battled through Ebola, measles, Lassa and Marburg, on top of COVID-19. He is now set to hand over the portfolio after nine years at the helm.
Bolstering the three pillars of health system strengthening
The biggest challenges Guinea faced when responding to Ebola was not having a "strong surveillance system in place to monitor and anticipate the evolution of the outbreak," Dr Ibrahim said. Coupled with a stretched and under-resourced health workforce, this limited Guinea's capacity to coordinate a quick outbreak response.
It was clear then that work was needed to strengthen a very fragile health system. The Ebola outbreak became a catalyst for international organisations to help strengthen the workforce and health system in the country.
Dr Ibrahim says health system strengthening rests on three key components: financing a large and well-trained health workforce; building a strong supply chain for vaccines and medicines; and developing a reliable health information system for data collection to inform decision-making.
In 2015, Gavi provided financial support of US$ 6.5 million for a recovery plan to help Guinea relaunch its routine immunisation and address these three key components of health system strengthening. With the funds they could recruit health workers, procure vital cold chain and transport equipment and employ new digital technologies.
"We were able to rapidly react and give the country adequate support at that time, as Gavi was the first financial partner to support the country's relaunch plan. This support from Gavi included, at that time, the flexibility to reallocate already available funding of about US$ 1 million and a waiver for the payment of co-financing for the years 2014 and 2015," he says.
"The Ministry of Health, with the support of Vaccine Alliance partners, have drawn lessons from this outbreak, so the response to the COVID-19 pandemic was quite well organised."
Learning from the past
Dr Ibrahim explains that at the early signs of the pandemic, the Ministry could roll out protection measures and personal protective equipment, put testing in place at an early stage with priority given to vulnerable groups and frontline health workers, and rapidly deploy a vaccination strategy.
Now in the throes of pushing back against a Marburg outbreak unfolding in parts of the African continent, the 'muscle memory' response to outbreaks is well-practised. Dr Ibrahim says health authorities "were able to cope with the outbreak as the first case was detected; and there has not been any significant impact on its health system.

"Evidently the previous experiences with Ebola outbreaks responses have brought a capacity to restrict the dissemination of the disease with immediate measures taken to identify contacts and test them," he says.
"The epidemiological surveillance system proved to be more efficient in coping with this outbreak since its inception to avoid its dissemination beyond the confirmed case detected."
The role that technology and local health workers have played in this process cannot be underestimated, Dr Ibrahim says. Local health workers have been trained to use technology such as electronic medical records, which has improved the quality of data and enabled more effective tracking of outbreaks.
Centering the community
"Gavi is now working with the Ministry of Health and Alliance Partners to reinforce the epidemiological surveillance system, particularly at [a] community-based level. This is very important because it is at this level where you can detect a resurgence of any epidemic early."
Gavi and its Vaccine Alliance partners are also breaking ground on projects to digitise the immunisation registry as well as logistics behind the cold chain systems.
"The eLMIS (electronic Logistics and Monitoring Information System) can control the transfer of vaccines at different levels and monitor the stocks," he said.
One of the core challenges faced in Guinea is the uneven distribution of health resources between urban and rural areas.
"The central warehouse in the capital is where they receive the vaccines, but we cannot build the whole supply chain on the central warehouse. You need to have regional warehouses and then at a district level,." Dr Ibrahim explains.
"We helped the country three years ago to redesign the supply chain […] so the distribution of vaccines is efficient."
Tackling political challenges
The road to recovery is long and, despite making incremental wins for public health, Guinea's health infrastructure is still one of the weakest in the world.
"One of the weaknesses of the system is due to the recurrent political unrest and the changes that have occurred, adding to the impact of epidemic outbreaks which led the country to focus efforts on outbreak response to the detriment of routine immunisation," Dr Ibrahim says.
"Gavi is now working with the Ministry of Health and Alliance Partners to reinforce the epidemiological surveillance system, particularly at [a] community-based level. This is very important because it is at this level where you can detect a resurgence of any epidemic early."

– Dr. Ibrahim
The past two decades have been characterised by frequent changes in power, including a series of authoritarian regimes. In 2010, Alpha Condé became the country's first democratically elected president, however, his presidency was marred by allegations of authoritarianism and electoral fraud, leading to further political unrest and a military coup in 2021.
"It was very tough for the country team and the ministry trying to handle the situation and maintain it," Dr Ibrahim says.
Despite the dedication of the health workforce operating against this politically tense backdrop, as well as the pandemic and the myriad challenges brought along with it, Guinea has not been able to improve its routine immunisation from 2014 until early 2023.
Coverage of the basic diphtheria, pertussis and tetanus vaccines during the pandemic years was at a low 47%, according to WUENIC estimates. To rectify this, the Ministry has deployed new strategies aimed to catch-up zero dose and under-immunised children, with the system showing signs of resilience with the concerted support of financial and technical partners, including Gavi.
Dr Ibrahim puts this down to the core team in the Ministry of Health who, he says, has remained steadfast and consistent throughout the years, as well as the tenacity and grit of the healthworkers and communities who ultimately turn vaccines into vaccinations.
Collaboration is key
Dr Ibrahim stresses that the global health community must ensure their participation and contribution in any preparation and planning towards strengthening global health infrastructure.
"Partnerships between the government, NGOs and technical partners are key to strengthen immunisation campaigns," he said.
"NGOs and community-based organisations are the privileged stakeholders who have the capacity to support social mobilisation and community awareness, both of which are critical to boost performance in both routine immunisation and vaccine campaigns in response to outbreaks."