Vaccine justice: Nepal gives refugees priority in the vaccine queue
Nepal has distributed more than 10 million doses of COVID-19 vaccine according to a considered allocation schedule based on humane, inclusive, epidemiological good sense. The country's future safety depends on the willingness of the rest of the world to do the same.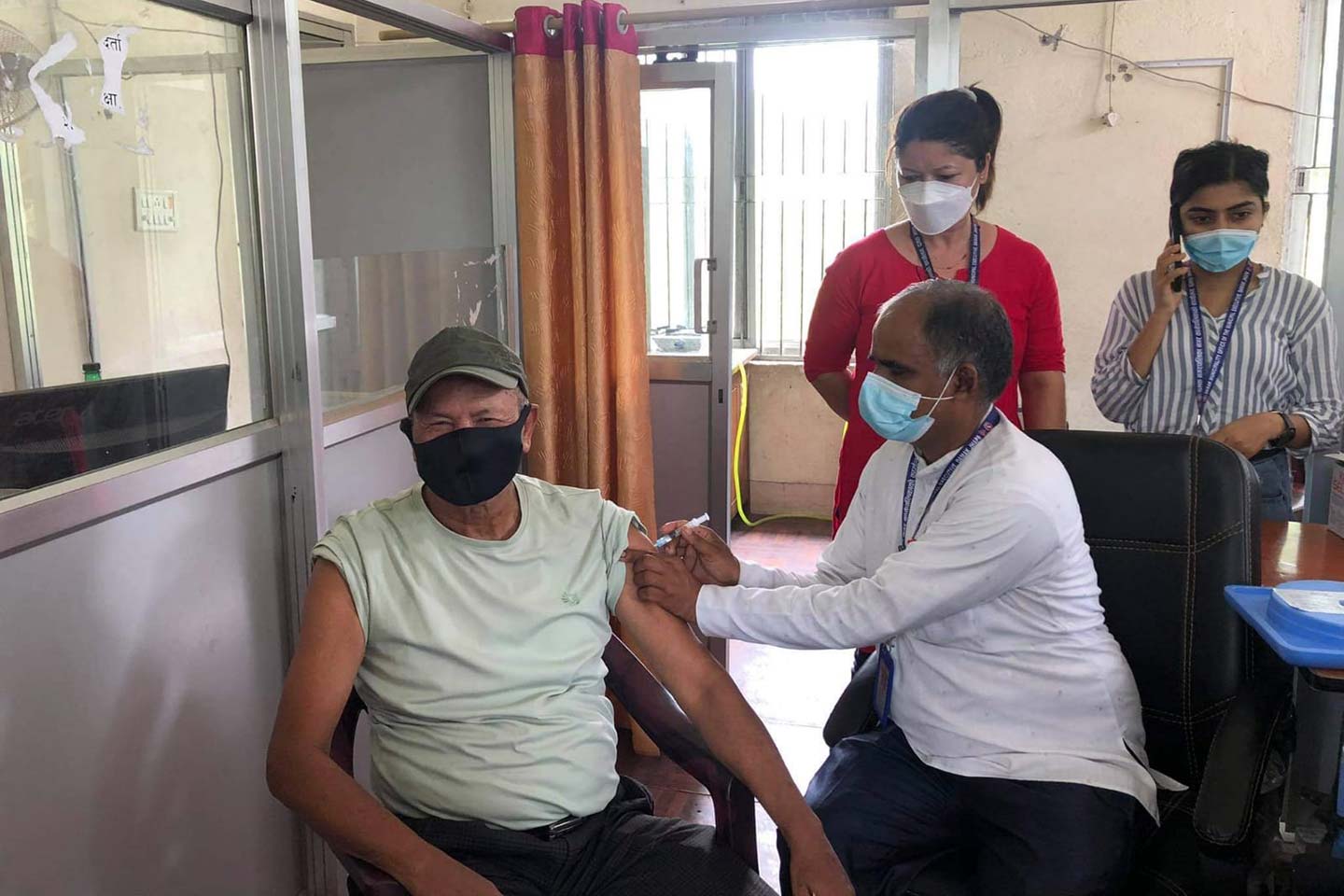 The community hospital in Damak, eastern Nepal, where WHO Surveillance Medical Officer Dr Karishma Gurung's office is located, is small, but during the worst of the second COVID-19 wave earlier this year it was recording two or three coronavirus fatalities a day. "The doctors and all were very, very frustrated, because every day – every day – people were dying," she recalls. Locals were scared to pass through the hospital grounds; even Dr Gurung felt nervous about walking by the thronged Emergency Room on her way to her desk.
The crisis was excruciatingly predictable. Damak lies in a zone of porous frontiers, close to both Bhutan and India, sealed to neither, and when India's COVID-19 caseload began to hockey-stick towards its desperate May peak, locals figured their communities were next. "Since we were the bordering province, we were very afraid, you know?" Dr Gurung explains. "When the second wave hit us, the condition was really, really bad. All the people were waiting to get vaccinated."
In Nepal, migrants and refugees have not only been included but offered a pass to the front of the line, vaccinated ahead of age-group eligibility in recognition of their heightened vulnerability.
By early May, Nepal was recording 57 times more cases than it had a month before, with 44 percent of tests returning positive. Despite a committed effort by the government to secure COVID-19 vaccine doses via several routes, including direct purchasing, allocations through COVAX and bilateral donations from allied states, global supply blockages left the cold rooms understocked. Just one percent of the population qualified as fully vaccinated: Nepal was staring down disaster, unprotected.
In recent weeks, that picture has shifted dramatically. Beginning in June, a sequence of crucial vaccine consignments, procured both bilaterally and through COVAX, have landed in Kathmandu. J&J vaccine doses from USA arrived in mid-July and AstraZeneca doses from Japan in August. Nepal's cold chain capacity was boosted with a US$ 737,000 injection of support from Gavi.
The national COVID-19 vaccine campaign was poised to make incisive moves: by 1 September, Nepal had administered its ten millionth dose of COVID-19 vaccine. "They're getting things done under extremely difficult circumstances" Homero Hernandez, Gavi's Senior Country Manager for Nepal, told #VaccinesWork.
According to Dr Vinod Bura, WHO Nepal's team lead for immunisation, ten million doses has translated to 5.4 million people vaccinated with a first dose, with 4.6 million of them fully vaccinated. In a population of approximately 20 million adults, that's a significant dent. But Nepal's COVID-19 vaccine programme has also included a strategy of considered and inclusive prioritisation, meaning that those 10 million doses have been carefully allocated to optimise their protective potential.
Have you read?
"Nepal is one of the few countries which has been strictly following the SAGE prioritisation framework," Dr Bura explains. When its campaign kicked off in late January 2021, Nepal focused on frontline workers and the most vulnerable elderly. When further doses opened up, a new raft of priority populations moved to the front of a parallel queue of vulnerability: workers in risky positions, such as teachers, vendors, bus drivers, waste collectors and journalists, but also people whose circumstances of living, rather than working, rendered them vulnerable. These groups included migrants, refugees, prisoners, and people whose disabilities incurred dependency on others.
A recent WHO guidance note makes clear that prioritising migrants and refugees is both a humane and strategically sound public health move: the pandemic's effects are universal, but not universally equal. Not only are the crushing economic impacts of COVID-19 likely to be felt disproportionately among uprooted people who typically number among those with the scarcest safety net, but the virus itself finds profitable footholds among communities quartered in crowded, insecure housing arrangements, with reduced access to healthcare or inhibited health-seeking behaviours. "In these contexts," the paper says, "refugees and migrants are more likely to experience a higher burden of COVID-19 infection and be disproportionately represented in cases, hospitalisations and deaths."
But a WHO review of 104 national vaccination plans worldwide found that a majority did not explicitly include migrants, and just over half explicitly included refugees and asylum seekers. Just 17 percent of surveyed nations explicitly scheduled vaccination for "migrants in irregular situations" – undocumented migrants.
In Nepal, migrants and refugees have not only been included but offered a pass to the front of the line, vaccinated ahead of age-group eligibility in recognition of their heightened vulnerability. Dr Karishma Gurung's province, Province 1, is home to Nepal's population of Bhutanese refugees. "When the second wave hit us, and we had limited supply of vaccines, the Bhutanese refugees were hit very badly at that time," Dr Gurung says.
A shanty-town community of approximately 5000 refugees at Beldangi suddenly counted 100 COVID-19 patients; five of them would die. "So when the government planned to conduct vaccination among the refugees," offering the single-dose Johnson & Johnson jab to each of the 2821 adults over 18, "they were really positive – they were really happy to get vaccinated." Just 39 individuals declined the shot.
"Given the constraints of availability of vaccine, prioritising people of other nationalities above your own population shows the Nepal government's sensitivity towards equitable access to vaccines," says WHO's Dr Bura. According to Dr Jhalak Sharma Gautam, who was, until a recent reshuffle, chief of the Vaccination Division under the Department of Health, the Nepalese COVID-19 campaign has had robust political support from the outset.
Homero Hernandez, who has been stewarding Gavi's Nepal programmes for the past year and a half, says that sort of engagement is not exceptional to COVID-19 immunisation. "Nepal usually excels in public health and specifically immunisation – even with very few resources. The political commitment towards public health is exemplary, especially when you look at the low income level of the country."
But the government's dedication to fighting COVID has been mirrored by the public's, whose vaccine acceptance rates have been so high that Dr Gautam says, "there is [practically] no hesitancy." In consequence, the campaign has been able to move at an impressive clip, recording a single-day high of more than 300,000 jabs administered – "but we assume we can do more than 5 lakhs [500,000] a day if we have sufficient vaccine," says Dr Gautam.
Future vaccine stocks remain a critical question, particularly as Nepal heads into a season of floods, landslides and religious festivals, all of which risk bumping up virus transmission. With the impending winter, areas in the high Himalayas face being cut off from immunisation services –  Dr Bura says, "our window of opportunity is very small."
As global bottlenecks loosen, and COVAX accelerates deliveries, the immediate prospects are better than they have been for much of the year. But Nepal is on a mission to vaccinate 72% of the 30 million people living inside its borders by April next year, a goal which rests, ultimately, on foreign powers' decision-making – on the willingness, for instance, of well-served countries to give up their places in vaccine manufacturer queues. In other words, Nepal is relying on the rest of the world to match their own allegiance to vaccine justice.