Why are fully-vaccinated people still catching COVID-19?
Breakthrough infections are to be expected, but it doesn't mean the COVID-19 vaccines aren't working.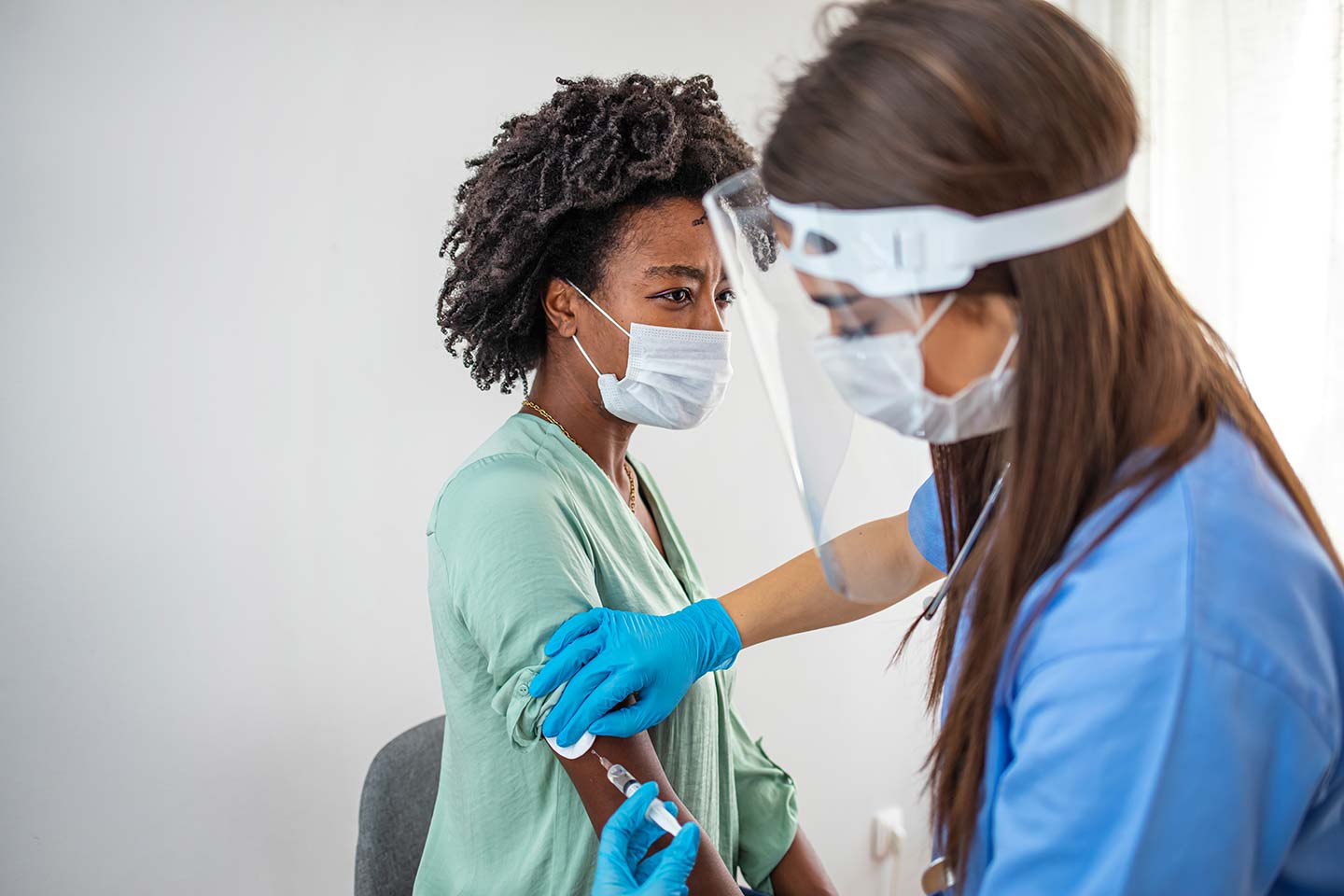 As a growing number of people in wealthy countries get fully vaccinated, questions are being asked about why some of them are still becoming infected with coronavirus, in some cases even being hospitalised with COVID-19. Such "breakthrough infections" are to be expected, but just how common are they, and what should you expect if you test positive for SARS-CoV-2 having been fully vaccinated?
Vaccine efficacy
No vaccine is 100% effective. Even the measles, mumps and rubella (MMR) vaccine – one of the most powerful disease prevention tools we have – is only 96% effective against measles after two doses, while the seasonal flu vaccine is only 45% effective. Still, it is estimated to prevent 130,000 flu deaths in the US alone each year.
COVID-19 vaccines can and do protect the majority of people from hospitalisation and death, which is why as many doses need to administered around the world as rapidly, and equitably, as possible.
Clinical trials of the Pfizer/BioNTech and Moderna vaccines found them to be 94-95% effective against all symptomatic COVID-19 disease after the second dose. This doesn't mean that we'd expect 5-6 in every 100 people to develop COVID-19, but that there was a 94-95% reduction in new cases of the disease among people who had been vaccinated, compared to unvaccinated individuals. China's Sinopharm vaccine was 78% effective and the Oxford/AstraZeneca vaccine was 67% effective in clinical trials. Protection against hospitalisation or death from COVID-19 was even higher.
With large numbers of people being vaccinated, and as almost all COVID-19 restrictions are lifted in some countries, it is inevitable that a small proportion of fully vaccinated individuals will become infected. An even smaller proportion will become seriously ill and die. What's important is that the risk of a serious outcome is vastly lower for those who have been fully vaccinated against COVID-19, compared to those who have received no vaccine doses.
Breakthrough infections
In the US, the Centres for Disease Control (CDC) has been quantifying the number of breakthrough infections, which it defines as cases in which SARS-CoV-2 is detected in a respiratory specimen 14 days or more after an individual has completed all recommended vaccine doses. Between 1 January and 30 April, 2021, 10,262 breakthrough infections were reported from 46 US states. At that time, 101 million people in the US had been fully vaccinated against COVID-19. For comparison, there were 11.8 million COVID-19 infections recorded during the same period – so these vaccine breakthrough infections represented only a tiny fraction of the total number. Also importantly, not all of these individuals reported feeling ill – 27% of those experiencing a breakthrough infection were asymptomatic.
Since 1 May, the CDC has only been identifying and investigating those breakthrough cases in which the individual was hospitalised or died due to any cause (i.e. not just as a result of COVID-19). As of August 2, 2021, more than 164 million people in the US had been fully vaccinated. In that time-span, the CDC identified 7,525 patients with a breakthrough infection who were hospitalised or died.
Shorter milder illness
Another recent analysis, published in the New England Journal of Medicine, analysed breakthrough infections among almost 4000 essential and frontline workers in Arizona, USA, vaccinated with either the Pfizer/BioNTech or Moderna vaccines. Of the 205 coronavirus infections identified, the majority occurred among unvaccinated workers – with only five fully and eleven partially vaccinated individuals testing positive between mid-December 2020 and mid-April 2021. Those who had received at least one vaccine dose had a 40% lower viral load (the amount of live virus a person carries) on average, a 66% reduced chance of testing positive for COVID-19 for more than a week on a PCR test, and a 58% lower risk of experiencing fever, compared to unvaccinated individuals. Their other symptoms also subsided about six days earlier and they spent two days fewer ill in bed, on average.
"The mechanisms by which vaccination attenuates COVID-19 are largely unknown, but the effect is probably due to recall of immunologic memory responses that reduce viral replication and accelerate the elimination of virally infected cells," the researchers wrote.
Delta variant
The initial clinical trials of COVID-19 vaccines were conducted before the emergence and spread of new variants, such as Delta, which are able to overcome the immunity afforded by COVID-19 vaccines to some degree.
In a recent study, which has not yet been peer reviewed, researchers at the Indian Council of Medical Research explored the possible reason for an increased number of breakthrough infections reported across the country. They collected nose and throat swabs from 677 individuals who had tested positive for SARS-CoV-2 after receiving one or two doses or India's Covaxin vaccine, the Oxford/AstraZeneca vaccine, or the Sinopharm vaccine. Genetic analysis revealed that in 86% of cases, the breakthrough infection was triggered by the Delta variant – although this could simply be a reflection of the variant's prevalence at that time.
Other research also indicates that the vaccines may be less effective at preventing coronavirus infections in the face of the Delta variant. A recent study published in the New England Journal of Medicine found that two doses of the Pfizer/BioNTech vaccine were 88% effective at preventing symptomatic infections, whereas the Oxford/AstraZeneca vaccine was 67% effective. A single dose of either vaccine was only 37% effective, underscoring the importance of receiving both doses.
However, COVID-19 vaccines still appear to be highly effective at preventing hospitalisation and deaths from the disease. Data from Public Health England, where the Delta variant now accounts for most COVID-19 cases, suggested that the Pfizer/BioNTech vaccine was 96% effective against hospitalisation with Delta after 2 doses, while the Oxford/AstraZeneca vaccine was 92% effective after 2 doses.
Living with the virus
Most experts agree that COVID-19 is now effectively endemic, meaning it will continue to circulate in pockets of the global population and trigger outbreaks, although it may pose less a danger over time. Many had hoped that once a certain proportion of the population had been infected, or vaccinated against the disease, herd immunity would kick in, meaning those who hadn't encountered the virus would be buffered from infection by those who were already immune to it. The spread of Delta, and other variants that can partially escape the immunity provided by vaccination or previous infection has raised the threshold for herd immunity, with some even questioning whether it can be achieved at all. However, COVID-19 vaccines can and do protect the majority of people from hospitalisation and death, which is why as many doses need to administered around the world as rapidly, and equitably, as possible.