The world's largest immunisation programme is going massively, ambitiously digital
... and it could make all the difference in the effort to reach the most vulnerable.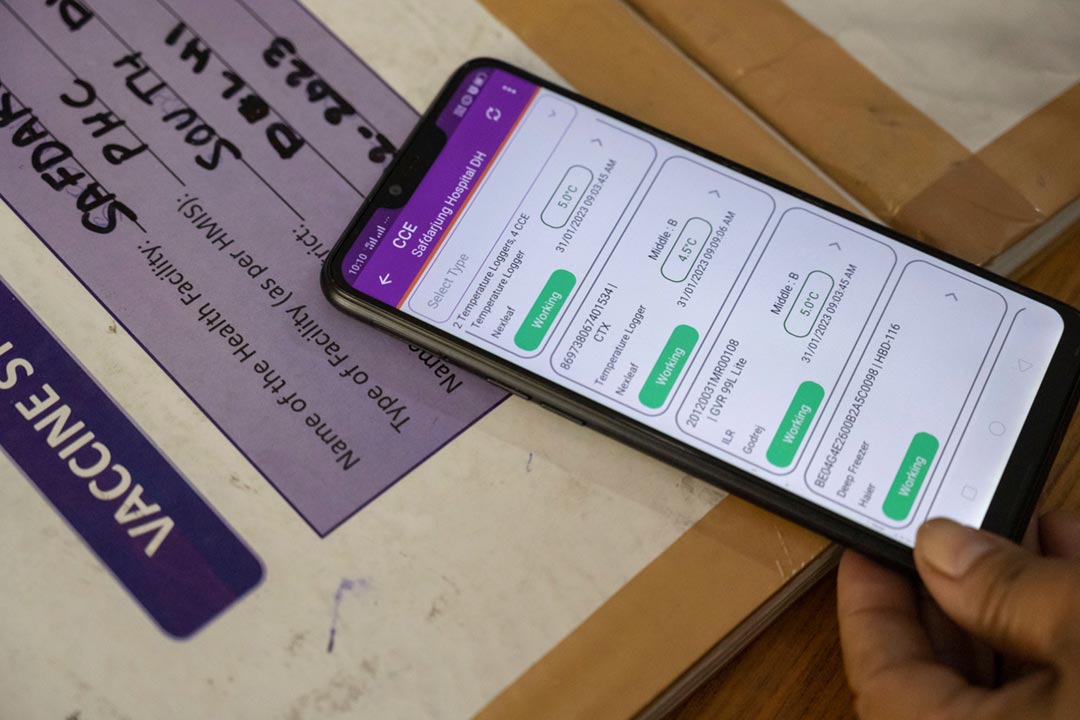 India's Universal Immunisation Programme (UIP), the world's largest vaccination effort, is going digital, with experts hailing the U-WIN portal – a mobile app and centralised information management system – as a game-changer for mothers and infants in India.
A digital revolution
Sixty-five districts across the country are rolling out the app during its pilot phase, with the very first U-WIN vaccination certificate awarded to a child from Jhabua district in Madhya Pradesh during the December 2022 launch event.
Users with a mobile phone can register themselves online for U-WIN, allowing them to book in for a specific vaccination slot at a specific centre. And, as in COVID-19 vaccination, health workers will be able to update patients' vaccination status on the app in real time.
U-WIN's basic modules will be fully rolled out by August 2023, with additional, enhanced modules and improvements expected to be brought online in stages over the course of the next three years.
Dr Santosh Shukla, Madhya Pradesh state immunisation officer, said: "It is a great system. When it is fully implemented, we can easily find out if there is any deformity in the child, how much it weighs, and it will help us in providing healthcare and treatment to needy children."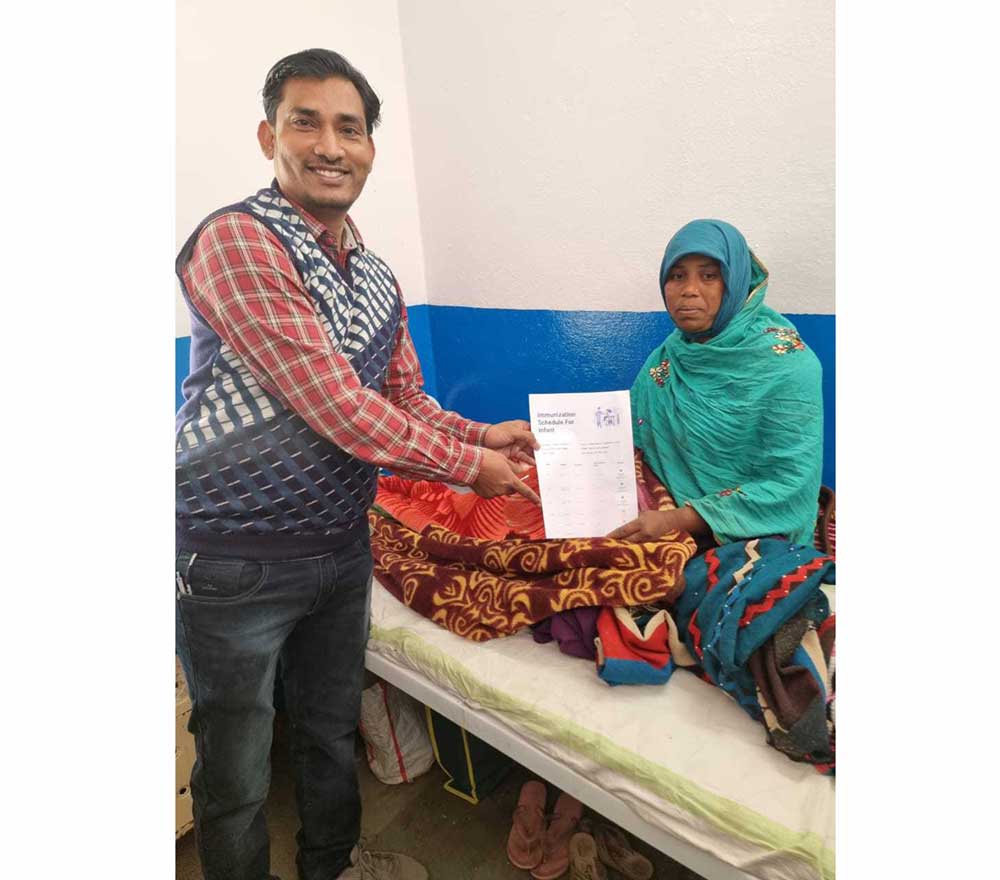 In a country as large as India, with such a large proportion of people living beneath or near the margins of poverty, public health policy – and, in fact, development – rely on a strong preventive healthcare system. Broad vaccination coverage is crucial to that, and so is information – both its dissemination and its collection.
The kind of oversight afforded by the new system will not only reduce child mortality, Dr Shukla predicts, but will make health policy decision-making in this complex and varied landscape a meaningfully easier proposition.
Real-time information flows are likely to improve both far-sighted planning and responsive, outbreak-averting pivots.
Under the current system, records are kept in Reproductive and Child Health registers, with consolidated reports submitted monthly via Health Management Information System software. Vaccination details of registered children and pregnant women are also recorded in the 'Auxiliary Nurse Midwife On-Line' (ANMOL) app, and recorded again in Mother and Child Protection cards, copies of which are kept by parents, with counterfoils retained by the health system.
It costs time. "During vaccination, the report is available after a week, and takes one month to reach the centre," said Dr Jugal Kishore, head of the department of community medicine at Delhi's well-known Safdarjung Hospital. "But now we will know in real time where vaccinations are decreasing, so we can take immediate remedial measures."
In a vaccination programme of this scale – India's UIP targets 30 million pregnant women and 26 million children per year – the potential meaning of that kind of granular insight is magnified.
"We'll be able to track every pregnant woman from delivery to the point of her child's vaccinations," remarked Dr Suneela Garg, chair of the Programme Advisory Committee at the National Institute of Health and Family Welfare in Delhi, and a professor of community medicine.
Some 92% of births in India now take place in hospitals, meaning the vast majority of Indian children make contact with the health system on their first day of life. "Their vaccination details, their date of delivery will be available through this platform, which will make things easier," she added.
That's an especially hopeful prospect in the current moment. While COVID-19 has buffeted routine immunisation systems around the world, nowhere has taken a heavier hit, in absolute terms, than India.
In 2021, coverage with the third dose of the basic diphtheria, tetanus and pertussis vaccines was down 6% against 2019 levels, with more than 3.5 million children qualifying as "missed out" – 15% of the world's total. The estimated number of unimmunised zero-dose children had grown from 1.38 million in 2019, to 2.71 million in 2021. By late 2022, large-scale outbreaks of vaccine preventable diseases were making good on the implicit threat of that yawning immunity gap.
More like a digital evolution
If Indian medics are optimistic about the impact of the new system on this risky landscape, that optimism is rooted in past experience. U-WIN is the technological evolution of two markedly successful predecessor tools. Rolled out in 2020, and supported by COVAX via UNDP, CoWIN is India's COVID-19 vaccination management system and mobile app – the digital keystone of India's pandemic response. "Whatever data was available in CoWIN, we were getting it in real time," said Dr Kishore. At the moment of writing, Co-WIN's real-time ticker is displaying 1,560 "vaccinations done today," for a staggering total of well over 2.2 billion doses administered.
Like for Co-WIN, users with a mobile phone can register themselves online for U-WIN, allowing them to book in for a specific vaccination slot at a specific centre. And, as in COVID-19 vaccination, health workers will be able to update patients' vaccination status on the app in real time.
eVIN, meantime, has been gradually expanding its overview of the Indian cold-chain – tracking vaccine doses digitally from node to node, cold room to fridge to cooler box – since the Ministry of Health launched it in 2015.
With Gavi support from the outset, eVIN is now live in all 744 districts of all 36 states and union territories, and boasts such impressive impact stats as an 80% reduction in instances of vaccine stock-outs. According to a comparative assessment of a six-month period before eVIN's introduction and a similar period after its roll-out, eVIN also helped state health systems achieve a 25% reduction in the number of doses that would previously have been discarded as a consequence of planning or storage lapses, as well as measurably improving record-keeping and distribution practices, for a return on investment (ROI) of 2.91.
Though eVIN is a professional, rather than popular, tool – useful, currently, in the hands of some 50,000 healthcare workers nationwide – it's the cloud-and-smartphone digital parent-system to CoWIN and as such, a tech grandparent to U-WIN.
"Gavi is proud to have supported India's Ministry of Health at each stage of this digitisation journey," said Homero Hernandez, Gavi's India team lead. "Given the size of this flagship investment in such a large country, we expect big results in India – but also as testing ground for other Gavi-supported countries to learn and adapt to their context and needs."