How "camel riders" are helping the COVID-19 vaccine push in Kenya
With tourism hit hard by the pandemic, camel riders in Northern Kenya have repurposed their herds to help spread the word about COVID-19 vaccines, using traditional healers to gain trust in the community.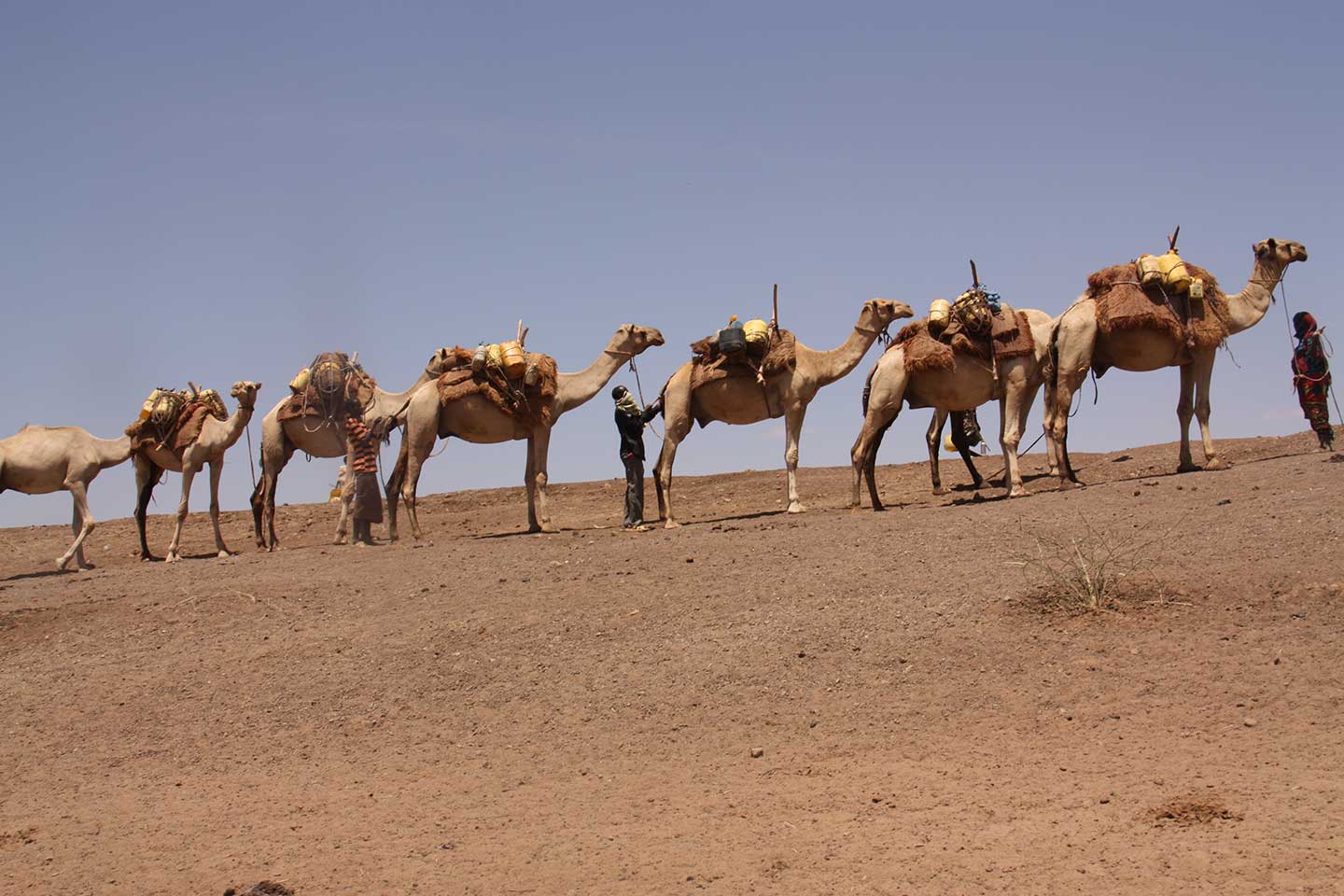 It's midday Friday in Angatarei village. On a normal Friday, the landscape in Northern Kenya's Samburu County would be dotted with camel caravans transporting the sick from remote villages to the various traditional healing clinics in Angatarei, Arsim, Lesirikan and Latakweny.
The Samburu traditional healing districts also serve as a training ground in camel riding for local youth. The best riders are selected to race in the annual Maralal Camel Derby, which attracts thousands of tourists from Africa and beyond. The proceeds made from the camel riding race are ploughed into community social and wildlife conservation projects. Held every year in August, the 2020 derby was cancelled due to the COVID-19 pandemic.
John Lepankoi, a leading camel riding trainer in Angatarei village says that COVID-19 has hit tourism hard. The main Samburu National Reserve, known for its pristine savannah, has registered zero visitors during the pandemic.
"The COVID-19 pandemic has affected all sectors including the traditional healing groups. We get a lot of questions from thousands of our traditional clients who want to know the traditional cure for COVID-19."
"Samburu County is known for being home to the Big Five – lion, elephant, leopard, buffalo and rhinoceros. This has attracted tourists from Kenya and abroad, generating millions of shillings, but COVID-19 has disrupted everything."
As a result, instead of racing and transport, the camel herds are being used for COVID-19 vaccine education and awareness across four remote sub-counties in a bid to reach 123,000 people. Mr Lepankoi is part of the group of local camel riders collaborating with 460 Samburu traditional healers and local health officials.
"Our joint campaigns have netted 300 camels for mobile COVID-19 vaccine efforts, and we are expecting more, to reach thousands of people residing in hard-to-reach remote areas with no roads and other transport networks," says traditional healer Mr Pius Lelei, one of the 460 registered traditional healers.
For the traditional healer's association, which regulates and handles registration of traditional healers in Samburu County, it was a hard decision to join hands with conventional medical professionals. They, however, recognised that, with their inability to find natural medicines to cure COVID-19, they needed to do something.
"The COVID-19 pandemic has affected all sectors including the traditional healing groups. We get a lot of questions from thousands of our traditional clients who want to know the traditional cure for COVID-19. We consulted as healers and we failed to produce a cure, thus forcing us to listen to all stakeholders, including health professionals practicing conventional medicines," says Mr Robert Loparshoti, the head of the Samburu traditional healers.
Traditional healing has a special place for the Samburu community. "Three-quarters of the population in Samburu county depend on traditional medicine with the remaining segment, who live in urban areas, using modern and conventional medicines. It's a cultural thing and it starts from day one when a child is born," explains Mrs Agnes Nachuchai, a member of a local women's group.
Healers produce medicines from tree barks, roots, tree leaves, tubers and wild fruits. The traditional healers also offer the community services like weather forecasting, giving insights into what to expect in the future, like droughts, famine, rain and flash flooding and providing blessings.
"They are special in the community and their services cut across social structures, with traditional weather information and community blessings. That is why their involvement in COVID-19 vaccine education is taken seriously by the community,'' says Mrs Selina Haibor, a consumer of traditional medicine.
David Lomekeni, a local elder, says that people in his remote village of Arsim were awaiting guidance from the healers on what to do to contain COVID-19 and also whether to take the vaccine or not.
"Their [traditional healers] orders carry the day. Visiting with the camel mobile clinics, they told us that they have no medicine to cure COVID-19, that the vaccine is safe and that we must register and prepare to take the jab." 
Grace Koriopo is a community health worker taking part in the joint campaign to educate the community and register them for the COVID-19 vaccine. "Traditional healers have a big customer base in remote areas and the joint effort opened these big bases to the vaccine," she says.
Hussein Salesa, a member of the Pastoralist Information Network operating in Isiolo, Samburu and Marsabit counties, adds, "This effort is laudable and will be replicated in other areas in Kenya inhabited by communities who follow traditional cultural practices. It makes work easier for vaccine administration and reach."