An interfaith initiative addresses zero-dose children in Turkana County
Kenya's Turkana County health authorities are working with faith- and community-based organisations to reach zero-dose children in the area.
12 December 2022
4 min read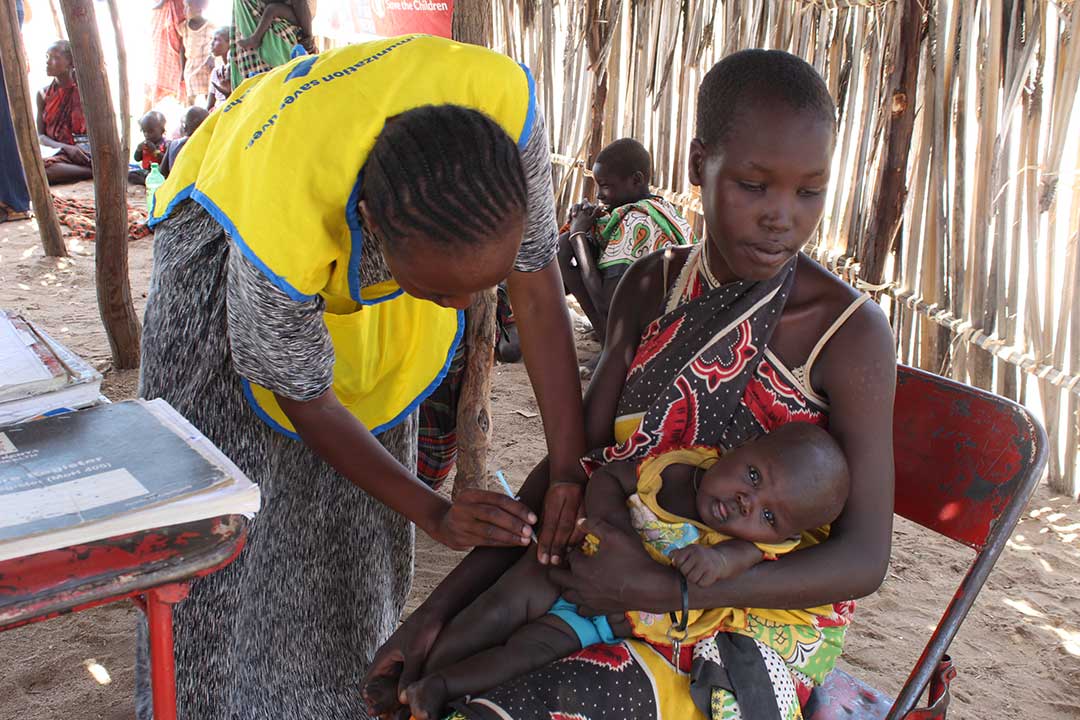 In a bid to bridge the gap and reach zero-dose children, health authorities in the frontier border outpost of Turkana County have brought in faith- and community-based organisations to boost vaccine coverage.
Esther Ewoi, a woman living on the Kenya-South Sudan border, admitted to not bringing her children for vaccination as her community had no time for such services and did not get proper information on its importance.
"Sometimes the traditional medicine doesn't work and we take our children to health centres and dispensary. It's from these health facilities that I learnt about vaccination and its importance. I was educated on health dangers facing unvaccinated children,"
"I have three children and they were never vaccinated before. We move from one area to another in search of water and pasture and we mostly depend on traditional medicines," revealed Ewoi.
According to Kenya Demographic Health Survey [KDHS] 2014, 56.7% of children in Turkana County had received all recommended vaccines by 12 months, which was 12% below the national rate and 24% below World Health Organization global coverage rates.
Atan Nasur, a researcher and development expert with Turkana Development Forum says, "Turkana County is among the areas in Kenya that witnesses frequent insecurity challenges which disrupt service delivery and community outreaches. Plus, climate changed induced issues like drought and food insecurity have fuelled the cases of zero-dose children."
High illiteracy levels, harsh weather patterns and rugged terrains have made it difficult for communities living in the hard-to-reach areas of Turkana County to both access information and connect with health workers that would offer them essential services like immunisation. In addition, their nomadic lifestyle can cause them to miss overall government services, including health provision and vaccination.
"We move with our livestock and time is of essence to us when it comes to finding watering holes and pasture. All other matters come second," stated Ewoi.
Lack of immunisation services have been linked to increased cases of infant and child mortality and families living in hard-to-reach areas incurring a lot of resources to travel to main urban centres in search of medical treatment for their ailing children.
"Sometimes the traditional medicine doesn't work and we take our children to health centres and dispensary. It's from these health facilities that I learnt about vaccination and its importance. I was educated on health dangers facing unvaccinated children," admitted Ewoi.
Ewoi's family benefitted from the collaboration between health authorities and local organisations, with her children receiving vaccines for the first time since they were born.
Dr Gilchrist Lokoel, Turkana County's Acting Health Officer, believes that the partnership between the local county government and faith-based organisations is bearing fruit. It is helping to educate communities in hard to reach areas and also offering them malnutrition information and education as a way of building healthier families and keeping diseases at bay.
"The majority of zero-dose children come from communities moving from one hard-to-reach area to another and frequently crossing international borders from Kenya to South Sudan or Uganda. Faith-based organisations play a key role in supplementing our work and aiding in our community advocacy and outreaches," Lokoel stated.
Rural communities in Turkana County respect their faith leaders and attend religious services without fail, which is why the Turkana County government decided to mobilise all faith leaders to participate in the joint medical programme.
These organisations include the Catholic Diocese of Lodwar (which operates several clinics and runs mobile units), the Christian Relief Foundation, the Salvation Army Church (who also run sub-county clinics), African Inland Church Health Ministries, World Vision and Jamia Mosque. In addition to the religious organisations, various community-based organisations have also come to table, including Kitenikinae, Akilokony, and Kalokol Naremiet.
The zero-dose children drive in Turkana County has also seen the establishment of malnutrition centres in all health facilities. According to a Kenya Food and Nutrition report released in 2019, 54,264 children under the age of five years in Turkana County were suffering from acute malnutrition.
"Turkana County has upscaled integrated outreaches in all the 693 malnutrition hotspots in the county while also offering specialised services like COVID-19 vaccination, nutrition screening, antenatal, primary health care and ophthalmology services," said Dr Lokoel.
Ewoi was among thousands of hard-to-reach people who accessed integrated health services at Loima health facility in Turkana County.
"My children finally received vaccination at Loima health centre and I was given information on how to address malnutrition. Many families from remote areas of Turkana have taken their children for vaccination for the first time and we have mobilised other community members, including those along the Kenya-South Sudan border," says Ewoi.