How did Kenya surpass its 2021 COVID-19 vaccination target?
Kenya was aiming to reach 10 million people with COVID-19 vaccines by the end of December 2021. Thanks to a clear strategy, COVAX support and the hard work of thousands of health workers, they reached their target.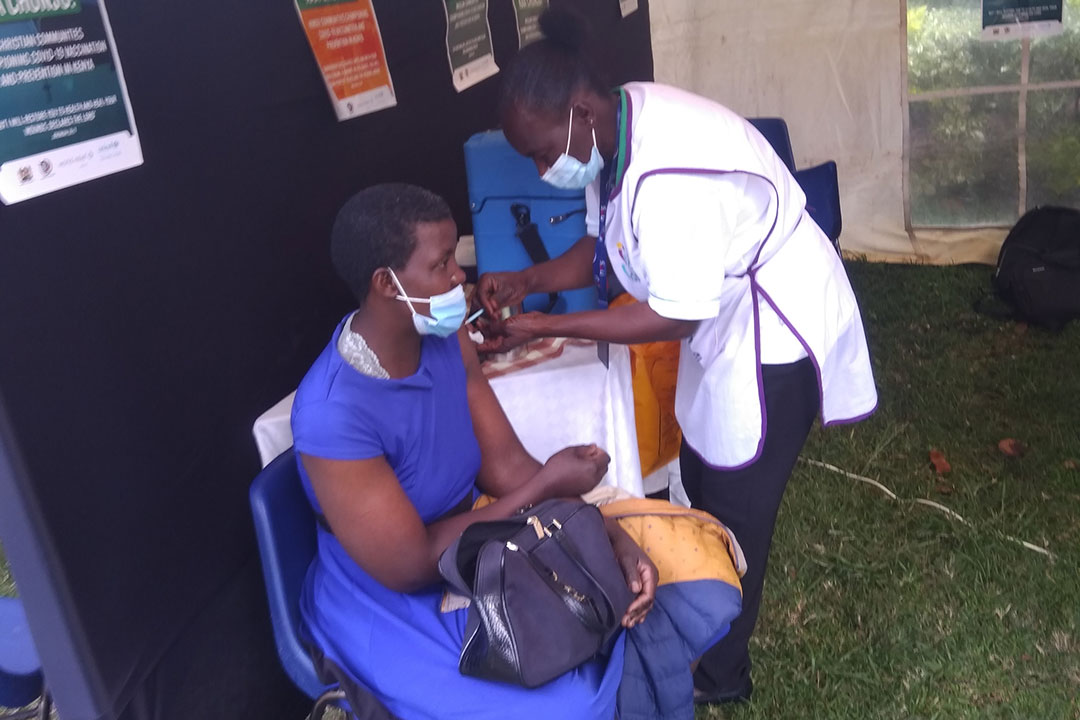 Kenya was able to surpass its target of vaccinating 10 million people by the end of December 2021 by introducing several new measures to drive vaccine uptake.
"In order to achieve our target, we came up with several strategies which included increasing the number of vaccination posts from an initial 200 to 3,000 as well as outreach campaigns in densely-populated areas countrywide."
"Initially, our vaccination campaign was hampered by the unavailability of vaccines but the tide began improving from the end of August when we received adequate consignments of the vaccines," said Willis Akhwale, the Health Ministry's COVID-19 taskforce chairman.
Kenya relies on five COVID-19 vaccines – manufactured by AstraZeneca, Moderna, Johnson & Johnson, Pfizer and Sinopharm – primarily delivered through the COVAX Facility, which has delivered over 20 million vaccine doses to the country over the past 11 months.
"In order to achieve our target, we came up with several strategies which included increasing the number of vaccination posts from an initial 200 to 3,000 as well as outreach campaigns in densely-populated areas countrywide," Dr Akhwale adds.
In addition, on 21 November, the Health Ministry's Cabinet Secretary, Mutahi Kagwe and his Tourism counterpart, Najib Balala, issued a directive in which they announced that anyone not vaccinated against COVID-19 by 21 December would be refused in-person government services and access to public gatherings, parks, hotels, restaurants and bars.
Following the directive, 103,506 Kenyans were vaccinated on 23 November – the highest number in a single day since the vaccination drive began in March. The following day, a total of 102,537 were given the jab, with the huge numbers attributed to the directive.
While issuing the directive, Mr Kagwe clarified that the government would not make COVID-19 vaccination mandatory.
"We must, however, take a cue from the rest of the world and learn from them. A worrisome epidemiological picture is emerging in European countries like Netherlands, Austria, France, Belgium, United Kingdom, Australia and the USA where new COVID-19 surges are being observed despite successful vaccination campaigns."
Have you read?
The Cabinet Secretary observed that the government expected the public to fully comply with certain pronouncements to ensure their safety.
On 8 December the Health Ministry, in collaboration with religious organisations and other partners, launched a campaign in which they resolved to have places of worship countrywide used as vaccination posts throughout the week.
At the launch, the Health Ministry's Chief Administrative Secretary Dr Rashid Aman described religious leaders as "major influencers", urging them to encourage their congregants and members of the public to be vaccinated.
"The vaccines are safe, effective and available and transmission becomes difficult after mass vaccination – when 70% of the population is fully inoculated."
The Evangelical Alliance of Kenya head, Dr Bishop John Warari, said science and faith were not in conflict on vaccination and there was a need "to trust each other".
Dr Akhwale says up to three million Kenyans were inoculated between 1 and 31 December and emphasises that the Ministry wants this momentum to continue.
"At the beginning of 2022, following global reports of waning immunity from COVID-19 vaccinations, Kenya started the administration of third doses as booster shots and aims to administer 4.2 million booster jabs by June 2022 to all eligible adults," he explains.
The country, Dr Akhwale added, also plans to fully vaccinate 19 million adults (70% of the adult population) by the end of June 2022 and the entire adult population of 27 million people by the end of the year.
He adds, "During the same period, Kenya will also aim to fully vaccinate 2.9 million teenagers aged 15 to 17 years (50% of the population) and the entire teenage population of 5.8 million by end of December 2022."
To achieve its mid-year target, the country plans to administer at least 20 million vaccine doses between January and June 2022.
"We have set specific targets for each of the 47 county governments with the objective of ensuring the administration of vaccine doses according to their population proportions."
As of 6 February 2022, a total of 13,399,285 doses had been administered with 6,146,074 adults and 12,183 teenagers fully vaccinated.
Follow Mike on Twitter @MikeMwaniki18