Lesotho mothers welcome the reintroduction of HPV vaccine
Seven years after it ended, Lesotho has relaunched its HPV vaccination programme.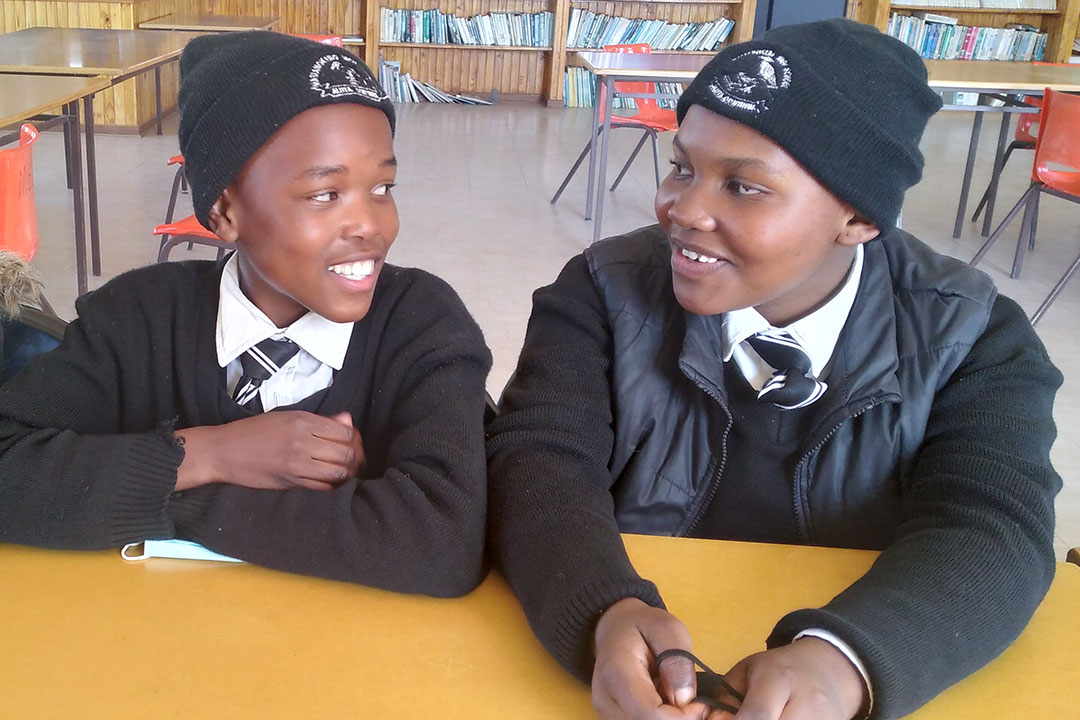 'Manthati Tšeloa, a Food and Nutrition teacher at Masianokeng High School in Maseru, lost her friend to cervical cancer six years ago.
"The most important thing is to prevent rather than treat cervical cancer," she says. "Right now, the rates at which women in Lesotho are diagnosed with cervical cancer is shocking. Honestly, my biggest wish is that my students do not add to the statistics."
Ntaote wants to be a doctor when she grows up and was ecstatic when her mother permitted her to get vaccinated as this would limit her chances of dying before her dream comes true.
According to the Elizabeth Glaser Paediatric Aids Foundation, cervical cancer incidence in Lesotho is among the highest in the world, and it is the most common type of cancer in Basotho women. The cancer killed 346 of the 514 Basotho women diagnosed with the disease in 2020.
Health Minister Semano Sekatle says the cost of treating cancer patients is high, with the government spending "over M100,000 on the treatment of one cervical cancer patient".
Fortunately, in early May, girls at Tseloa's school who are between the ages of nine and 14 years received their human papillomavirus (HPV) vaccine shots.
This came after the Lesotho government reintroduced the HPV vaccination programme in April to help prevent cervical cancer. The initial programme, whose coverage was 91%, was abandoned in 2015 due to financial constraints.
Ministry of Health official Susan Ramakhunoane says the WHO advises that the HPV vaccine is mostly effective when taken before one's 16th birthday.
"HPV is sexually transmitted, and, while sexual activity is very low within that age group, it is important that the vaccine be administered to women of any age group. The challenge in Lesotho is a lack of resources and so we are concentrating on girls because they are most vulnerable," Ramakhunoane adds.
Tšeloa has welcomed the move saying, "These girls are very fortunate. We have been encouraging parents to allow their children to get vaccinated because, in some cases, parents prevent their children from receiving vaccines."
Felleng Mahlehle (15), Karabo Ntaote (13) and Retsepile Ntjana (14) received their shots on 4 May 2022.
Mahlehle says, "I turned 15 years old a few days after being vaccinated. I feel blessed. My mother was over the moon when she heard about the programme."
She adds, "The principal, 'Mapesha Lehohla, told us about how cervical cancer is killing many women in the country. I am not sexually active, but I don't think receiving the vaccine means I must have multiple sexual partners."
Ntaote wants to be a doctor when she grows up and was ecstatic when her mother permitted her to get vaccinated as this would limit her chances of dying before her dream comes true.
"Cervical cancer is caused by a sexually transmitted virus. While I strongly believe that girls must not be sexually active until they are at least 20 years, it was important for me to get vaccinated because I want to live a fulfilled life of curing people," Ntaote says.
For Ntjana, her decision was influenced by her older sister sharing stories of New Millennium International School students who vaccinated earlier than Masianokeng High School learners.
"My sister didn't not receive the vaccine because she is over 14 years old but she kept telling me and my mother about this HPV vaccine students at her school received. She was envious of them," Ntjana says.  
In a Basotho mothers only group on Facebook, comments from mothers were all positive.
Lineo Motsamai says, "The reintroduction was 'a dream come true' (because of) the rate at which cervical cancer is attacking us."
'Mamots'eare Sebolai adds, "My first born took it but her younger sister and my niece missed the opportunity to receive their shots because there was no vaccine at the time they qualified."
Another parent, 'Maitumeleng Rankhone says: "I honestly support the initiative if you can see the shocking numbers of cancer patients at Senkatana (Centre of Excellence). I was definitely going to receive my shot if I qualified."
Lindiwe Moyo says, "I am glad my daughter did it almost a decade ago. Of all types of cancers that she may have, at least I know that she is protected from this one (cervical cancer). I constantly go for cancer screening at Senkatana after every two years. It is painful to see the line with Basotho women."
Senkatana Centre of Excellence runs, among others, a cervical cancer prevention programme in Maseru.
'Masekhants'o Moiloa says she was scared her daughter would not have her shot as years progressed without HPV programme in place, adding "I was over the moon when they reintroduced this programme".