"No mean feat": India reaches more than 100 million teens protected against COVID-19
It began at a sprint, and it's slowed to a stroll – but there are signs that India's campaign to vaccinate its colossal adolescent cohort is making steady gains among initially hesitant parents.
28 February 2023
4 min read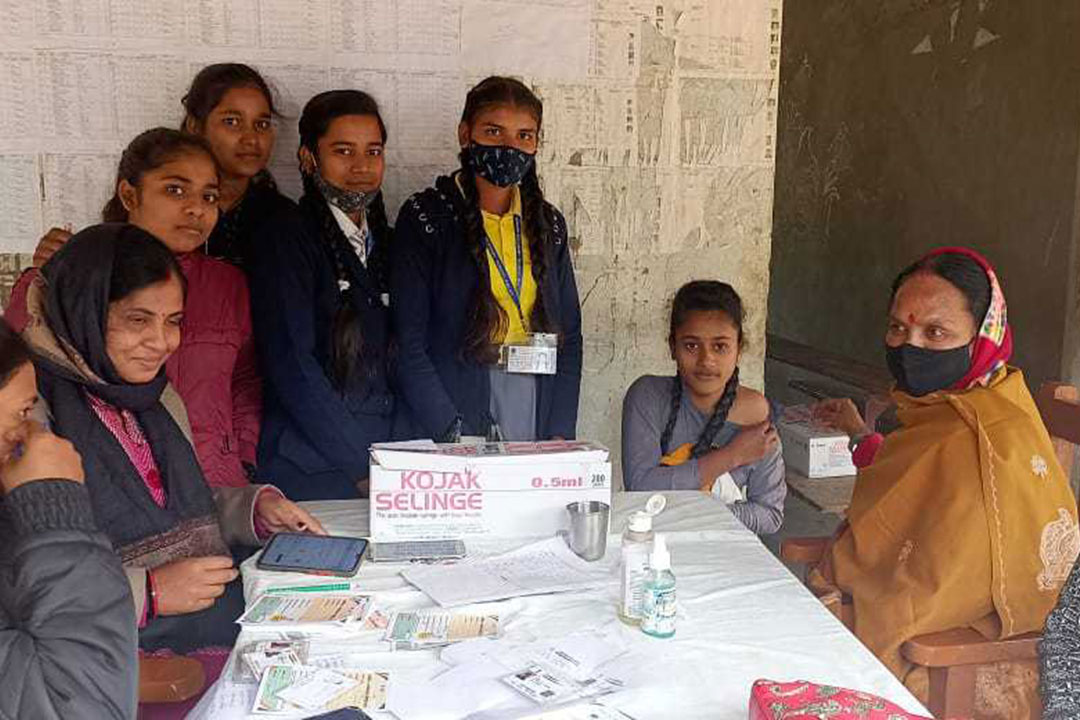 It was a sunny December afternoon in Uttar Pradesh's Gorakhpur district. A.N. Singh Senior Secondary School was hustling and bustling: children were back in classrooms after a year of lockdown, and another year of uncertainty among parents. In the medical care room, kids aged between 12 and 18 years lined up to get their second dose of COVID-19 vaccine.
"We were a bit hesitant about the vaccine, that is why my son is getting the vaccine so late. But I noticed all his friends who got the vaccine did not suffer from a side effect, so I decided it was time."
In another part of the same district, Anand Vidhyapeeth Inter College had also set up a COVID-19 vaccination camp on its campus. "We are helping the local governments reach more children to ensure a safe environment for all," said Mr Pramod Kumar Singh, the principal of the school.
India approved the COVID-19 vaccination drive for kids aged 12 to 18 years on 3 January 2022, more than a year after the adult population had started to receive the vaccine. A little over half a year later, the Union Minister of State for Health and Family Welfare, Bharati Pawar, announced that 99.6 million Indian school kids had received a first dose (82.2% coverage), and 77.9 million kids had been protected with a second (64.3% coverage).
That was "no mean feat", according to Dr Surbhi Mittal, a resident doctor at Apollo Hospital, Delhi, reflecting on the childhood vaccine roll-out a year in. "India's success can be attributed to a combination of factors, including the government's proactive measures, the tireless efforts of healthcare workers, and the cooperation of the general public," she said.
Children aged 11 and under are not yet being offered the vaccine. "India has rolled out its COVID-19 vaccination drive in a phased manner based on scientific and epidemiological evidence. We are in no rush to vaccinate kids below 12 years if proper studies do not confirm their effectiveness for a certain age," Mittal said. "Data is still being collected on how some promising vaccines are faring against coronavirus SARS-CoV-2."
Challenges remain
The scale of the campaign was not the only hurdle encountered by India's effort to vaccinate its massive youth cohort. Vaccine hesitancy and misinformation are roadblocks that the government is still facing down in some parts of the country.
Shiv Pratap Rai, director of Anand Vidyapeeth Inter College, observed, "there has been a lot of misinformation circulating about the vaccine, mostly on how it could affect fertility and menstruation from a young age. We are organising seminars and holding conversations with parents to give them the right information about the vaccine."
There are signs that the simple passing of time is helping too. For some, it appears, the worry is wearing off along with the novelty.
"We were a bit hesitant about the vaccine, that is why my son is getting the vaccine so late. But I noticed all his friends who got the vaccine did not suffer from a side effect, so I decided it was time,' said the father of 17-year-old Gautam, who had received the jab at the Gorakhpur school  moments earlier.
Big numbers
Gautam's father isn't alone. Nearly four million children missed out in the first half-year sprint of the campaign have since caught up, suggesting that many parents previously apprehensive of the vaccine have come forward in recent months.
According to Ministry of Health data, India has administered a first dose of COVID-19 vaccine to just shy of 103.5 million children aged 12 to 18, and protected just over 89 million adolescents with two doses. That's a protective barrier that will help insulate the wider population too.
Bustling schoolyards like A.N. Singh Senior Secondary's are prone to becoming hotspots for transmission of the virus. Vaccines slow the spread – and help tamp down the risk that in future, dangerous new variants will emerge.