Pakistan almost halves malaria cases in five years
Pakistan reduced malaria cases by 45% from 2015-2020. How did they do it?
22 August 2022
4 min read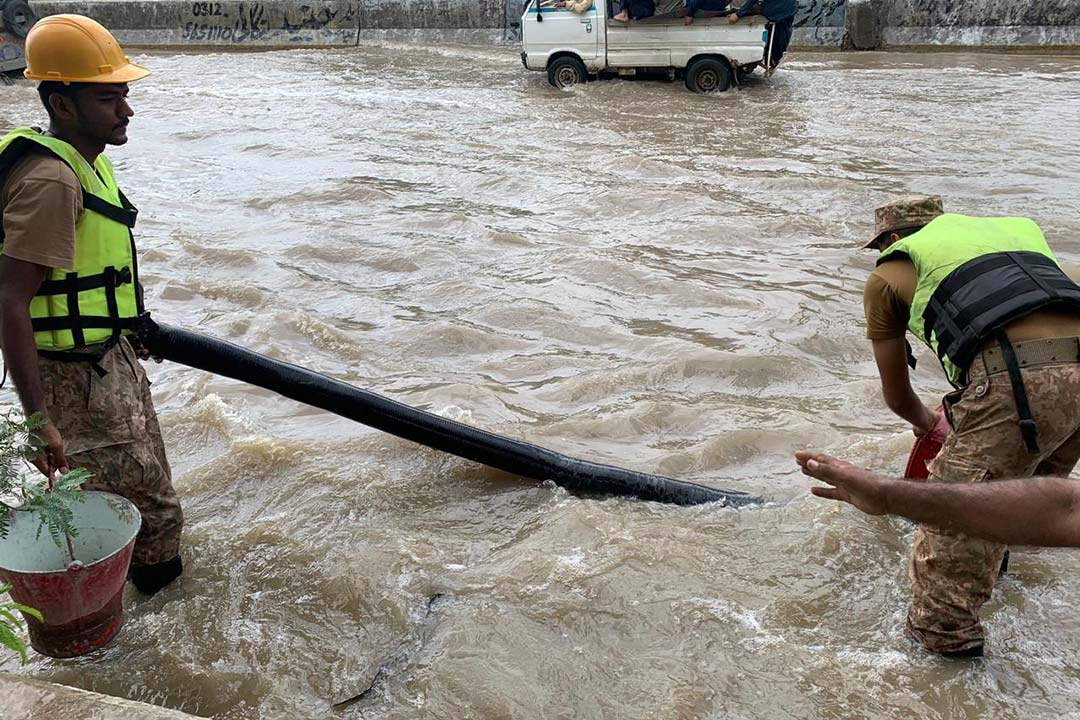 Pakistan has reduced estimated malaria cases in the country by approximately 45% with the provision of free-of-cost treatment and related facilities in the public and private health sectors.
In 2015 the country had an estimated burden of one million malaria cases annually. However, now patients like 45-year-old Razia Begum, a resident of the country's northern district, Rawalpindi, are not worried despite being diagnosed with malaria.
"It [malaria] has not remained a life threat for the population as it was almost a decade ago because of the availability of medicine and several other steps taken at the government level to reduce its burden, through the Malaria Control Programme."
She got a high fever during the ongoing monsoon season and went to the city's largest public hospital, Benazir Bhutto Hospital (BBH). There, the doctor had her do blood tests, and it was confirmed that she has malaria.
"I have been diagnosed quickly and the doctor prescribed me anti-malarial medicines which I got free of cost," she says.
But Begum holds a regret in her heart that her uncle and his daughter would be alive today if all such facilities for treating malaria were also available a decade ago. An inhabitant of the lowland areas of Rawalpindi, she has witnessed floods and deaths due to malaria and other mosquito-borne diseases in her area since childhood.
"In the 2013 monsoon, my uncle Iqbal Muhammad and his eight-year-old daughter Sakina died of malaria 10 days from each other," says Begum.
She says there was not much awareness about the disease, and there was fear among the population that malaria-infected patients rarely survived.
She adds that, at the time, diagnoses, treatment and availability of medicines was difficult for a person from a low-income background. But now the situation has changed. Malaria patients are being provided special attention and care in public sector hospitals, including designated facilities for patients confirmed with mosquito-borne diseases.
"We have access to fumigation, bed nets, diagnoses equipment, special wards, and free anti-malarial medicines in the hospital," she says.
Pakistan is classed as a group 3 country in the Eastern Mediterranean Region by the WHO, along with Afghanistan, Djibouti, Somalia, Sudan, and Yemen, which collectively share 95% of the total regional malaria disease burden.
Dr Asma Khan, a medical officer at BBH observes that treating malaria patients is a priority in government-run hospitals' emergencies and outpatient departments.
She says that the influx of malaria patients has also reduced to almost half in recent years, further reflecting the government's work on prevention as a way to reduce the disease burden.
"If a patient is confirmed with malaria, medicine to cover three or more months of treatment is provided by the hospital free of cost. Most patients with malaria are treated with the medicines doxycycline and chloroquine," adds Dr Khan.
However, she says that malaria is still dangerous for children because they cannot tell the symptoms, and from April to October, when any child comes with a high fever, the doctors' priority is to check for malaria.
Dr Khan also explains that the majority of people with malaria visit the hospitals during the rainy season because, outside of that, patients do not know whether they have a fever due to malaria or weather changes.
"Malaria could be eliminated if the prevention and treatment strategies are fully implemented," said Dr Khan.
Dr Hammad Habib, Advisor Malaria, DoMC says that cases have nearly halved since 2015. According to the WHO, there were an estimated 992,605 annual malaria cases during 2015 and an estimated 542,960 in 2020.
"So it's an estimated 45% reduction in cases," exclaims Dr Hammad. He adds that around 90% of the disease burden in the country is shared by 73 highly endemic districts mostly located in the provinces of Balochistan, Khyber Pakhtunkhwa, Sindh, and Tribal Districts.
Dr Hammad also says that the malaria control programme's focus has been on universal coverage for free-of-cost malaria diagnosis and treatment services, with the provision of around 5,000 public and private microscopy and RDT centres.
The country's Directorate of Malaria Control Programme (DoMC) has also provided around 2.5 million mosquito bed nets free of cost in 73 districts of the country with high malaria burden since 2007.
Public Health Expert Dr Sharif Astori says, "It [malaria] has not remained a life threat for the population as it was almost a decade ago because of the availability of medicine and several other steps taken at the government level to reduce its burden, through the Malaria Control Programme."