Dr Seth Berkley's reflections on 2021 and the global imperative for 2022
2021 has been another challenging pandemic year, but despite the challenges it saw important milestones, extraordinary resilience in Gavi-supported countries and progress on a number of fronts. In his annual end of year letter, Gavi CEO Dr Seth Berkley talks COVAX, routine immunisation and the global battle against vaccine inequity.
21 December 2021
7 min read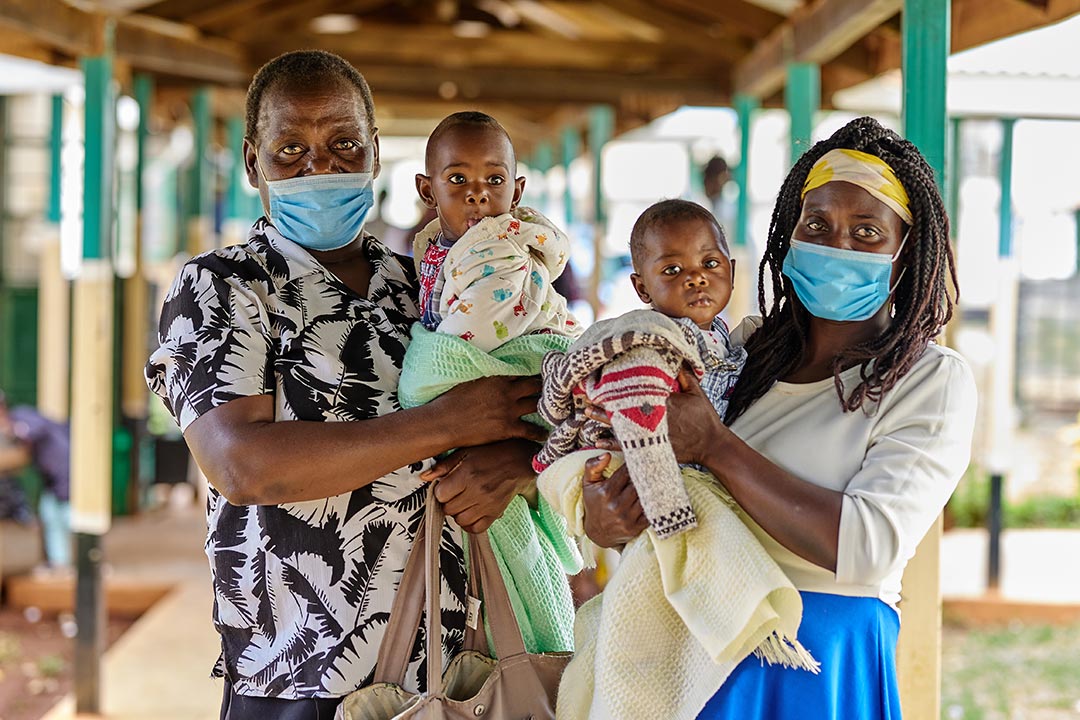 Dear friends and partners,
It has been another challenging pandemic year, as the official global death toll for COVID-19 surpassed 5 million lives – a figure representing unimaginable heartbreak and loss, especially as the true figure is likely many times higher. Against this backdrop, Vaccine Alliance partners have made a massive impact in the toughest of conditions, not only in delivering COVID-19 vaccines around the world, but also in maintaining, restoring and strengthening immunisation and other essential health services.
Among many other achievements, the world's first malaria vaccine – nearly 35 years in development – will be rolled out in sub-Saharan Africa, thanks to a newly approved vaccination programme that is set to save tens of thousands of lives every year; the first doses of licensed Ebola vaccine were shipped from a Gavi-funded global emergency stockpile of 500,000 doses; and COVAX – a partnership between CEPI, Gavi, WHO and UNICEF – allocated over 1.4 billion COVID-19 vaccine doses, and delivered nearly 793 million doses, to 144 economies around the world.
We also began the new year by welcoming José Manuel Barroso as Chair of the Gavi Board. His expertise and passion have been invaluable in navigating several challenging Board decisions and amplifying the call for vaccine equity among new audiences.
As the year comes to a close, it is my pleasure to share some reflections and highlights from an extremely busy year.
COVAX: 2021 year in review
The first COVAX-supplied vaccine doses were administered in a Gavi COVAX AMC country on 16 January, just 39 days after the first dose of a COVID-19 vaccine was administered in a high-income country, a historic first. And 44 days later, the first COVAX doses were administered in Africa – less than one year after COVID-19 was characterised as a pandemic. Since those milestones, COVAX has faced some huge challenges – all of which, especially those associated with supply, have been well documented – and the resulting dramatic inequalities between low- and high-income countries persist.
Despite at times having to contend with what looked like insurmountable obstacles, COVAX is now delivering at scale. Against a goal of 950 million doses for lower-income economies, and up to 100 million doses for the COVAX Humanitarian Buffer, we have now allocated over 1.2 billion doses for the Gavi COVAX AMC. Last week alone, COVAX shipped just shy of 80 million doses, marking COVAX's busiest week yet. And by the end of the year, more than 800 million will have been delivered in country – half of which have been made possible through dose donations.
This strong performance at the end of the year means that over half of Gavi COVAX AMC participants have reached 20% of their populations with at least one dose, which was a key COVAX target at the start of this year, but still not where we need to be. We are working closely with our partners to address demand challenges; accelerate the pace of vaccination through technical, ultra cold chain and other support – including 400 additional staff to WHO and UNICEF; and providing additional targeted support to the 20–25 countries that have low absorption capacity to strengthen their systems. COVAX has also provided a platform for further impact in early 2022, with a total of 2.8 billion doses now ordered.
The COVAX Humanitarian Buffer began deliveries in November, a first step towards ensuring the estimated more than 167 million people at risk of being left out of national vaccine plans have access to COVID-19 vaccines – as there is no clear path to recovery from the pandemic without the inclusion of marginalised groups and people caught up in humanitarian crises.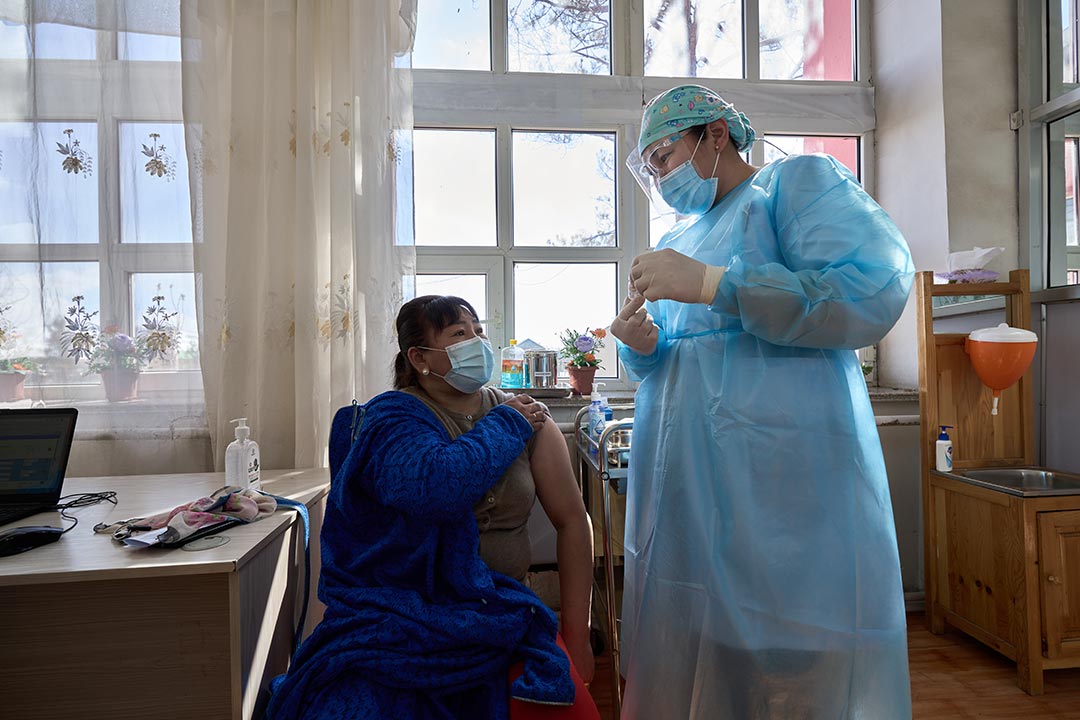 None of COVAX's work would have been possible without the support of our donors. In April, at a U.S.-hosted event, we launched the Gavi COVAX AMC Investment Opportunity which put us in good stead for the successful Gavi COVAX AMC Summit virtual event in June, hosted by Japan – which brought to more than US$ 10 billion the total pledged by governments, the private sector and foundations. This is an important display of solidarity, partnership and confidence in the Gavi COVAX AMC, on top of the more than 900 million doses that have been firmly committed through donations for 2021–2022.
As deliveries and jabs ramp up in 2022, Gavi and COVAX stand ready to support countries to administer more doses and increase coverage towards their national targets, while retaining the necessary flexibility to adapt and adjust given the changes we are seeing in the epidemiology of the virus.
Gavi core programmes: 2021 year in review
In the face of a global pandemic, countries protected immunisation programmes with extraordinary resilience. Despite predictions that vaccine coverage would drop 14 percentage points globally in 2020, our analysis of WHO/UNICEF data published in July 2021 revealed only a 4 percentage point drop in coverage of basic vaccines in the 68 Gavi-supported countries. After a significant drop from March to May 2020, vaccination rates rebounded strongly, thanks to the efforts of countries and international organisations.
However, this 4% drop still means millions of children missed out on life-saving vaccines as a result of the pandemic. After decades of decreases, the number of "zero-dose" children not reached with basic vaccines increased from 10.6 million in 2019 to 13.7 million in 2020, making Gavi's goal to locate and reach them even more pressing. While health systems are under pressure due to COVID-19, maintaining, restoring and strengthening routine immunisation is essential to reducing the risks of concurrent outbreaks, and to pandemic prevention and preparedness.
Earlier this month, the Gavi Board made history by approving funding to support the roll-out of the world's first malaria vaccine in sub-Saharan Africa in 2022–2025. This was an incredible milestone to celebrate, as the RTS,S vaccine is an important additional tool to control malaria, alongside other interventions, and is estimated to save one child's life for every 200 children vaccinated – thus saving tens of thousands of lives every year in Africa.
This was also the first full year of Gavi implementing the refreshed gender policy, which seeks to identify and overcome gender-related barriers to reach zero-dose children and missed communities with the full range of vaccines. We were delighted that the Global Health 50/50 Report placed Gavi among the top 5% of 201 global health organisations in its 2021 review of gender-related policies and practices.
As we enter Year 3 of living with COVID-19, we are only now starting to see what a sustained, concerted multilateral response to a global pandemic looks like and what it requires to keep routine systems afloat under these more challenging circumstances. We are racing to vaccinate the world against COVID-19 before any more dangerous and highly transmissible variants can take hold. We are also putting in place the systems that can deal with the evolutionary certainty of a next pandemic. One World Protected was never just a catchphrase; it's a global imperative. We must build on the successes and the lessons learned this year to make 2022 the year in which the world comes together to close the global vaccine divide for good. The only way to change the course of the pandemic is by reaching everyone, everywhere. You will have heard this many times, but it remains the central challenge of our day: no one is safe until everyone is safe.
Thank you for all your hard work and support. Wishing you a peaceful and restorative holiday season with your loved ones.
 

Dr Seth Berkley

Chief Executive Officer, Gavi, the Vaccine Alliance
More from Dr Seth Berkley