Churches are boosting vaccination rates in Eswatini
Eswatini has launched a campaign to encourage members of the Zionist churches to get vaccinated against COVID-19.
10 January 2022
4 min read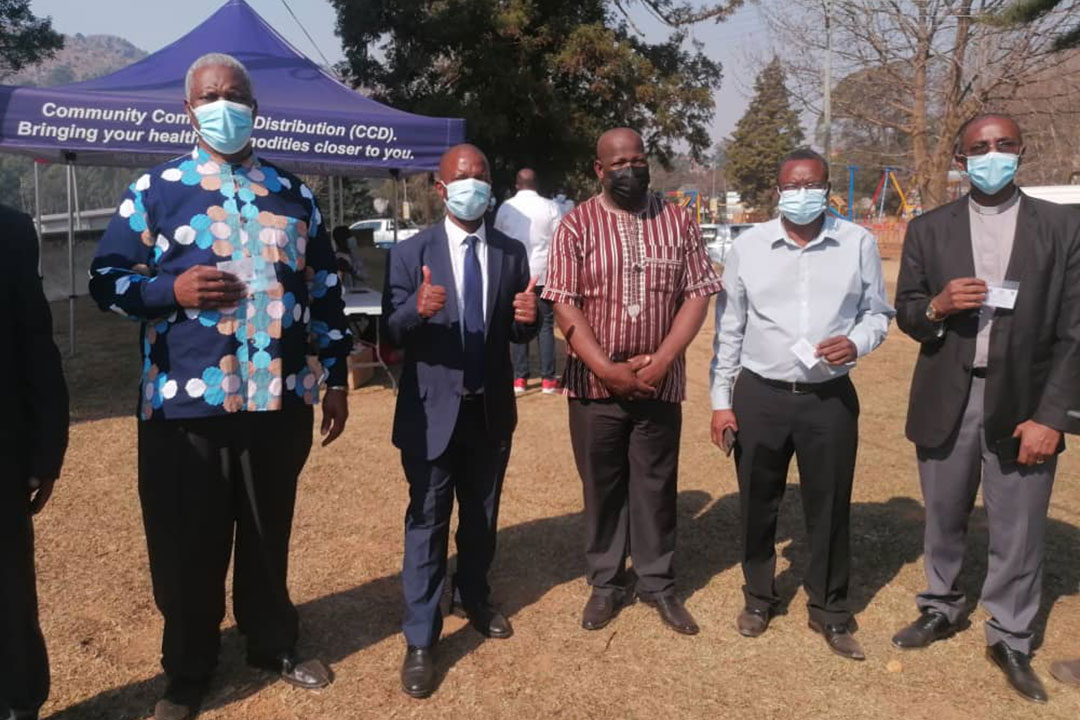 In many parts of Africa, religious and community leaders have been instrumental in raising awareness of the importance of COVID-19 vaccination, and the Kingdom of Eswatini is no different. Church leaders have launched the Jova Zion campaign, urging their congregation to take the vaccine.
"Despite myths that were associated with taking the COVID-19 vaccine, we vaccinated, as we wanted to be protected from the pandemic."
One such leader, Bishop Herbert Mavimbela from Ekuphileni Church in Zion in Zombodze, Manzini, says that as God takes care of the soul, he believes people have a responsibility to take care of themselves by eating healthily and taking medication and vaccines as recommended by health experts.
"As a leader of the church, I am mindful of the fact that I live in an evolving world. When the campaign aimed at encouraging Zionists to take the COVID-19 vaccine was kickstarted, I was very happy. When it comes to COVID-19, there are no two ways about it, people must vaccinate. This is what I have been teaching at my church. Since the outbreak of COVID-19, we have had a slot on some Sundays where we talk about COVID-19, vaccinating and health precautions. At times we invite health officials to come and talk to us as well," he says.
Listening to science
Bishop Mavimbela, who took his first dose of AstraZeneca around July 2021, says that thanks to the campaign almost all the elderly people in his church have been vaccinated against COVID-19.
Mavimbela says that the advice from health experts on the benefits of the COVID-19 vaccine were reasons enough for him. "From birth we have been vaccinating against diseases, so why not vaccinate against the prevailing virus? Through the Jova Zion Campaign, we will continue encouraging other non-vaccinated members to vaccinate," he adds.
Have you read?
Ministry of Health Cooperative Agreement Health Promotions Officer Ayanda Zwane knew it was important to target faith-based organisations with accurate and timely health information about COVID-19 , and says that to raise awareness of the vaccine the ministry collaborated with the League of Churches, an umbrella body of the Zionist churches.
Dispelling misinformation
Zwane says that the campaign also works to dispel myths associated with taking the COVID-19 vaccine .
"The Ministry of Health Cooperative Agreement saw it prudent to promote the COVID-19 vaccine in the church and address any arising issues and concerns, some of which are based on scriptural understanding. We have been rolling out the Jova Zion campaign since September 2021, targeting Zionists to drive the conversation about the COVID-19 vaccine," she says.
Zwane states that currently there are about 2,345 eligible fully vaccinated Zionists in their data. She adds that there could be more, however church leaders have said that some congregants have migrated, particularly to towns, in search of employment opportunities. There has also been a lot of mobilisation for vaccines and the Luke Commission, an NGO that provides medical services to underserved communities through mobile hospital outreach, has been visiting churches to vaccinate congregants at their space of convenience.
League of Churches President, Bishop Samson Hlatjwako feels that the Jova Zion Campaign is well received by church leaders and members. He says that, since the campaign started, members from the 300 churches under the league have been vaccinated, either partially or fully.
"Vaccination is life," says Hlatjwako. "Despite myths that were associated with taking the COVID-19 vaccine, we vaccinated, as we wanted to be protected from the pandemic." He adds: "I was among the first people to take the AstraZeneca jab in the country. I have not experienced anything peculiar. Through the Jova Zion Campaign, we continue to encourage our members to vaccinate so that we win the battle against COVID-19."
Meanwhile, Nkanzimulo Apostolic Church in Zion's Archbishop, Paulos Themba Malaza says that many church members vaccinated as they did not want to miss church. Being a part of the Jova Zion Campaign is important for him not only as a church leader but also as a community leader. He was vaccinated because he wanted to lead by example, and his congregation have been following that example.
More from Nomthandazo Nkambule