Pakistan's flood crisis is particularly tough on poor women. Here's why
Authorities estimate it will take the floodwaters half a year to recede. Displaced women will be hanging on through an especially perilous period.
The rains began in June, and soon, more than a third of Pakistan was underwater. Late in August, Prime Minister Shehbaz Sharif was comparing the country's losses to those faced in the terrible floods of 2010-2011. As of September, nearly eight million people have been displaced from their homes, with more than 600,000 of them sheltering in camps. More than 1,500 people, including more than 500 children, have died.
Vaccination won't make the flood waters ebb, or build back ruined homes, or restore the security and dignity of the women from whom that's been robbed. But it will buy time – and opportunity – between this and the next disaster
Just as they aren't class-blind, crises like this one aren't gender-blind. "Women are already disadvantaged, often constrained by rigid gender norms that restrict their mobility, task them with inequitable and burdensome domestic and childcare duties, and expose them to the risks of sexual assault, exploitation, and harassment. These disparities are only magnified when there's any sort of disaster," says Gavi gender consultant Rachel Fisher Ingraham.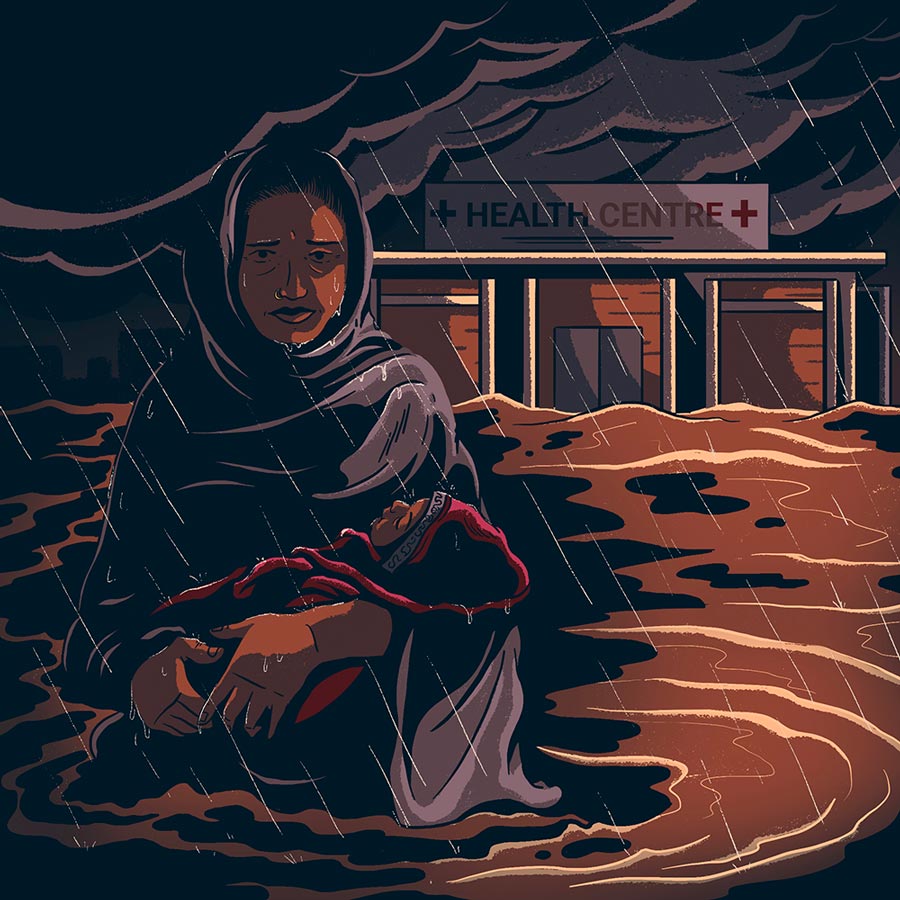 The dangers are great for all of the affected millions. Newly homeless, and often unable to access secure modes of transportation, poor, flood-displaced people are at steep risk of injury and illness. Now, like in 2010, reports of acute injuries, from trauma to snake-bites, abound in deluged districts. And the greatest danger of all are the pathogens brewing in and around the stagnant waters. Waterborne diseases like cholera, mosquito-borne sicknesses like malaria, and respiratory and skin infections all thrive in a flood, when there's water everywhere, and little of it safe to drink.
The risk, then, is general, but not generally equal. World-over, women and children are 14 times more likely to die when disaster hits. In Pakistan, where particularly rural-dwelling women tend to be married young and pregnant often, and are less likely than men to have survival skills like swimming, navigation and literacy, women – especially poor women – face a very tough next few months.
Pakistan has seen this play out before. Amid 2010's disastrous floods, as many as 86.8% of households in the 29 worst-affected districts were forced to migrate. In the floods' aftermath, both maternal mortality rates and rates of early marriage were found to have risen.

The threats don't end when the rain lets up. Six months on from the 2010 floods, 46.9% of households in the 29 worst-affected districts were still living in camps. In these crowded, typically unsanitary spaces, communicable diseases – like cholera, but also like scabies, a mite infestation of the skin that's one of the most common illnesses reported in circumstances like these – spread fast.
These are not easy conditions in which to keep children safe – most commonly a woman's domain – or carry a pregnancy to term. UNFPA estimates that 650,000 women currently located in flood-affected areas in Pakistan are in need of access to maternal health services, and that as many as 73,000 will deliver babies during September. And if recent episodes of flooding in Pakistan provide the pattern, then reduced access to contraception amid the large-scale disruption of public life will lead to a spike in new, unwanted pregnancies in the coming months.
Displaced women will also find themselves at far higher risk of attack. Frontline health workers from districts previously affected by floods, and interviewed by researchers from Pakistan's Aga Khan University, reported an uptick1 in gender-based violence and rape in these tented settings. Most often, the victims were women who had left their tents to fetch water, or firewood, or rations, or to use the toilets at night.
"You have safety issues left and right," says Fisher Ingraham. In addition to the rising incidence of assault, "there's always the potential that women are forced to trade sex for access to services or resources because they frequently do not have control over or, access to, financial resources," she explains.
The fear of gendered repercussions in less-than-private ad hoc set-ups means that some women are uncomfortable breastfeeding, reported the Aga Khan researchers in a paper published this year in the International Journal of Disaster Risk Reduction, leaving their babies reliant on whatever stocks of formula make it into the camps.
Malnourishment among both mothers and children during and after floods tends to rise, a particular risk for children who were already struggling before the flood. Episodes of flooding have in recent years affected the normal running of Outpatient Therapeutic Feeding Program (OTP) sites in Pakistan, leaving already acutely vulnerable children at mounting risk – not only of starvation, but also of contagion: most malnourished children who die, die of infectious disease.

Amid all that spiking need, floods knock out crucial nodes in the health care network. During the ongoing floods, 10% of health care facilities countrywide have been damaged, with disease surveillance and routine immunisation services "significantly disrupted" and health service delivery interrupted, according to WHO.
And even if a health centre is itself unscathed, the roads that permit access to it may still be washed out or obstructed. Stock-outs of medicines and supplies are common in such circumstances, as are staff shortages. In flood events of the recent past, reproductive care and routine immunisation have often been particularly hard-hit, according to health workers from flood-prone districts.
Where health facilities are out of commission, ad hoc medical camps are typically set up to bridge the gap. Sometimes, but not always, these camps are well-equipped to provide gender-sensitive care, with, for example, separate emergency tents for women, female staff, and adequate maternal and child health care supplies. A health worker from Larkana told researchers that during a recent episode of flooding, female medical staff had even managed to perform normal vaginal deliveries in the camps when time or access issues ruled out a referral.
But successful medical intervention in the field is not a given. Even as homes are submerged and abandoned, rates of so-called "home-births" increase during floods – Muridaan Bibi of Sindh, for example, gave birth to her son on a pile of rubble by her damaged house last month. Bibi and her little boy survived, travelling onwards in search of medical care by truck. But the risks associated with such a delivery are high.
Lady Health Workers (LHWs) in some districts described how infrastructure damage can make reaching their patients very difficult – some recalled heading into flooded zones by donkey-cart, and learning of the miscarriages and deaths of pregnant women who were unable to get transport to a clinic.
And often, in Pakistan's recent history, floods have triggered sudden shortages of female health staff at replacement medical facilities, the LHWs said: a development capable of producing profound repercussions for women's access to health care. In conservative communities in Pakistan, cultural norms often prevent women from visiting male health workers without a male relative for a chaperone, meaning that some flood-displaced women were unable to access medical care even when it was needed, and close at hand.
In each case, that's an injustice with potential tragedy waiting in the wings. Zoom out, and it's also a brewing second-order public health nightmare.
"We know from other countries that many times the priority is on men to get immunised because they are the ones going out and looking for work," Fisher Ingraham says. But when access issues stop women from being vaccinated against diseases which might become wildfire epidemics amid flooding – like cholera, and typhoid – or bringing their children to health camps for routine jabs, that imperils everyone.

Vaccination won't make the flood waters ebb, or build back ruined homes, or restore the security and dignity of the women from whom that's been robbed. But it will buy time – and opportunity – between this and the next disaster: the "wave of diseases and deaths" that WHO's Tedros Ghebreyesus recently warned will follow the floods.
As Ilan Kelman, professor of Disasters and Health at UCL, wrote recently for The Conversation, disasters are caused not by the weather but by sources of vulnerability. "Sources of vulnerability stem from a lack of power and resources to prepare for hazards," he explains. Bad infrastructure, social marginalisation and uneven access to services, then – not rain.
These are things that must be improved, but that will take, at minimum, a lot of time and a lot of money. Vaccines – a drop of hazard-preparation, packaged in a glass vial – are a simple, portable start.
---
1. This is far from the only study to have turned up a positive correlation between climate-related disaster and violence against women and girls. The pattern repeats amid disasters all over the world. BMJ published a review paper on the subject in 2021 – read it here.
Illustration - Studio Miko & Luke Brooks